Random Morning Thoughts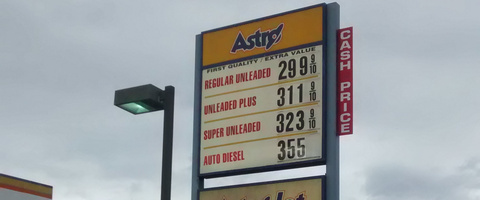 I was kinda hesitant to use this photo from the Astro station in The Dalles (and btw, the Chevron there went from $3.12 to $3.05 during the day yesterday), because I have mixed feelings about cheap gas. Yes, I love the freedom of being able to drive anywhere I want without stressing too much about the cost. But gas is a limited resource that does an incredible amount of damage (drilling, spills, carbon emissions, people killed in cars and by cars, etc) and when gas is cheap, people use more of it (well, technically, demand for gas is relatively inelastic, but the demand does change some with price). But I'm finding myself thinking of going on another road trip and making more forays into Portland, and I imagine other people are having similar thoughts. Hmm… I wonder if gasoline demand is elastic when prices are falling and inelastic when prices are rising?
Anyway, I was shocked when I saw the $2.99 price. It's been a long, long time. If you are curious what people pay for petrol in the rest of the world, you can satisfy your curiosity here.

Thank you for using this forecast!
Please donate to support it!
Thank you to everyone for using this forecast. Does it save you time, gas money, or help you find more wind, powder, or just plain fun stuff to do? Please consider making a donation to keep it going! Use it here for free or make a donation and get on the mailing list for wind for the summer and Mt. Hood snow in the winter. It's not $99/year. Not $50/year. No, just $12.34 or more gets you on the list for 12 months. Do it via PayPal/CC by clicking on my happy photo below. Don't PayPal? You can send a check to Temira @ PO Box 841 in Hood River. Thank you for your support, and thank you for trusting my forecast. You guys mean the world to me.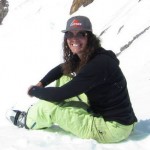 ---
Gorge Wind
Things are looking a little better in wind land. Expect a light start this morning, but as the cold front moves through later today, the westerlies will pick up. It's hard to say what we'll see in the western Gorge. I suspect we'll have gusty 13-16 or a touch more from Stevenson to Mosier. Doug's/Rowena is tough to call as well, but likely will see 15-18 there. East of The Dalles, expect gusty, up-and-down 24-28 after noon. Just to be clear, it's going to be gusty everywhere, but hey, it's wind!
Expect a light start tomorrow with easterlies at 26-30+ at Rooster and a touch less at Stevenson in the afternoon. On Saturday, we'll start with an east gradient of some sort and then switch to westerlies late in the day. Those Saturday afternoon westerlies could be quite strong, but they could also not happen until after dark.
Out on the coast, you will see this: Today, S 40-50+, combined 14@14. Tomorrow: S 40-50, combined 17@12. Thursday, SW 20-25, W 10@12, W 6@8.

Mt. Hood Snow Forecast – 5000′

4a-8a
8a-12p
12p-4p
4p-8p
8p-4a
Thursday
Friday
Saturday
Mt. Hood Snow
Today sees the snow level start at 6500′, dropping to 5500′ in the afternoon with SW wind at 35-45. We'll see about .4" of mixed precip during the day, ending around 5pm, giving us a trace of accumulation. Friday starts with the snow level at 5500′ and SW wind at 20, but an incoming warm front raises the snow level to 9000′ in the afternoon with SW wind at 35. We'll see about .7" of rain overnight. Saturday starts off clear on Mt. Hood with the snow level around 10,000′ and wind at SW 30-40. As the next weather system moves in, the snow level will drop to 7500′ with wind at SW 40-50. Rain starts Saturday afternoon for .4-.6" before it switches to snow. The snow level looks to drop to 5000′ on Sunday with 4-6" of new snow above that elevation.
Gorge Wind
It's still a poopy-doopy setup for Gorge wind, and as you may have noticed, I've given up on the wind table for the season. It'll be back next summer, don't you worry. And I haven't given up on the wind. Just on the table. But for now, it's all text, all the time for the wind forecast. We started off today with an east gradient of .05 and east wind in the teens at Rooster. Don't count on those easterlies lasting a long time today, as a weather system will swing the gradient onshore. We'll see less than 10mph in the western Gorge, but the far east beaches (Arlington and further) will see some up-and-down, gusty, rainy west wind maxing out at 24-27 this afternoon. We might see some gusty 15-18 at Maryhill, but I'm not putting money on that. Is it worth the drive? Hmmm… you're going to have to make that call. Tomorrow looks a little more promising.
Tomorrow sees today's weather system head east, and that will give a little more oomph to the wind. Expect light wind in the morning, picking up after noon to gusty 11-14 in the western Gorge. Doug's, Rowena and Maryhill are up in the air with gusty 15-18 possible with a little better chance of 21-24 at Maryhill. Further east, at Arlington, Threemile, and the rest of the sagebrush beaches, expect up-and-down and gusty 25-29 after noon, lasting until dusk.
Friday starts out light and variable, but a big ol' low pressure system approaching the Oregon coast will turn the gradient sharply offshore by midday, for easterlies (very wet easterlies – very rainy easterlies) at 25-29+.
Looking ahead to the weekend, the timing of that low moving onshore is shifting around, and that's shifting the wind forecast around. As of this morning, it looks like we'll see very strong west wind Saturday night into Sunday.
Gorge Weather
It's raining, once again, which is a sign that it's no longer summer (in case you hadn't noticed). We'll see rain this morning, tapering off this afternoon and becoming partly cloudy, partly showery, with sunbreaks thrown in. Temps will be in the low 50's early and low 60's this afternoon with a 98% chance of rainbows. Friday looks cloudy with rain starting after 5pm. Temps will be in the upper 40's eraly and low 60's in the afternoon. Rainbow chances are not good. Just 10%. Saturday might just start off sunny, but clouds move in during the morning and rain starts after 2pm. Temps will be in the low 50's early and mid 60's in the afternoon. Rainbow chances are 33.33%.

White Sprinter Van of the Day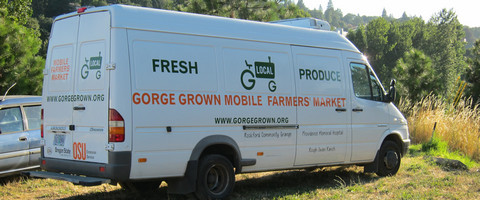 Road and Mountain Biking
I don't know if nobody's riding Post / Whoopdee because of all this rain. If not, that's a good thing, and let's just assume it's too muddy and protect the tread and leave the woods to the trail fairies and their rogue hoes for a bit. But just in case, has anyone been jogging out there? I did hear that Sycline is in good shape. If you want to ride the highest elevation trails (Gunsight, Boulder Lake, etc), do it NOW, because we're going to see 4-6" of snow at 5000′ on Sunday.
Road riders, thank you for being at the TAP process last night. I'm going to need you to rally your friends to write letters too.


The Clymb: free membership. Cheap gear.
Temira approves. Click to join.
River Levels / Fish Counts/Cheezburger Update
The John Day Dam is reading 62-76kcfs. The Dalles Dam is putting out 90kcfs. There are two river-wide logs on the White Salmon: one just below Cave Rapid on the Middle and one below Cave Wave on the Lower. I have no idea what the current level of the White Salmon is. I will try and call Wet Planet today. The Hood is at 4.8′, so it's a go, and the Klickitat is at 1520, so it's also at a good level. Yesterday's fish counts were: Chinook, 410. Coho: 2138. Steelhead: 176.

Events – email me if I've missed any outdoor-related events
This week contains Acupuncture and Oriental Medicine Day, and Cascade Acupuncture has free mini acupuncture sessions all week long to celebrate. You do have to make an appointment. Tonight brings you ping pong at the Hood River Armory at 5:30 and intervals with the Columbia Gorge Running Club in Stevenson at 6pm.
Coming up on Saturday, it's the American Meteorological Society's winter weather conference at OMSI. Experts and tea leaves – they go well together. It's El Nino, people. There's no real way to predict what will happen month by month, but you can say it's likely, but definitely not certain, that it will be drier and warmer than average this winter. The Hood River Saddle Club has a rummage sale on Saturday to raise money for the new equestrian/hiker only trail they are building. Finally, the Hood River Running Club has a wedding-themed fun run in Post on Saturday at 8:30, starting from Family Man. And then Saturday afternoon is a costume-karaoke fundraiser at Dirty Fingers, raising money for the new Seven Streams descending trail, the Kleeway.
Have an awesome day today!
Temira