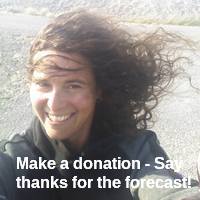 Thank you for using this forecast. I offer it freely so you can have more fun and plan your life. It does take significant time and energy to produce. If you find yourself using it often, or if you feel your life is enhanced by this information, please make a donation. I count on your support to pay my bills, and am deeply grateful to you for choosing to help support me. You can get this forecast via email by donation. The email subscription isn't $99/year. Not $50/year. Donating $12.34 or more gets you on the list for 12 months. Click on my photo to donate. Don't PayPal? Send a check to Temira @ PO Box 841 in Hood River. Thank you for your support and thank you for trusting my forecast.

Mt. Hood Snow Forecast – 5000′

4a-8a
8a-12p
12p-4p
4p-8p
8p-4a
Thursday
5000′->7000′->3500′
Friday
3500′->9000′
Saturday
10,000′
---
Mt. Hood Snow Forecast

Today's another one of those snow-rain-snow days on the mountain. Tomorrow looks windy with light snowfall and sunshine late. The weekend looks sunny. Our long range forecast currently calls for rain late monday with a return to more consistent snowfall late next week. That's a long-range forecast, and is close to completely useless, but I know people like to have one!
So, for the short-range, you'll find snow this morning with a switch to rain around sunrise. The rain will switch back to snow tonight with some decent accumulation and very strong wind overnight. The snow level will be 7000′ for the daylight hours, 4000′ around 7pm, and 3500′ Friday morning. About 1.7" of rain will fall during the day, followed by .7-1" water value (WV) that falls as snow tonight. That should give the mountain 7-10" of new, with potentially more due to orographic effects. Wind will be strong enough to negatively impact snow quality: WSW 40+ for much of the day and a brutal W 50 after midnight.
Friday starts off snowy and windy, but the wind will fade as the day goes on. The snow level will be 3500′ early, 2500′ in the evening, and 9000′ on Saturday morning. Mt. Hood will receive about .3" WV before noon, for a few inches of additional snow. The sky will then turn partly cloudy with occasional flurries and sunbreaks. Wind will be W 50 early, slowly fading to W 20 in the afternoon and becomign WNW 20 overnight.
Saturday starts off cloudy and turns clear in the afternoon. The free air freezing level will be 10,000′. Wind will be WNW 20 in the morning and S 5-10 in the afternoon. Sunday starts off sunny and turns cloudy. FAF will be 11,000′. Wind will be S 10-15.

Random Morning Thoughts
I'm tired and I'm fighting off a cold, so I'm going to pass on this today and listen to '80's music on youtube instead. =)

Disclaimer required by my grad school program: I am not your therapist, but I am seeing clients at this time at Comprehensive Healthcare in White Salmon. In the meantime, I am your weather forecaster. Take everything I say with a grain of salt, and consult with your actual therapist about your mental health issues. One other thing: I plan to keep doing this forecast indefinitely. Forecasting and counseling are both deeply meaningful and nourishing to me.

Gorge Wind Forecast
For Thursday, there will be light east wind in the morning and gusty westerlies at 22-26 through the whole Gorge in the afternoon. Friday starts with W 10-13 in the western and eastern Gorge and light wind in the central Gorge. The wind will back off to W 5 or so everywhere in the afternoon. Saturday starts with E 10-15 and picks up to E 35-40 by sunset. Sunday looks like E 30-35.

Gorge Weather Forecast
It's a cloudy and rainy start to the day. The afternoon will be mostly cloudy with rain. Temps will be near 40 early and near 50 this afternoon. East wind early. West wind later. 99% chance of rainbows. Friday looks drizzly and mostly cloudy for the first half of the day and partly cloudy with sprinkles later. Temps will be in the low 40's early and upper 40's in the afternoon. West wind. 99% chance of rainbows. Saturday looks partly cloudy to start and sunny in the afternoon. Temps will be in the mid 30's early and mid 40's later. East wind. No rainbows.
For weather specifically directed at travel through the Gorge, please visit Temira's Awesome Travel Advisory Service on Facebook.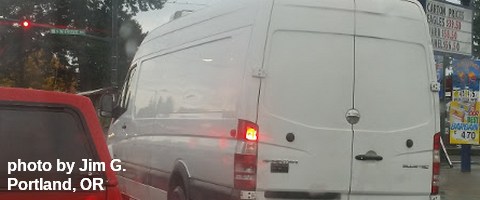 Road and Mountain Biking
I heard from someone that Syncline below the fence is good right now. Above the fence is muddy, so please don't ride or you will damage trails. Hospital Hill is also reported to be muddy, so let's leave that one alone too. As far as I know, Post Canyon remains closed to all users to protect delicate dirt from winter damage. Please respect this, even if you think it doesn't apply to you.

Upcoming Events
It's Thursday. There's free yoga at 8am at Flow on Thursday morning. That's followed by $5Tai Chi at the Hood River Adult Center at 2:30, community yoga at 6pmat Samadhi in White Salmon, and free Tai Chi at Our Savior Church inBingen at 6:30. At 7am on Friday, there's theKickstand Coffee Run, where jogging or walking 4 miles gets you afree cup of coffee and a donut.

Click here for the full events calendar.
Have an awesome day today!
Temira