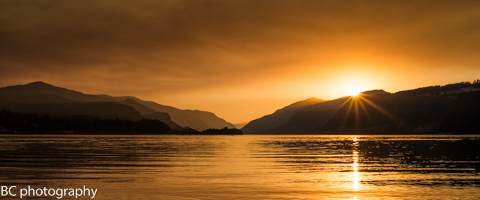 Random Morning Thoughts
I had a very exciting day yesterday. And I wasn't able to capture the most exciting bits on camera. They're just stuck in my head. While driving to Vancouver, I saw a flatbed headed east. Guess what it was carrying? Yep, not one, not two, but THREE White Sprinter Vans. Awesome! When I was driving home from Vancouver, I got passed (I'm a slow driver) by an ORANGE White Sprinter Van. And just after that, I looked at the northbound lanes and saw a YELLOW White Sprinter Van.
I don't know what the universe was telling me, but I'm sure it was important, because that is a lot of rare sightings in a short period of time. And I only got a crappy photo of the OWSV. And that has me wondering why we take so many photos these days. Why do you take photos? I do it because I want to share my joy with other people. I mean really, whose day wouldn't be brighter with an image of three Sprinter Vans on the back of a truck? I'll let you imagine it. Hopefully it'll make you smile as much as it made me smile.

Thank you for using this forecast!
Click on my photo to support it with a donation.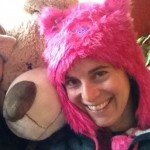 Thank you for using this forecast. Does it save you time, gas money, or help you find more wind, powder, or just plain fun stuff to do? Please make a donation to keep it going! Use it here for free or get on the mailing list for wind for the summer and Mt. Hood snow in the winter. Just click on my photo to donate. The email isn't $99/year. Not $50/year. No, just $12.34 or more gets you on the list for 12 months, and sometimes there are cool prizes. Donate via PayPal/CC by clicking on my happy photo below. Don't PayPal? You can send a check to Temira @ PO Box 841 in Hood River. Thank you for your support, and thank you for trusting my forecast. You guys mean the world to me.
---
Mt. Hood Snow Forecast – 5000′

4a-8a
8a-12p
12p-4p
4p-8p
8p-4a
Today
Tomorrow
The day after
Mt. Hood Snow – snow at 5000', wind at treeline
I'm trying to remain positive here, but I'm starting to thing that the ski resorts should be granted emergency permits to build bike parks for us to ride until the snow falls. If you would like to help pray for snow, 2nd Wind is hosting an outdoor/indoor Pray for Snow party on Friday night: 6pm-9pm at the Hood River Spit (sandbar, mouth of the Hood River), followed by ski movies, etc., at the River City Saloon, 9pm-12am.
Today's weather system will bring wind and rain to Mt. Hood. Expect the snow level to be around 8000′ this morning, falling to 6000′ late tonight and 4500′ by Friday morning. We'll see .5" rain between 7am and 4pm, followed by a mix of rain showers and snow flurries through tomorrow morning. No significant accumulation. Wind today will start at S 40-50 and rise to SSW 55 by the afternoon, falling to WSW 35 overnight. The southerly direction will ensure much lower wind speeds at Meadows than Timberline.
Tomorrow brings a mix of flurries and sunbreaks to Mt. Hood with the snow level at 4000′ early and 5000′ in the afternoon. We might see an inch or two of snow, and then again, we might not. Wind on Friday will be W 20 early and NW 15-20 in the afternoon.
Saturday looks clear and sunny on Mt. Hood, with the free air freezing level around 3000′ and WNW wind at 15mph. Sunday looks colder, just as sunny, and slightly windier. Unless something changes, there's no snow in the extended model runs.

Gorge Wind
After the last couple of weeks, my definition of "nuking" seems to have shifted, because it was 34 at Rooster when I started writing this forecast this morning. My response? "Meh". Anyway, expect E 30-40 this morning, fading to light wind midday, and then picking up to SW 26-30+ east of John Day Dam after 4pm. Tomorrow starts with west wind at 10-13 or so, picking up to 16-19 from Stevenson to Doug's in the afternoon. Saturday brings west wind at 5-10 early, switching to east wind at 5-10 in the afternoon. Expect east wind at 30-40 on Sunday.

Gorge Weather
Expect a rainy morning in the Gorge (you could watch the rain coming if NWS hadn't scheduled maintenance for the Portland area radar today), followed by a showery afternoon. Temps will be in the low 40's early and the mid 50's in the afternoon. Rainbow chances are 89%.
Tomorrow looks partly cloudy with a chance of a few light sprinkles. Temps will be in the low 40's early and the upper 40's in the afternoon. Rainbow chances are 17%.
Saturday's probably going to start off with a Nothing cloud, which hopefully will burn off by the afternoon. Temps will be in the upper 30's early and the upper 40's in the afternoon. Sunday looks much like Saturday. No rainbows or precipitation Saturday and Sunday.

White Sprinter Van of the Day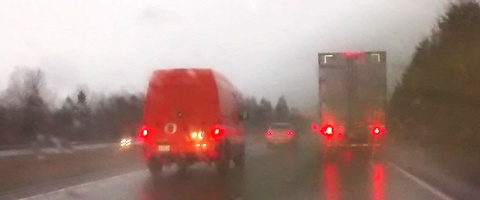 Road and Mountain Biking
I received multiple texts yesterday asking me about trail conditions. That means I need multiple trail reports from all of you. Given the complete lack of snow, I find myself wondering about the 44 Road trails. Any reports? Actually, scratch that for now. It's going to be really windy up there today. Not a good day to check it out. The Gorge 400 heading west out of Wyeth is in great shape right now, at least until mile 3, where I turned around on my run yesterday. If you want to give back to your trails, please show up at the Mitchell Ridge work party on Saturday. See below for details.


The Clymb: free membership. Cheap gear.
Temira approves. Click to join.
Upcoming Events
Tonight is Thursday, and that means you can do community yoga, free or by donation, at yoga Samadhi in White Salmon at 6:30. Tomorrow night is 2nd Wind's Pray for Snow party (and bonfire) at the Hood River Spit from 6pm to 9pm, followed by ski moves and debauchery at River City until midnight. On Saturday morning at 10am, Oregon State Parks has a work party on everyone's favorite berms. There are a couple of trouble spots needing fixing, and they're going to get some love. We need a good showing for this one to prove who does all the trail work around here. Be at the Seven Streams Staging Area (please carpool) at 10am. Bring 5 gallon buckets, shovels, and trailbuilding tools. If you need exercise before that, there's a trail run meeting at 8am Saturday morning at the bottom of Post Canyon Road.
Have an awesome day today!
Temira