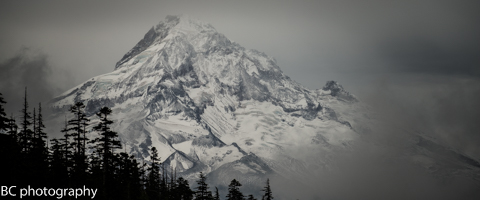 First off in the forecast, this weekend contains opportunities for you to give back: CGWA has a work party at Swell City on Saturday morning and CGKA has a work party at the Spit on Saturday morning. I believe the CGWA event includes BBQ and the CGKA event includes coffee and donuts. We could probably infer a lot about the difference between kiters and windsurfers from the different in food offered at work parties, but I'm not going to go there. Yet.
Continued after the chart.
Today's Gorge Wind – these are ranges for the average speed, not a predicted wind range. =)

Your favorite beach
Dawn
Patrol
9am-
11:30a
11:30a-
3pm
3pm-
dusk
Rooster's Rocks
after
noon
tan your
moon
Steven's Locks
E 5-10
LTV
LTV
W 10-13
Hatchery/White Salmon Sandbar (minus a few for Hood River)
LTV
LTV
LTV
W 10-13
Doug's, Lyle, Rowena
LTV
LTV
LTV
5-10
Rufus, etc.
LTV
LTV
LTV
LTV
Roosevelt, etc.
LTV
LTV
LTV
LTV
Gorge Wind forecast, continued…
Moving on to the forecast for the next few days… We're starting off with a light west gradient this morning, but the wind is blowing out of the east at 10ish at Rooster and out of the west at 15ish at Maryhill. There's no wind at the beaches in between those locations. It's the doldrums from Stevenson to Celilo this morning. Expect light and variable wind for much of the day today, with the westerlies picking up a few hours before sunset. The wind will peak at 10-13 from Stevenson to Mosier after 5pm.
Tomorrow looks windier, as an upper low sits east of us and high pressure sits off the Pacific coast, creating big synoptic-scale gradients. Westerlies start out at 15-18 or more first thing in the morning, picking up to 28-32 from Mosier to Arlington by early afternoon with 30-35 possible from Rowena to Rufus. Swell and Hood River are a maybe tomorrow, depending on the location of the cloud line. Even if the clouds do push past those beaches, they'll still get gusty 13-16. Stevenson, well, it might join the fun in the afternoon and might not.
Models show just as much wind on Saturday, but I'm not buying it. A disorganized low pressure system sets up off the coast. While the cross-Cascade gradients may be equal on Friday and Saturday, the synoptic-scale gradients will not, and the atmosphere will be less stable, and that will contribute to gustier, somewhat lighter wind. That said, it does look like we'll see gusty 25-29 for much of the day through the entire Gorge on Saturday. So, it'll still be windy.
Sunday currently looks like 15-18 through the whole Gorge early, backing off to 10-13 in the afternoon. Columbia River flow is currently 167kcfs, pitiful compared to the average flow of 302kcfs, so the current at Maryhill will be much less than your average mid-May. Water temp is right around 56 degrees.

Support the forecast!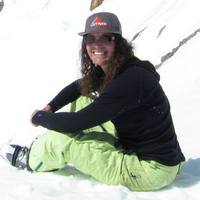 Thank you for using this forecast. Does it save you time, gas money, or help you have more fun in your life? Make a donation! Get your forecast here for free or donate and get on the mailing list for year-round wind forecasts and ski season snow forecasts. Just click on my photo to donate via PayPal or credit card. The email isn't $99/year. Not $50/year. No, just $12.34 or more gets you on the list for 12 months, and sometimes there are cool prizes. Don't PayPal? Send a check to Temira @ PO Box 841 in Hood River. Thank you for your support, and thank you for trusting my forecast.
---
Mt. Hood Snow Forecast
Nothing to say here today.

Random Morning Thoughts
I'm really struggling with what to say today. I'm still thinking a lot about loss, and I'm also thinking about anger, fury and rage. And I'm thinking to myself, "I don't want to dump all that negative shit on a few thousand people this morning."
And that gave me something to write about. So many of us tend to judge emotions as "good" or "bad". Emotions just are, folks, whether you like 'em and want to feel them more, or hate 'em and want to feel them less. You're going to have them, and they're your body's way of telling you something is worth noticing.
In addition, they're not going anywhere, so you might as well stop struggling with the emotions you don't like. Stop judging them. Sit your ass down and experience them. Be curious about them instead of fighting with them. Pay close attention – what do those emotions feel like in your head and in your body? They're kind cool, aren't they?
And get this: they'll go away eventually, whether you like them or want them gone. They're transitory. And if they're not going away, check in with your thoughts. Perhaps you're stuck in a death spiral of thoughts that are aggravating those emotions. Stop thinking about feeling and just let yourself feel. Things'll get better. Promise. =)

Gorge Weather Forecast
It's mostly clear outside this morning (suck it, cloudy P-Town) with sun shining on the snowy east slopes of Mt. Adams. Expect a mostly sunny morning with a chance of increasing clouds and possible, although unlikely, thunderstorms after noon. Temps will be in the mid 40's early and the low 70's in the afternoon. Light wind. 23% chance of rainbows.
Tomorrow starts out partly cloudy with a deep marine layer in the western Gorge (clouds for you, again, Portland). Temps will be in the low 50's early and the mid 60's in the afternoon. Moderate wind early. Strong wind late. 1% chance of rainbows.
Saturday may see high clouds over the region, or it may be partly cloudy. Temps will be in the low 50's early and the mid 60's in the afternoon. Strong wind. No rainbows.

White Sprinter Van of the Day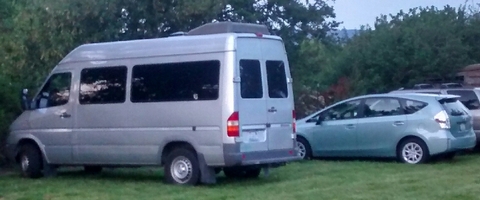 Road and Mountain Biking
I wasn't sure about the condition of Post Canyon yesterday, so I decided to go and check it out myself. First hand information is important, I think. Post is perfect right now. I am issuing a tack alert and flower advisory for the entire 3000 vertical feet of tree farm radness. Go get some Post Canyon today. I suspect you'll find good dirt in other places too, including the often-dusty 44 Road trails. And remember, the only local trail NOT yet open is Gunsight (not sure about Boulder Lakes). In road biking news, today will be pretty good, with light wind all day. The next two days will not be fun on a road bike due to way too much wind, but Sunday looks good.


The Clymb: free membership. Cheap gear.
Temira approves. Click to join.

I love road biking, and if you're reading this, you do too. The Mt. Adams Country Bike Tour is the best. You'll ride beautiful, remote, quiet, traffic-free roads. And you'll do it with support, a nice touch for 50+ mile loops through the woods or farm country. Combine the loops to make a century route that gets most of the climbing done early. Get signed up before the 1st of June, and it's only $55. There's also a short 11-mile Family Fun Ride. All proceeds support the Trout Lake schools, grange, and fire department. Click the headline above to go to the website and register.
Upcoming Events
At 5:30 tonight at Dirty Fingers Bike shop, you can join the race-pace Post n' Pint ride, earning you a free pint of beer, and also at 5:30 tonight, there's pickleball at Westside Elementary in Hood River. There are also two free yoga classes today: one at 8am at Flow, and one at 6:30pm at Yoga Samadhi.
At 7am tomorrow, it's the Kickstand Coffee run, where 4 miles of jogging gets you a free cup of coffee and a donut. Tomorrow night from 5-8, it's the Hood 2 River Relay locals' night signup. Swing by 2nd Wind for free beer and a discount on registration.
And then there's Saturday – CGWA has a work party at Swell City, CGKA has a beach cleaup at the Spit, there's a free youth fishing clinic at Middle Fork Pond in Parkdale, there's windsurfing racing at the Event Site, the Gotta Regatta at Horsethief, Riverdaze in Maupin, an equestrian endurance race in Trout Lake, and the Stevenson to Carson Ridge Run. And lastly on Saturday, my favorite, the Goat Academy happening in Goldendale.
On Sunday, there's a swap meet at Windance and there's the Collegiate Kiteboarding Association competition at the Hood River Marina beach.
Finally, there's something very exciting happening this weekend: It's Victoria Day, and that means the Canadians and their White Sprinter Vans will be here in force. Make sure to swing by the swap meet and check out all the awesome White Sprinter Vans!
Have an awesome day today!
Temira