The best snow forecast for Mt. Hood. The best wind forecast for the Gorge.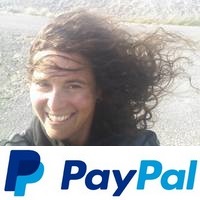 Thank you for using this forecast. Like it? Find it useful? Support it (and me!) by sending some cash my way. What's it cost to support me and get the email version? Not $99 a year. Nope. Not $49. Just $19.99 or more gets you a year. People are added to this list on Thursday and Sunday. My day job is crisis mental health, and I don't have time on other days. Thanks for your patience! Click below to contribute. Thank you!!
| | |
| --- | --- |
| | |
| | Auto-renewing subscription. Easy. Awesome. Set and forget! |
Thank you for contributing and keeping this forecast going! I appreciate your support!
The Forecast
Today's Gorge Wind – these are ranges for the average speed, not a predicted wind range. =)

Your favorite beach
Dawn
Patrol
9am-
11:30a
11:30a-
3pm
3pm-
dusk
Rooster Rock
sun
shine
bun
time
Steven's Locks
5-10
11-14
11-14
11-14
Swell-Hood River
11-14
11-14
11-14
14-17
Lyle to Doug's
5-10
5-10
5-10
14-17
Rufus, etc.
11-14
11-14
5-10
LTW
Roosevelt & Arlington
11-14
11-14
5-10
LTW
Gorge Wind Forecast
Today's forecast is looker better than it did a few days ago, and strong wind will be back for a one-day showing on Friday. At this point, the weekend looks windy too – not nuking, but upper teens to low 20's both days.
Thursday starts cool and lovely with a westerly breeze in the 11-14 range from Viento to Swell and also from Rufus to Arlington. Early pressure readings were 30.11/30.05/30.00 for gradients of .06/.05. A broad heat low will shut down the eastern Gorge today; focus your efforts in the west. The wind will hold in the 11-14 range from Stevenson to Hood River this morning and early afternoon. Models hint that desert heat (95F in Pasco vs. 88F in Hood River) will nudge the wind up to 14-17 from Hood River to The Dalles this afternoon. Stevenson to Viento hold in the low double digits. Why such a lackluster performance with this much temp difference? An offshore low keeps the synoptic (large) scale gradients minimal. River flow readings are 117-165kcfs, and judging by the graphs, should increase after 2pm. River temp is 70F, and high temp forecast is 88F.
Friday sees that offshore low shift closer and then move to the NE in the evening. This drives cooler air into the west side. Despite the lack of synoptic scale gradients, models are happy about our wind prospects. There's pretty good agreement in the ensembles too. Dawn Patrol wind: 19-23 from Stevenson to Mosier with 12-15 to Arlington. Midday: 24-28 from Stevenson to The Dalles with 17-20 at Rufus. Afternoon: 25-29 from Swell to Rufus with 22-25 at Arlington and 19-23 from Stevenson to Viento. With that low so close, it's likely the wind will be rather gusty. High temp: 84F. 98F for Pasco.
Saturday sees that low move into British Columbia, finally. Bye-bye upper level low! Hello offshore high pressure. The day starts with clouds in the western Gorge. Westerlies will be in the low teens under the clouds and 22-25 form The Dalles to Arlington to start the day. Don't be driving out east! Clouds burn off quickly, and the wind settles in at 20-24 from Stevenson to The Dalles. Rufus drops to 11-14. Arlington: light westerly. The current forecast for Sunday is 11-14 to start with 18-22 in the afternoon. Enjoy the wind!
Jones, Sauvie's, Coast
Coast forecast (north/central/south, waves). Swell forecast provided by NWS. Wind direction northerly unless otherwise noted. Thursday: LTNW/LTW/LTW, NW swell 3′ at 8 seconds. Friday: SW15/SW5-10/LTN, NW 3′ @ 8. Saturday: LTNW/N10-15/N25-30, NW 2′ @ 6. Jones Thursday: 20-23. Friday: 17-20. Saturday: 9-12. Sauvie's Thursday: 9-12 late. Friday: 9-12 late. Saturday: 11-14.
Mt. Hood Snow Forecast – Back on vacation until next fall
Hood River Weather Forecast
Clear sky this morning stays clear. Temps will be in the low 60's early and upper 80's later. Moderate westerlies. No rainbows. Friday will be clear. Temps start in the upper 50's and end in the mid 80's. Strong westerlies. No rainbows. Saturday starts cloudy and ends sunny. Temps will be in the mid 50's early and low 80's later. Moderate westerlies. No rainbows.
Looking for a complete Columbia Gorge forecast? Looking for more humor in your weather? Obscenities? You're looking for my TATAS: Temira's Awesome Travel Advisory Service on Facebook.
Local-ish Events
Please let me know of outdoor-related local-ish events. If you don't tell me, I don't know! The Perseid Meteor Shower peaks this week. Unfortunately, the moon also peaks this week. The Dufur Threshing Bee is this weekend. Ferment's Tuesday night 4-mile walk/run is at 6pm. At 7:15am on Wednesdays, there's a run from the White Salmon Bakery. At 7am on Friday morning, you can get a donut and coffee for going for a run at Kickstand Coffee. The Small Boat paddlers have a group paddle at 6pm on Thursday at the Hatchery. Post and Pint happens Thursday evenings at 5:30. The women's Post-and-Pinot ride is Wednesday evening at 5:30.
Cycling
Some nice Hood River folks went and cleared the Smith Creek trail by St. Helens. That loop is now open. As a matter of fact, I'm not sure of anything being closed. No report yet on Boulder Lakes or Gunsight, but I'm sure someone will email me after changing this. Caveats: the road connecting Plains of Abraham to Smith Creek closes at noon Monday-Friday and will not be open to bikers during that time. Courtney Road (the road that goes up above Syncline) is closed until October. Do not attempt to use it to access trails. If you're riding Post Canyon, you will need a parking pass. Those can be purchased at many local shops or online.
Sprinter Van of the Week!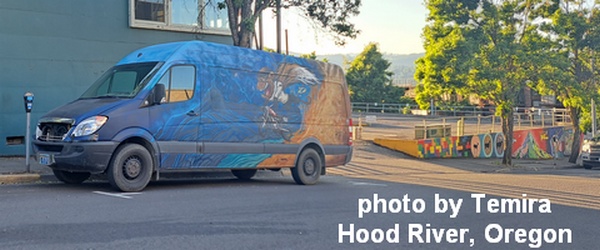 Click here for the Sprinter Van map of the world!!!
Have an awesome day!