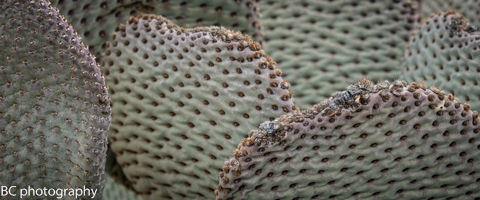 There are gradients out there this morning, several of them, .04 pdx-dls and .06 dls-psc, to be exact. Our friendly weather models (you know they are friendly because they are multi-colored) say those gradients will decrease today as an upper low moves south out of the area and high pressure builds inland, Continued after the chart.
Today's Gorge Wind – these are ranges for the average speed, not a predicted wind range. =)

Your favorite beach
Dawn
Patrol
9am-
11:30a
11:30a-
3pm
3pm-
dusk
Rooster's Rocks
tan
in the bare
if you
dare
Steven's Locks
0-10
0-10
0-10
0-10
Hatchery/White Salmon Sandbar (minus a few for Hood River)
5-10
10-13
10-13
5-10
Doug's, Lyle, Rowena
drainage
wind
5-10
5-10
0-5
Rufus, etc.
5-10
5-10
5-10
5-10
Roosevelt, etc.
15-20
10-15
5-10
5-10
Temira's sail: 35-40: 2.9 / 30-35: 3.2 / 26-30: 3.5
23-26: 4.0 / 20-23: 4.5 less than 20: something bigger!
Tonia's kite: 35-40: 4m / 30-35: 4-6m / 26-30: 5-7m
23-26: 7-9m / 20-23: 8-10 / 15-20: 10-12 / 10-15: 13-15.
Gorge Wind forecast, continued…
If the models are correct, as they often are, we'll end up with westerlies in the 10-13 range early and 5-10 range or less this afternoon. So, not all that much wind, but a beautiful day in the Gorge nonetheless. River water temp is 55 degrees.
Tomorrow, Friday, brings light and variable wind. Expect east wind at 10-15 on Saturday and light east wind on Sunday.
Out on the coast, you will find the following (north/central/south)… Today: 15-20/20-25/30-35, NW 4′ @ 8 seconds. Tomorrow: 10-15/15-20/25-30, NW 4 @ 8. Saturday: 5-10/10-15/20-25, NW 4 @ 9.

Donate and keep the forecast going!
(contribute to Temira's grad school, bike repair and coffee fund)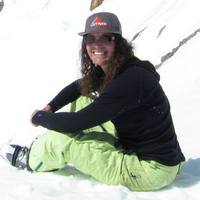 Thank you for using this forecast. Does it save you time, gas money, or help you have more fun in your life? Make a donation! Get your forecast here for free or donate and get on the mailing list for year-round wind forecasts and ski season snow forecasts. Just click on my photo to donate via PayPal or credit card. The email isn't $99/year. Not $50/year. No, just $12.34 or more gets you on the list for 12 months, and sometimes there are cool prizes. Don't PayPal? Send a check to Temira @ PO Box 841 in Hood River. Thank you for your support, and thank you for trusting my forecast.
---
Mt. Hood Snow Forecast
Nothing to say here today.

Random Morning Thoughts
Yesterday's rain, hail, thunder and lightning storm was pretty amazing. Before I talk about it more, I should probably say that I feel for the orchardists. Quarter-inch hail is not good for tender baby fruits. Nor is it good for gardens. But back to the storm. Amazing. Sublime, even, which brings me to my point (and I'm borrowing a bit from what our Buddhist abbot had to say Tuesday night).
We get caught up in the world and our experiences and our experience of awe diminishes as we age…. unless we protect it and nurture it. And why wouldn't you? Being amazed by the world around you is a powerful experience that leaves you happy to be alive and full of wonder!
Sure, there's beauty all around you – the entire Pacific Northwest is awe-inspiring. You can appreciate that, and you can find awe in the tiniest pieces of your world too: look at the rainbows and bolts of lightning. Feel thunder in your chest. Go out and dance in the quarter-inch hail. Look at blades of grass in the evening light. Hug big trees. Poke at moss. Get up close and personal with the Calypso orchids. Stare at fields of balsam root flowers.
In other words, reconnect with your child self and re-explore the world around you using your gentle, innocent side. I promise you'll find a smile on your face and a warm glow in your soul if you do.
And that will radiate into the world and help other people find that same place in themselves.

Gorge Weather Forecast
It's mostly clear outside my window this morning, and the sun will shine all day today. Expect temps in the upper 30's early and the low 70's in the afternoon. Light wind. No rainbows. Tomorrow starts with temps in the low 40's and finishes off in the upper 70's. Light wind. No rainbows. Saturday looks just like Friday.

White Sprinter Van of the Day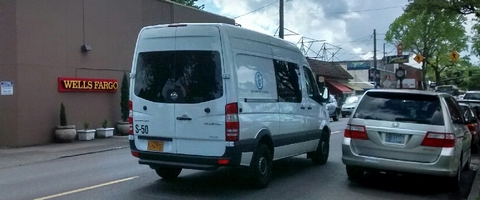 Road and Mountain Biking
Everything was going just fine in Dirtlandia until it poured and hailed yesterday. I suspect Post will be a bit on the slick side this morning. However, Whoopdee, Syncline, Nestor and the 44 Road probably benefited greatly from the deluge. In road biking news, today looks great with just light west wind and tomorrow looks epic with light and variable wind. Saturday, with just light east wind, also looks fantastic on the roads.


The Clymb: free membership. Cheap gear.
Temira approves. Click to join.
Upcoming Events
Tonight's your chance to practice riding mountain bike at race pace, and you'll have nearly perfect dirt in Post Canyon if you decide to give it a shot. Meet at Dirty Fingers for the Post n' Pint, a 2 hour ride as fast as you can go. Complete it, and you earn a free pint of beer. In free yoga land, there's a class at Flow in Hood River at 8 every Thursday morning, and there's a class at Yoga Samadhi in White Salmon at 6:30 Thursday evenings.
Tomorrow morning is the Kickstand Coffee run, leaving the just-renamed coffee shop at 13th and State in Hood River at 7am. Run 4.1 miles and you get a free cup of coffee and a donut.
Coming up this weekend, it's Lila May's Tutu Trot on Saturday at the Twin Tunnels, the Master Gardener Plant sale, now that the snow's off Defiance, and the Bikefest in Goldedale.
Have an awesome day today!
Temira