Random Morning Thoughts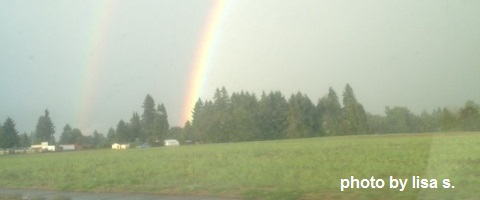 Thank you for using this forecast!
Please donate to support it!
Thank you to everyone for using this forecast. Does it save you time, gas money, or help you find more wind, powder, or just plain fun stuff to do? Please consider making a donation to keep it going! Use it here for free or make a donation and get on the mailing list for wind for the summer and Mt. Hood snow in the winter. It's not $99/year. Not $50/year. No, just $12.34 or more gets you on the list for 12 months. Do it via PayPal/CC by clicking on my happy photo below. Don't PayPal? You can send a check to Temira @ PO Box 841 in Hood River. Thank you for your support, and thank you for trusting my forecast. You guys mean the world to me.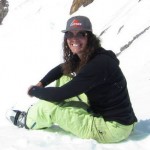 ---
Gorge Wind
It's pretty amazing how far off the models can be this time of year. As of yesterday morning, the models were predicting E 23-26 to start the day. We were sitting at a W .08 gradient as of 6am. That's going to make it very hard for us to start with sailable/kiteable east wind. Anyway, the models predict that west gradient will disappear before noon. So, expect west wind at 8-11 early this morning, becoming glassy midday and switching to east wind at 5-8 this afternoon.
Inland high pressure combines with a coastal heat low tomorrow for easterlies at 26-30 at Rooster Rock and 23-26 at Steven's Locks. Expect light and variable wind on Saturday morning, becoming W 10-13 in the afternoon. Sunday looks very similar to Saturday.
Out on the coast, expect (north/central/south) this today: 15-20/15-20/gusty 20-25, W 4@9. Tomorrow: 5-10/15/5-10, W 4@9. Saturday: 10-15/20-25/25-30, W6@11.

Today's Gorge Wind – these are ranges for the average speed, not a predicted wind range. =)

Your favorite beach
Dawn
Patrol
9am-
11:30a
11:30a-
3pm
3pm-
dusk
Rooster's Rocks
light
LTV
LTV
E 8-11
Steven's Locks
light
LTV
LTV
E 8-11
Hatchery/White Salmon Sandbar (minus a few for Hood River)
W 10-13
W 5-10
LTV
LTV
Doug's, Lyle, Rowena
W 10-13
W 5-10
LTV
LTV
Rufus, etc.
LTV
LTV
LTV
LTV
Roosevelt, etc.
LTV
LTV
LTV
LTV
Temira's sail: 35-40: 2.9 / 30-35: 3.2 / 26-30: 3.5
23-26: 4.0 / 20-23: 4.5 less than 20: something bigger!
Tonia's kite: 35-40: 4m / 30-35: 4-6m / 26-30: 5-7m
23-26: 7-9m / 20-23: 8-10 / 15-20: 10-12 / 10-15: 13-15.
Gorge Weather
I just glanced out my window, and I saw a clear and gorgeous morning. If only my mind were as clear as the sky is right now. It's going to be a sunny day today. Temps will be in the mid 50's early and the low 70's this afternoon. Tomorrow starts off cooler, with temps in the upper 40's early and mid 70's in the afternoon. Some high clouds will likely move in Friday, reminding us that BC is getting hit by the atmospheric river. Expect a few high clouds on Saturday with temps in the upper 40's early and low 80's in the afternoon.

White Sprinter Van of the day, at the dump
Road and Mountain Biking
I still haven't heard anything from Hood River County about motorized trail access. I guess it's still too dry out there, and with a forecast of more dry weather over the next week, it isn't going to get any wetter. On a brighter note, all the dry weather means that the mushrooms that are going to pop up after last week's rain won't get moldy. Just remember to pick up a personal use permit from the ranger station in the district where you're picking. And that's all for trail news today. Oh, one more thing: I had chanterelles, rice, and poached eggs for dinner last night.


The Clymb: free membership. Cheap gear.
Temira approves. Click to join.
River Levels / Fish Counts/Cheezburger Update
The John Day Dam is reading 67-72kcfs. The Dalles Dam is putting out 65kcfs. There are two river-wide logs on the White Salmon: 1 just below Cave Rapid on the Middle and one below Cave Wave on the Lower. The White Salmon is at 1.6′, according to John L. I forgot to call Cheezburger yesterday. The fish counts were up this morning: Chinook, 6811. Coho, 3874. Steelhead, 771. The Columbia is 67 degrees.

Events – email me if I've missed any outdoor-related events
Today is Thursday, and the Post n' Pint is done for the season. I'm not sure about the women's road bike ride in The Dalles. The Dalles City Cyclery would know more about that. There is community yoga tonight (free or by donation) at Yoga Samadhi in White Salmon.
Coming up this weekend, it's the annual Oak Street Pie Contest, brought to you by Shortt Supply. Bake a pie, enter the contest ($10), and you support Helping Hands, working with domestic violence victims here in the Gorge. Or just come eat pie. Saturday morning at Shortt Supply. Then on Sunday, dress up yourself and your kids as superheros for the Superhero run/walk benefiting CASA. The Dalles Discover Center, 9am. On Sunday evening, Dog River Coffee hosts the first ski movie of the season, a Powderwhores flick about folks chasing, what else, powder, even if they have to hike for it.
Have an awesome day today!
Temira