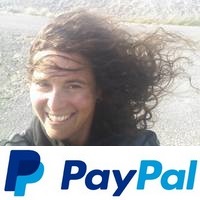 Thank you for using this forecast. I offer it freely so you can have more fun and plan your life. It does take significant time and energy to produce. If you find yourself using it often, or if you feel your life is more awesome because of my work, please make a donation. You can get this forecast via email by donation. The email subscription isn't $99/year. Not $50/year. Donating $12.34 or more gets you on the list for 12 months. Thank you for your support and thank you for trusting my forecast.
Click here to donate using a credit card.
Click here to donate via PayPal.
Venmo: @theGorgeismyGym
Snail Mail: PO Box 841, Hood River, Oregon 97031
Get the email version free through the end of August – try it out! Click here.

Today's Gorge Wind – these are ranges for the average speed, not a predicted wind range. =)

Your favorite beach
Dawn
Patrol
9am-
11:30a
11:30a-
3pm
3pm-
dusk
Rooster Rock
naked
picnic
buns
weather
Steven's Locks
5-10
10-13
13-16
17-20
Hatchery/Wunderbar
5-10
10-13
13-16
17-20
Doug's, Lyle, Rowena
5-10
5-10
10-13
10-13
Rufus, etc.
5-10
5-10
5-10
5-10
Roosevelt & Arlington
5-10
5-10
5-10
5-10
Gorge Wind Forecast
Hello everyone, and thanks for your patience while I was on vacation. Thanks also for your patience this morning – apparently my body needed a lot of sleep last night! I think most of you will be delighted to know that the river will be a welcoming place today as temps soar near 100 and the dewpoint hovers near a horrendously muggy 60 degrees. After today, temps will plummet and wind will crank up for a few days before model disagreement kicks in.
We'll have west wind at 5-10 most places early Thursday, but that's only early. We'll see 14-18 from Stevenson to Hood River by noon with a pretty good chance of 17-20 for the Executive Session (that's after 5pm for those of you who are privileged to not work day shift).
An upper low off the coast was forecast to move inland Friday, but now it's going to move in later. While this isn't ideal, that ULL will likely give a pretty good marine push on Friday, causing high temps in the west to drop 10-15 degrees. Timing and marine push size is contributing some uncertainty to Friday's forecast, as is the possibility of afternoon thunder. Dawn Patrol at 23-26+ seems certain from Viento to Mosier. 30-33 seems likely from late morning on from Stevenson to Threemile.
A delay in the movement of the ULL could make Saturday's forecast even stronger than what follows; temps will drop another 15 degrees Saturday (for highs near 75) and rain will fall in the western Gorge. This starts the day with 22-25 from Mosier eastward (25-28 at Mosier seems possible if clouds don't fill in that far). Saturday afternoon should max out at 27-30 from Mosier to Arlington.
Sunday currently carries a forecast of 13-16 early. The GFS suggests a dramatic ridge-build in the afternoon, taking the wind down to zero. Monday's forecast looks like light easterlies. Model disagreement next week gives us a not-worth-speculating forecast beyond Monday.
BONUS: Jones Thursday: 15-18. Friday: 13-16. Saturday: 5-10. Sauvie's Thursday: 13-16 late. Friday: 10-13. Saturday: nope. Coast (north/central/south). Thursday: W5-10/N5/N15-20, W swell 3′ @ 12 seconds. Friday: nope/nope/nope, NW swell 3′ at 10 seconds. Saturday: X/X/15-20, W swell 3′ @ 10 seconds.


Random Morning Thoughts
These are still on retreat.

Mt. Hood Mountain Weather Forecast
Very warm conditions for Thursday. Free air freezing level (FAF): 17,000′ ish. Wind: SE 15 morning, light and variable afternoon, S 25 overnight. Friday: smoky and muggy. FAF: 16,000′ dropping to 13,000′ overnight. Wind: S 25 early, SW 20 afternoon, SSW 30 overnight. Saturday: low clouds, clear and smoky above. Mid-level partly cloudy after noon. FAF: 13,000′ dropping to 11,000′. Wind: SSW 30 morning, WSW 25 after noon.

Gorge Weather Forecast
It's a rather hazy and smoky morning, and unfortunately that smoke will probably increase for a few more days. We'll have a muggy day with high temps climbing into the upper 90's or low 100's. Moderate west wind. No rainbows. Friday looks cooler. Temps will be in the upper 60's early and near 90 in the afternoon. Very strong westerlies. Chance of thunder in the evening. 1% chance of rainbows. Saturday starts off with low clouds and a few sprinkles with rain west of Hood River from 2am to 5pm. Temps will be in the mid 60's early and mid 70's in the afternoon. Strong westerlies. 11% chance of rainbows.

For weather specifically directed at travel through the Gorge, please visit Temira's Awesome Travel Advisory Service on Facebook.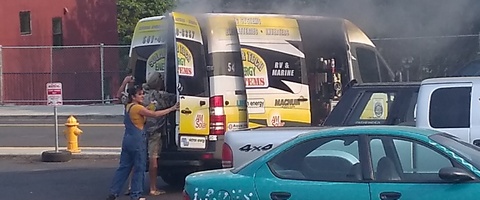 Click here for the White Sprinter Van map of the world!!!
Road and Mountain Biking
Trails on private timberland (Hospital Hill, Whoopdee, Underwood, and anything else on Kreps, Stevenson, Weyerhauser, etc.) will remain closed to ALL uses until the end of fire session (significant rainfall). Gorge 400 from Wyeth to Herman Creek has reopened. There are about 7 trees down. Plains of Abraham is open. Trails in Hood River County are now closed to motorized use due to fire danger. Bicycles are fine. The Petersburg Loop east of The Dalles has reopened for road biking. Some dum-dum started a fire on Orchard Road in Odell yesterday, so that one's probably closed right now.

Upcoming Events
Community events that aren't too hot include sailing in Cascade locks from 5-9, Yoga at Samadhi at 6 tonight, and Zumba at Mid-Valley Elementary at 6:30. Families in the Park tonight is Dancehall Days, if you want to work up a sweat.
Tomorrow night is the movie Despicable Me 3 at Cascade locks Marine Park. Robin Hood plays at Jackson Park Saturday night, and Guardians of the Galaxy 2 plays at Kramer Field. Watch the movies, and then turn your eyes to the Northeast for the Perseid Meteor shower after midnight Saturday and Sunday.
There's a swap meet Saturday morning at Luhr Jensen. It's Vintage Dufur Days in Dufur (duh) all weekend. The Bridge of the Gods 10k and half-marathon is Sunday, which means Bridge of the Gods will be closed for an hour or two Sunday morning. The half-day meditation retreat scheduled for Saturday has been canceled due to lack of monastics to lead it.

Click here for the full events calendar.
Have an awesome day today!
Temira