Random Morning Thoughts
It's cold enough in my house this morning that I can see the steam rising off my cup of French Press. Seeing the steam and the cold temps outside makes me think about summer coming to an end, and that makes me sad. I love summer. I love the weather, sure, but what I love more is the endless daylight. I never want it to get dark before 8pm. If it were light 6am-8pm year round, I would be a very happy woman. You see, bicycling is my number one coping skill, and it's hard to ride my bike for long hours when it's dark for long hours. Speaking of riding bikes, I'm outa here. What a day for a road ride!

Thank you for using this forecast!
Please donate to support it!
Thank you to everyone for using this forecast. Does it save you time, gas money, or help you find more wind, powder, or just plain fun stuff to do? Please consider making a donation to keep it going! Use it here for free or make a donation and get on the mailing list for wind for the summer and Mt. Hood snow in the winter. It's not $99/year. Not $50/year. No, just $12.34 or more gets you on the list for 12 months. Do it via PayPal/CC by clicking on my happy photo below. Don't PayPal? You can send a check to Temira @ PO Box 841 in Hood River. Thank you for your support, and thank you for trusting my forecast. You guys mean the world to me.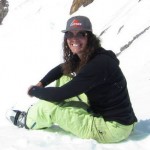 ---
Gorge Wind
The west wind is gone, replaced by east wind, and things will stay that way through Saturday. Expect easterlies to peak at 20-23 at Rooster Rock midday today with a bit less at Steven's Locks. Tomorrow sees peak winds of 23-26 at Rooster. Again, just a bit less at Steven's Locks. Saturday's easterlies top out at 25-29 at Rooster and a little bit less at Steven's Locks. We'll see light wind on Sunday becoming light westerly in the afternoon and evening. At this point, it looks like the west wind will ramp back up on Monday and Tuesday.
Once again, I remind you of the Gorge Windsurfing Awards. Vote for "most stoked", "biggest air (the Dale Cook award)", "most selfless", "grom of the year", and "Gorge windsurfer of the year". I looked this morning, and the voting wasn't set up yet, but I'm sure it'll be set up later. The party to celebrate is at Springhouse on the 11th.
I nominated Shane Lebsack for "Most Stoked", because every day is "awesome" for Shane. He's the most positive person at the beach: No matter what the river looks like, it's "going to be awesome," and no matter what the session ended up being, "it was awesome." If you know Shane and you agree, you'll need to vote and tell your friends to vote!
Out on the coast, you will find some wind today (north/central/south): 15-20/25-30/30-35, NW 7@9. Tomorrow: light-offshore/15-20/15-20, N 7@8. Then the heat low moves up the coast on Saturday: 5-10/light/light. There was a mistake in the swell forecast for Saturday – it was saying N 6@19, but that doesn't make any sense. When I looked at the actual swell prediction models, they were saying 6@8 or so.

Today's Gorge Wind – these are ranges for the average speed, not a predicted wind range. =)

Your favorite beach
Dawn
Patrol
9am-
11:30a
11:30a-
3pm
3pm-
dusk
Rooster's Rocks
E 11-13
E 15-18
E 20-23
E 13-16
Steven's Locks
E 5-10
E 13-16
E 15-18
E 5-10
Hatchery/White Salmon Sandbar (minus a few for Hood River)
light
light
light
light
Doug's, Lyle, Rowena
light
light
light
light
Rufus, etc.
light
light
light
light
Roosevelt, etc.
light
light
light
light
Temira's sail: 35-40: 2.9 / 30-35: 3.2 / 26-30: 3.5
23-26: 4.0 / 20-23: 4.5 less than 20: something bigger!
Tonia's kite: 35-40: 4m / 30-35: 4-6m / 26-30: 5-7m
23-26: 7-9m / 20-23: 8-10 / 15-20: 10-12 / 10-15: 13-15.
Advertising Worth Reading
Good Medicine Tea Lounge

The Good Medicine Lounge is bringing the world's premium tea to the Gorge. The Tea House focus is on organic, bio-dynamic, sustainable, and grower direct teas from all flavor categories and all tea growing regions. Tea drinkers can relax in a restored craftsman living room while enjoying a light food menu and sampling from the large inventory of classic teas, flavored teas, blends, and tisanes. Loose leaf tea is also available in bulk purchases with a variety of pots, mugs, and infusers available to help consumers steep at home. The Good Medicine Lounge: 1029 May Street. 7am-3pm, Monday-Friday.
Gorge Weather
It's a chilly start to the day, with the coldest temps we've seen since June. Hood River Weather was reading 45 degrees this morning. I am going to free my butt off on my bike ride. Temps will climb to the low 80's today under sunny sky. Expect temps in the upper 40's on Friday, rising to the mid 80's. More sun. More sun on Saturday, with temps in the low 50's early and upper 80's in the afternoon.

White Sprinter Vans in Jail. Photo by Wayne.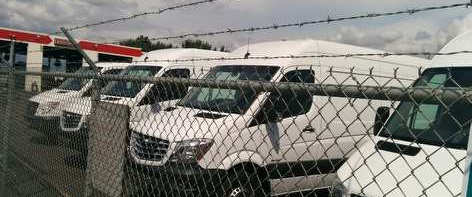 Road and Mountain Biking
We could use some rain on our trails – I went jogging in the dust yesterday. If you can make it rain, please do so. A quarter inch would be great. Today will be fantastic for road biking: not too hot and not very windy. Do keep the easterlies in mind and ride routes in a direction that will take advantage of the east wind. If you would like to pick up an Ellen Dittebrandt memorial t-shirt to support finishing the missing section of the Historic Columbia River Highway Trail, you can do so here.


The Clymb: free membership. Cheap gear.
Temira approves. Click to join.
River Levels / Cheezburger update
The John Day Dam is reading 81-96kcfs. The Dalles Dam is putting out 103kcfs. The White Salmon is at 1.8′. If you plan on running the White Salmon yourself, remember that there is a riverwide log about 150 yards below Cave Wave. The Columbia River is 72 degrees. Cheezburger sent me a photo of a White Bike Trainer yesterday.

Events – email me if I've missed any outdoor-related events
Tonight is the Post n' Pint mountain bike ride at Dirty Fingers, where you earn free beer for pedaling. There's a women's road bike ride at The Dalles City Cyclery at 5:30, and there's community Yoga, free or by donation, at Yoga Samadhi in White Salmon. Tonight is also opening day of football season, and the Seahawks are playing the Packers at 5:30pm. You can watch the game at Dirty Fingers or you can watch the game at River City. I am sure there are other places you can watch the game too.
Coming up this weekend, The Dalles hosts the Aluminum Man triathlon and Duathlon on Saturday. If you want to cheer, come on down to the Riverfront Park. On Sunday, there's downhill mountain bike racing at Skibowl, and there's the Rural Rampage adventure bike race, benefiting Hood River middle and high schools. Sign up for the first at Skibowl's website and sign up for the second through Hood River Community Ed. On Sunday at 4pm, bring a picnic down to the Waterfront Park in Hood River to celebrate the completion of the park with music by Toy Gun Conspiracy and Cripple Hop.
There are two events happening all weekend long, Friday through Sunday. First, it's the Huckleberry Festival in Bingen, and second, it's Pacific Crest Trail Days on Thunder Island in Cascade Locks, where you can check out all the latest camping gear, take free clinics, and watch moves and see music.
Have an awesome day today!
Temira