Please support this forecast by clicking on the photo of the forecaster!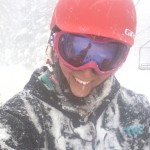 Your forecaster. Click on her to donate. Thank you!
Thank you for using this forecast. Please tell your friends about it! And if you or your friends think this service is awesome/useful/saves you gas money/makes your life more fun, make a donation by clicking on my photo above. Is more fun worth $50/year? $20/year? Donate what it's worth to you (and thank you!), but $12 minimum gets you on the email list (with occasional giveaways) for a year. Thank you for your support, and have fun today!
Random Morning Thoughts
Rain. Hmph. Well, at least there won't be any need to water your garden for the next couple of days. So, Mark, now's a great time to plant seeds. And hey, the dirt on the trails needs the rain. So never mind. The rain is great, and the rainbows tomorrow morning will be great too! Did you guys know that I really like rainbows?
Mt. Hood Snow Forecast
Today and tonight will be mighty rainy on Mt. Hood as the snow level sits around 8000′ midday, sitting there like a grumpy old milk cow until midnight. Then we'll see it (the snow level, not the cow) drop to 6000′, falling further to 4000′ by Friday morning. We'll get 1-2" of rain between now and when the snow level drops, followed by .1-.2" water value (WV) of orographic snowfall Friday morning for 1-2" of new snow. Wind will be SW 20 early, rising to WSW 40 in the afternoon and W 30 overnight.
Friday sees the snow level around 4000′-4500′ all day with orographic flurries all day. Models are being pretty generous with the moisture, and I'm suspicious. They say .3-.5" WV during the day, for 3-4" of new snow, followed by another .4-.6" WV for 4-6" of new snow overnight into Saturday. If that happens, Saturday could be The Last Powder Day of the Season IV, but I'm not holding my breath. I'm just watching and breathing. And hoping. Wind Friday will be W 35 for much of the day, dropping overnight. Thunderstorms Friday afternoon could make things interesting on the mountain.
Saturday starts partly cloudy and ends up clear. In other words, it will be a bluebird fresh tracks day if the forecast holds. The freezing level will be 3500′ early and 6000′ in the afternoon. Wind will be NW 15 early and NE 15 in the afternoon.
Today's Gorge Wind

Your favorite beach
Dawn
Patrol
9am-
11:30a
11:30a-
3pm
3pm-
dusk
Steven's Locks
0-5
0-5
0-5
15-18+

maybe

Hatch (subtract a few mph for Event Site)
0-5
0-5
0-5
15-18+

maybe

Doug's / Rowena / Lyle
0-5
0-5
0-5
15-18+

maybe

Maryhill / Rufus / The Wall
0-5
0-5
0-5
17-21+

maybe

Arlington / Roosevelt
0-5
0-5
0-5
23-26+

maybe
Gorge Wind
It's a light wind start to the day, and it'll probably stay light all day, with a short-lived burst of west wind possible late in the afternoon. Maybe 15-18+, briefly. Maybe a little more, briefly. Friday looks windier, as a low pressure trough moves east. We'll see gusty W 23-26 east of Mosier all day long, with 15-18 from Stevenson to Mosier. There is a very good chance that thunderstorms will mess with the wind on Friday after 2pm.
Saturday starts off fairly light, but weak high pressure off the coast should help the wind build to 22-25 from Stevenson to Doug's in the afternoon. Sunday looks like a light wind day.
On a different note, thank you to everyone who let me know the conditions at The Wall and Rufus the other day. When I looked that morning, the reading was 305,000cfs. Most of the comments said it was too much water, making for choppy and nauseating sailing. A couple people did say the water conditions got better in the afternoon, so perhaps the dam folks cut the flow at that point? I didn't check. So, anyway, the conclusion is that 305,000cfs at The Dalles Dam is a bit too much for the Maryhill area.
Gorge Weather
It's cloudy this morning, and once the atmosphere saturates, it's going to start sprinkling. And then this evening it's going to start pouring. Temps will be right around 50 this morning and in the low 60's this afternoon with light wind. You will have to head east of Hood River for rainbows today.
Tomorrow, however, should be plentiful in the rainbow department, as intermittent showers interact with intermittent sunbeams for a colorful day in the sky. Temps will be in the upper 40's early and upper 50's in the afternoon with moderate west wind. Saturday starts partly cloudy, becoming clear. Temps will be in the mid 40's early and low 60's in the afternoon with increasing west wind. No rainbows Saturday.
Road and Mountain Biking
The dirt was still pretty awesome yesterday yesterday in Post. I rode up to the top of 140 and then down 130, 133, 158, 106 and uh… what's the number for Mitchell Ridge and Seven Streams? And is Spaghetti Factory #106 or #116? Oh dear. I guess Matt and Henry and all of us on the trails committee really do need to get in gear with that signage thing!
If you want dirt, get it early before the rain hits, because it's going to be a lot of rain and probably will need a couple of days to dry out.
The Clymb: free membership. Cheap gear. Temira approves. Click to join.
River Levels
The Hood's at 4.8′, the Klickitat's at 2340 cfs, the White Salmon is at 4'ish, but I haven't remembered to pick up the phone and call Wet Planet to ask.
Events – email me if I've missed any outdoor-related events
In events tonight, there's pickup rugby at Henkle Middle School at 3:30. And there's the Post n' Pint mountain bike ride at 5:30 at Dirty Fingers, if the weather permits. If the weather does not permit, tonight will be the pint and pint and pint and pint, as usual at the BikeShopBar.
Coming up Saturday, there's the Master Gardners' annual spring plant sale at the OSU extension office from 9 to 1. Also on Saturday, there's Lila May's Tutu Trot, 3k,5k and 10k at the Twin Tunnels west trailhead at 9, raising money for the three-year-old ballerina's cancer treatment. I suspect this will be a very touching tribute run. Be there if you can. $15. Well worth it.
Have an awesome day today!
Temira