Please support this forecast by clicking on the photo of the forecaster!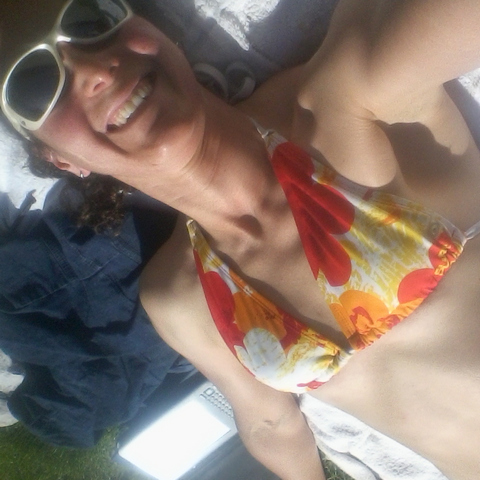 Your forecaster. Click on her to donate. Thank you!
Thank you for using this forecast. Please tell your friends about it! And if you or your friends think this service is awesome/useful/saves you gas money/makes your life more fun, make a donation by clicking on my photo above. Is more fun worth $50/year? $20/year? Donate what it's worth to you (and thank you!), but $12 minimum gets you on the email list (with occasional giveaways) for a year. Thank you for your support, and have fun today!
Random Morning Thoughts
Hi. Just thought you should know that I replaced two infinite switches and the light on my electric range yesterday. I have mad skillz.
Mt. Hood Snow Forecast
There might actually be some wet snow on Saturday night. And the rain might actually hold off long enough on Saturday for Meadows to have their end-of-season party. It would be nice if Mother Nature cut our little ski resort a break for once this year.
Today's Gorge Wind

Your favorite beach
Dawn
Patrol
9am-
11:30a
11:30a-
3pm
3pm-
dusk
Rooster's Rocks
E 15-18
E 0-10
W 5-10
W 5-10
Steven's Locks
E 15-18
E 0-10
W 15-18
W 20-23
Hatchery (minus a few for Hood River)
light
light
15-18+
23-26+
Doug's, etc.
light
light
building to
21-24
24-28
late
Rufus, etc.
light
light
building to
21-24
24-28
late
Roosevelt, etc.
light
light
10-15
21-25
late
Gorge Wind
We're starting off today with more wind than I thought we'd see: easterlies in the low teens with a .05 gradient. Don't bother chasing that, as it's going to switch to west wind by noon. Expect a steady build after that, first at Stevenson, and then out to Doug's and Maryhill. I think we'll see 15-18 by 2pm and 24-28+ at 8pm, strongest at Doug's and Maryhill late in the day. And I think all that means we'll see a late afternoon bump to 22-25+ at the Hatch and Hood River.
A strong marine push tomorrow gives us 26-30 (maybe more, initially, at Doug's) all day from Mosier to Arlington (82 degrees). I'm not sure if Hood River (73 degrees) will get in on the action tomorrow, or if it will end up under partly cloudy sky. Wait n' see, I guess. I'd pick Maryhill or the Lyle stretch if I wanted the mostest wind possiblist. The Columbia is at 294,000cfs this morning, a bit high for Rufus, but it was at 221,000cfs yesterday, perfect for that stretch of river.
Saturday has at least as much marine layer as Friday, but the picture will be complicated by an upper low (ULL) off WA and high pressure off CA. So it'll probably be a bit gustier than Friday. Anyway, we'll start with 21-24 and see the wind pick up to 26-30, likely east of Hood River. Sunday looks a little less windy with a bigger chance of thunderstorms as that ULL moves closer.
Gorge Weather
Sun and strong west wind mixed with high clouds and a noteworthy lack of rainbows. That's the forecast. But I think we'll see some rainbows on Sunday. I, however, am getting a massage on Sunday, so I might miss the mid-morning rainbows.
That wasn't a very helpful forecast, was it?
Today will start with nice gardening weather: light wind and temps in the low 50's. We'll see the temps climb into the upper 80's today (nice tanning or hammock weather) with some high clouds and increasing west wind. A marine push tonight (the wind Johnnies just freaked out) will make tomorrow much different than today: We'll start with temps in the upper 40's, but we'll see highs just in the low 70's. Expect strong west wind. Not sure if Hood River will be partly cloudy or not. Pretty strong marine push = maybe.
On Saturday, we'll see temps in the upper 40's early and upper 60's in the afternoon with strong west wind. Sunday might bring some showers, especially in the afternoon, when t-storms are possible. I think we'll see some showers Saturday night and/or Sunday in Post Canyon, if not on the east side of Hood River. Hooray!
Road and Mountain Biking
Tonight is the death-defying (for me) Post n' Pint mountain bike ride. It leaves Dirty Fingers at 5:30. If you want to ride really, really hard for 40 minutes and then just ride hard, you want to be at this ride. If you don't want to ride that hard, you can just show up and set your own pace, and start a group that rides at a human pace. Either way, you'll get a free pint of beer (yuck) after the ride.
Road biking will be spectacular this morning, but I'm going to recommend you finish by noon, because the westerlies will pick up after that, and you're not going to want to be stuck in The Dalles headed to Hood River this afternoon.
The Clymb: free membership. Cheap gear. Temira approves. Click to join.
River Levels
I did it. I called Wet Planet yesterday. The White Salmon is at 4.25′. That is a great level for rafting, so if you're bored in the Gorge today, go for a float. The Hood is at 5.1′ and the Klickitat's at 2160cfs.
Events – email me if I've missed any outdoor-related events
There are a couple of open sports events this evening. There's pickup touch rugby at Henkle Middle School at 3:30pm. There's the fast and furious post n' pint mountain bike ride leaving Dirty Fingers at 5:30. At 6:15 tonight, the Hood River Running Club has an interval workout at Hood River Valley High – I think it's called the Fast Times workout. Actually, they have two events on Facebook: one is the interval workout and another is "the interval workout has been moved to next week". Hmm. Also tonight, Columbia Riverkeeper has an adopt-a-river training at 5:30 at their office in Hood River.
Coming up this weekend, it's the last day of the Mt. Hood Meadows season on Saturday. Also Saturday, there's a free youth fishing clinic for kids under 13 at Middle Fork Pond. There's Gorge Cup windsurfing at the Hood River Event Site, and there's a meeting about the future of the Lower White Salmon at the Husum Fire Hall at 9am. That's all on Saturday.
On Sunday, there's a multi-sport swap meet at Windance, and Big Winds has a free youth standup paddle clinic from 1-4. That clinic is for kids from age 7 to age 14. Parents must be present. Sorry, this is not free babysitting.
Have an awesome day today!
Temira