Please support this forecast by clicking on the photo of the forecaster!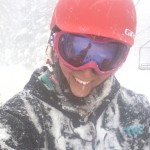 Your forecaster. Click on her to donate. Thank you!
Thank you for using this forecast. Please tell your friends about it! And if you or your friends think this service is awesome/useful/saves you gas money/makes your life more fun, make a donation by clicking on my photo above. Is more fun worth $50/year? $20/year? Donate what it's worth to you (and thank you!), but $12 minimum gets you on the email list (with occasional giveaways) for a year. Thank you for your support, and have fun today!
Random Morning Thoughts
In case you are wondering, last frost is approximately April 20th in Hood River, May 1st on the Heights, and May 15th in Parkdale. Now, remember, those are average last frost dates. Sometimes it happens later. Local folklore says you shouldn't plant tomatoes until the snow is off Mt. Defiance. There's a lot of snow up there still…
Ski to Defeat ALS
Coming up this Saturday at Mt. Hood Meadows, it's ski to defeat ALS. This fun and fantastic fundraiser is doing an amazing job raising funds to defeat a horrible disease. As you've probably heard, Fred Noble, doer of so many good things for the Gorge, was diagnosed with ALS in 2010. You can help him reach his goal at this year's event, his last, by making a donation.
Mt. Hood Snow Forecast – 5000′

4a-8a
8a-12p
12p-4p
4p-8p
8p-4a
Thursday
Friday
Saturday
Mt. Hood Snow Forecast
Nope. No snow for you! Just the snow that's on the ground. Today sees the freezing level at 6000′ early and 9000′ in the afternoon with NW wind at 15-20 early and W 10-15 in the afternoon. Friday looks sunny. The freezing level will be 8000′ early and 10,000′ in the afternoon. Wind will be NW 15-20 early and 25-30 in the afternoon. Saturday sees the freezing level at 8000′ early and 6500′ late (although I'm doubting the models on that one). Wind will be NW 25 early and NNW 20 in the afternoon. Sunday looks warm, sunny and not windy.
Gorge Wind
I feel my first windsurfing day of the season coming on tomorrow… Today starts with a .09 gradient, but the wind will fade a bit mid-morning before bouncing back to W 15-18 this afternoon. Maybe 17-21. Best near Hood River and Lyle. Tomorrow afternoon looks like a great setup. Expect 22-25 from Stevenson to Doug's after noon. Saturday looks light. Sunday brings strong easterlies. And the coast, wherever you go, looks good through Saturday. I heard the waves were "too big" at Oceanside yesterday, but that it was windy. Sounds fun!
Gorge Weather
No rainbows any time soon, sorry. Just beautiful sunny weather. Expect sunshine today with temps in the mid 40's early and mid 60's in the afternoon with increasing west wind. Tomorrow looks sunny, with the possibility of marine clouds pushing into the western Gorge in the afternoon. Temps will be in the low 40's early and upper 60's late with moderate west wind. Saturday looks sunny with light wind and temps in the mid-30's early and low 60's late. Sunday looks warmer with east wind.
Road and Mountain Biking
Wow. I couldn't believe how muddy it was in Post Canyon yesterday. That was very sad for me. It should be better this afternoon. And Syncline is great. And maybe Whoopdee, because it's further east. Tonight is the first Post n' Pint ride of the season. 5:30pm at Dirty Fingers.
River Levels
The Hood is at 5.4′, the Klickitat is at 2470 cfs, and the White Salmon is at 4.6′.
The Clymb: free membership. Cheap gear. Temira approves. Click to join.
Events – email me if I've missed any outdoor-related events
On Thursday night, big things happen. You can play pickup rugby at 3:30pm at Henkle Middle School. You can crush yourself on the Post n' Pint ride at Dirty Fingers at 5:30 (free pint of beer for you if you do the ride). You can crush yourself doing running intervals with Patty Boyd at 6:15pm at the Event Site. Coming up on Saturday, it's Ski to Defeat ALS at Mt. Hood Meadows. The Cherry of a Ride, benefiting St. Mary's Academy, is happening in The Dalles – they should have perfect weather. Its also the Northwest Creeking Competition on the East Fork of the Lewis River and on Canyon Creek.
Have an awesome day today!
Temira