Please support this forecast by clicking on the photo of the forecaster!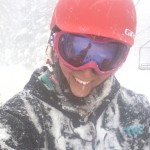 Your forecaster. Click on her to donate. Thank you!
Thank you for using this forecast. Please tell your friends about it! And if you or your friends think this service is awesome/useful/saves you gas money/makes your life more fun, make a donation by clicking on my photo above. Is more fun worth $50/year? $20/year? Donate what it's worth to you (and thank you!), but $12 minimum gets you on the email list (with occasional giveaways) for a year. Thank you for your support, and have fun today!
Random Morning Thoughts
1. There is a rock slide on Highway 35 at the S-curves on the Hood River side. 2. My kale, collards, and broccoli have sprouted. 3. I spent 2 hours playing in my garden yesterday in the warm rain. I recommend you try this in Sunday's warm downpour.
Cool Local Business – Please Support It
ReRack, a 6-year-old Portland business, is your place to buy, sell, and trade your Yakima and Thule rack parts. Brilliant idea, right? They provide free advice and free basic installation too. Head to ReRack, 2240 NE Sandy Blvd, to buy your first rack, sell your old rack or better yet make your old rack work on your new vehicle! Check out www.rerackpdx.com or Call (503) 875-6055 for more information. Go check it out. What a brilliant idea!
Mt. Hood Snow Forecast – 5000′

4a-8a
8a-12p
12p-4p
4p-8p
8p-4a
Thursday
Friday
Saturday
Mt. Hood Snow Forecast
It is snowing on Mt. Hood this morning, and it will continue to snow today. The snow level is right around 5300′ right now, and will drop to 4500′ at 1pm and 4000′ by 4pm, falling to 3000′ by tomorrow morning. There is a chance we'll see temps warm up just a touch late morning, with a chance of a bit of rain mixed in, but mostly we'll just see snow today. Expect flurries early, followed by increasing snowfall after 10am, for .7-.9" water value (WV) by 4pm. That should give us 4-7" of snow today. We'll see a few flurries overnight for up to 1-2" more snow, likely the low end of that. Wind today will be SW 60 early, W 45 midday and W 50 in the afternoon, slowly dropping overnight.
Friday starts off with flurries and sunbreaks, becoming partly cloudy or just plain sunny. The snow level will be 3000′ early, then the freezing level will rise to 5500′ mid-morning, 6500′ in the afternoon and 7500′ in the evening. Wind will be NW 30 early, becoming W 10 mid-morning and SW 15 in the evening.
Saturday starts off clear, becoming cloudy midday. Rain starts sometime between 7pm and 10pm. The freezing level will be 8000′ early, rising to nearly 12,000′ in the afternoon. We'll see 1" or more of rain between 7pm Saturday and 4am Sunday. Wind will be SW 20 early, slowly and steadily rising to SW 50 overnight.
Sunday starts off warm and wet: the snow level will be 10,000′ early, 6500′ around 10am, 6000′ at 1pm and 5000′ at 4pm. We'll see at least another 1" of rain during the day before the switch to snow, and then we'll just see a few flurries. Wind will be SW 45 early, dropping to SW 30 mid-morning and holding.
Gorge Wind
We have a light east gradient this morning. As an upper low moves into BC mid-morning, we'll see the wind pick up to gusty 28-32 east of The Dalles with gusty 14-17 near Hood River. Tomorrow starts with light west wind at 15-18, fading in the afternoon. Saturday brings light wind.
Gorge Weather
When I looked at Hood River Weather yesterday evening, I saw we'd set a record for rainfall for the day. I think we were at .75" or so at that point. That's wet. We'll see cloudy sky this morning with rainfall picking up after 10am. Temps will be in the upper 40's, possibly climbing to the low 50's.
Tomorrow starts with low clouds in the Gorge, but you might find an escape from the grey and some sun for your skin if you head east. Expect temps in the upper 40's early and mid-40's in the afternoon with light west wind that fades in the afternoon.
Saturday starts off clear, becoming cloudy early afternoon with heavy rain starting after 7pm. Temps will be in the upper 30's early and the mid-fucking-60's hell yeah in the afternoon. Please excuse my enthusiasm! And then we set the clocks ahead, losing an hour of sleep but gaining an hour of daylight every day.
Sunday looks very wet and rainy, but relatively warm.
Road and Mountain Biking
Friday and Saturday look like stellar days for road riding in the Gorge. Not windy. Warm. At least partly sunny. You are duly notified that I expect to see all of you out on the roads those two days.
The Clymb: free membership. Cheap gear. Temira approves. Click to join.
Events – email me if I've missed any outdoor-related events
There's pickup rugby at 3:30pm at Henkle Middle School this afternoon.
Coming up March 8th, it's Bowl For Kids' Sake, the annual fundraiser for Big Brothers, Big Sisters. Now look, folks. This program saves lives. Kids who have a "big" have lower dropout rates, better mental health, better grades and more success in life. Trust me on this one, and please make a donation. Any amount helps. And if you want to be involved, there are kids looking for Bigs. Just 2 hours a week can change a kid's life. Call 541-436-0306 for more information.
Also March 8th, it's the Feast of Words fundraiser at the Hood River Library from 6-9pm. So you can do Bowl for Kids' Sake and then go to the library fundraiser. Books saved my life when I was a kid, so I therefore deem this a worthy cause, despite its lack of connection with the outdoors (although I do love reading books in my hammock, outside).
Have an awesome day today!
Temira