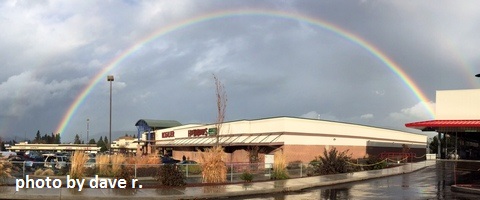 Random Morning Thoughts
I've mentioned before that cold snaps are a great time to use the Gorge as your refrigerator. In that vein of thought, I'd like to remind you that we have several sub-freezing nights coming up. This is a good time to make chicken stock so you're ready to make chicken soup, or even better, matzo ball soup. If you toss the bones into a huge stockpot in the morning and let them cook all day, the stock will be ready to put outside at sunset. My experience with this is that the stock will be cold, but not frozen solid, come morning. If you need tips on how to make the perfect chicken stock, I'm sure that Ben Stenn at Celilo or Mark Deresta at Riverside Grill will be happy to share some secrets. And if you need a taste-tester for your chicken soup, I will be happy to loan you my tongue.

Thank you for using this forecast!
Please donate to support it!
Thank you to everyone for using this forecast. Does it save you time, gas money, or help you find more wind, powder, or just plain fun stuff to do? Please consider making a donation to keep it going! Use it here for free or make a donation and get on the mailing list for wind for the summer and Mt. Hood snow in the winter. It's not $99/year. Not $50/year. No, just $12.34 or more gets you on the list for 12 months. Do it via PayPal/CC by clicking on my happy photo below. Don't PayPal? You can send a check to Temira @ PO Box 841 in Hood River. Thank you for your support, and thank you for trusting my forecast. You guys mean the world to me.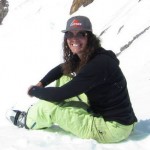 ---
Mt. Hood Snow Forecast – 5000′

4a-8a
8a-12p
12p-4p
4p-8p
8p-4a
Today
Tomorrow
The day after
Mt. Hood Snow – snow at 5000', wind at treeline
I'm a big fan of interesting and exciting and challenging forecasts. And I'm a big fan of forecasts that contain lots of precipitation. Well, our forecast just went from being like that to being way less interesting, as all the models converged on a solution that includes a lot less precip that all the previous model runs.
Before I forget, Teacup does have some XC trails groomed today, and Meadows will be running Buttercup from 11am to 4pm.
Expect a sunny day on Mt. Hood today with the snow level at the surface and 5000′ temps in the teens early and low 20's in the afternoon. We'll have east wind at 20 early, becoming SE at 20 in the afternoon.
Monday starts out clear or high overcast. Temps between 4000′ and 5500′ will be just above freezing when the (now very minimal) precip hits around 10am, with sub-freezing temps at all other elevations. The precip type depends on the northward progress of this weather system; if nothing changes between now and then, we'll see .1-.3" of water value (WV) or less that falls as snow during the day on Monday for an inch or two of new. Clear skies return overnight. Wind on Monday will be SW 25 for much of the day, becoming W 15-20 overnight.
Tuesday looks clear and sunny with the free air freezing level at 6000′ early and 8500′ in the afternoon. Wind will be W 20 in the morning and light and variable (LTV) in the afternoon.
Models are all over the place for the rest of the week, so I choose to say nothing about the long-range forecast.

Gorge Wind
It's a wee bit on the windy side in the western Gorge this morning, with iWind/iKite reporting 30 at Steven's Locks and 49g64 at Rooster, with a .20 gradient. The wind will continue to nuke today. Expect E 35-45 at Rooster tomorrow morning, fading to 25-30 in the afternoon. Tuesday sees the east wind jump back up to 40-50. The cold temps and strong easterlies suggest that you'll find some lovely frozen waterfalls on the Oregon side of the river over the next couple of days.

Gorge Weather
You know how I've been complaining the last couple of days about weather models not agreeing? Well, the model predicting all the precip, the GFS, just went to no precip. And the model predicting no precip, the ECMWF, just went to some precip. And all the models moved the precip back from around 4am to around 10am. So what conclusions can we draw about tomorrow's forecast? Well, we can start with today. =)
Expect a cold and sunny day today with very dry air. I know these things will happen because I just walked outside to look at the sky, and it was freakin' cold, the sky was clear, and there was no frost on my car. In case you were wondering, the dewpoint this morning was 9 degrees. Temps today will max out in the upper 20's, and you can expect a chilly east wind in the central Gorge. It is a good day to wear a fur coat. No rainbows.
Tomorrow starts out partly cloudy, with full-sky cloud coverage by mid-morning. Sadly, the s***show has disappeared from the forecast. Expect a 50% chance of snow in Hood River between 9am and 4pm, with less chance of freezing rain. Given the lack of northward progress with this system and the depth of the cold pool, it seems unlikely the upper atmosphere air will warm enough for freezing rain. Snowflakes are more likely. Expect an inch or two, max. Boo hiss and boring. Temps will be in the low 20's early and the low 30's in the afternoon. No rainbows.
Tuesday looks sunny. Temps will be in the upper 20's early and the mid 30's in the afternoon. Models are all whacked out and disagreeing after Tuesday, so I'm not going to speculate on the long-range forecast. On second thought, I am: wintry fall-like weather continues this week, and all the way through the rest of winter, with all sorts of winter-like weather possible, if somewhat unlikely at times.

White Sprinter Van of the Day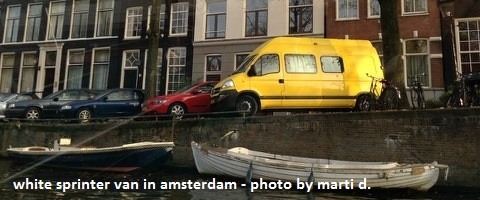 Road and Mountain Biking
Given that it's well below freezing this morning and very little snow fell yesterday, you're going to find some lovely hardpack trails this morning. Ride whatever you want, because frozen trails are awesome. But don't wait until afternoon, because if you ride Syncline or Whoopdee in the sun this afternoon, you'll encounter freeze-thaw conditions, and you'll damage the tread.


The Clymb: free membership. Cheap gear.
Temira approves. Click to join.
Upcoming Events
Today is Sunday. You will find community yoga, free or by donation, at Yoga Samadhi in White Salmon at 9am. This afternoon at 3pm, you can play pickup touch rugby at the Mosier School or ping pong at the Hood River Armory.
Have an awesome day today!
Temira