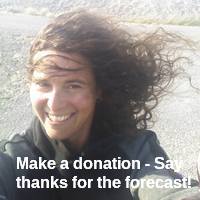 Get the email free through the end of January – try it out! Click here.

Thank you for using this forecast. I offer it freely so you can have more fun and plan your life. It does take significant time and energy to produce. If you find yourself using it often, or if you feel your life is enhanced by this information, please make a donation. I count on your support to pay my bills, and am deeply grateful to you for choosing to help support me. You can get this forecast via email by donation. The email subscription isn't $99/year. Not $50/year. Donating $12.34 or more gets you on the list for 12 months. Click on my photo to donate. Don't PayPal? Send a check to Temira @ PO Box 841 in Hood River. Thank you for your support and thank you for trusting my forecast.
Mt. Hood Snow Forecast – 5000′

4a-8a
8a-12p
12p-4p
4p-8p
8p-4a
Sunday
9000′->6500′
Monday
6500′->2500′->7000′
Tuesday
6500′-8000′
---
Mt. Hood Snow Forecast

Once again, it's drizzling on Mt. Hood. We might see some sunshine in the afternoon. The snow level will be 9000′ for most of the day and 6500′ after midnight. The mountain will see 1/4" rain during the day and another 1/4" rain tonight. Widn will be WNW 30 early, WNW 45 in the afternoon, and NW 40 after midnight. The period of strongest wind could impact a few lifts, but not as many as yesterday!
Monday looks partly cloudy with orographic showers possible. The snow level will be 6500′ in the morning, 2500′ in the afternoon, and 7000′ overnight. Just a trace of mixed precip or snow falls during the day, and the same overnight. Wind will be NW 40 early, NW 35 in the afternoon, and NNW 35 after midnight.
Tuesday looks sunny. The free air freezing level will be 7000′ in the morning and 8000′ overnight. Wind will be NNW 35 (that could be interesting) during the day and NW 25 in the afternoon and evening. Wednesday looks partly cloudy or clear. The FAF will be 8000′ early and 10,000′ int eh afternoon. Wind will be NW 20-25. There's not really any precip in the forecast after that, and models are in disagreement on next weekend's weather.

Random Morning Thoughts
I've got some plans today that are a bit out of my comfort zone. In the past, the anxiety associated with this would have won, and I'd have found a way to disengage. Anxiety is a tricky emotion. It developed to warn us that we were in danger, but it developed in a pre-modern world where life was more about survival than about choice.
In this day and age, we need to learn when and when not to listen to anxiety, and exactly how much credence we need to give to our nervous system's alarm system.
How do we do this? Wisdom!
Anxiety always feels crappy. We can do a couple of things to mitigate it: we can realize that it's our body's way of getting us fired up for a new experience, and not necessarily a bad thing. We can choose to interpret the physical signs as "I'm excited", rather than "I'm nervous". (They are similar – check it out sometime) We can use logic to examine the situation: "Am I really in danger? What am I worried/excited about?"
And then, most importantly, we can notice the outcome when we lean into the anxiety and do the thing we're nervous about. Taking the time to enjoy the outcome will teach our system that we're capable and competent, that anxiety isn't a sign of impending doom. Try something new today, and reflect on the exerpience tonight. Have an awesome day!

Disclaimer required by my grad school program: I am not your therapist, but I am seeing clients at this time at Comprehensive Healthcare in White Salmon. In the meantime, I am your weather forecaster. Take everything I say with a grain of salt, and consult with your actual therapist about your mental health issues. One other thing: I plan to keep doing this forecast indefinitely. Forecasting and counseling are both deeply meaningful and nourishing to me.

Gorge Wind Forecast
For Sunday, we'll start with a solid gradient: .10 Portland to The Dalles and .09 Dalles to Pasco. A weather system moving in this afternoon will make the wind gusty. But then again, it's winter. Of course the wind will be gusty. We'll start the day with 10-20, depending on location. After noon, the wind will pick up to gusty 18-23 in the western Gorge and gusty 25-29 east of The Dalles. Monday starts with up-and-down 20-23 from Stevenson to Arlington. Monday afternoon brings 12-15 in the western Gorge and 18-22 east of The Dalles. High pressure building inland on Tuesday knocks the wind down to 10-13, and confines it to the Stevenson to Hood River stretch.

Gorge Weather Forecast
It seems to be mostly cloudy out there this morning. We'll see a bit of drizzle (perhaps) later in the day. Temps will be in the mid to upper 50's (WARM!!!) all day. Open windows! Moderate west wind. 53% chance of rainbows. Monday looks partly cloudy with showers in the afternoon. Temps will be in the low 40's early and mid 50's in the afternoon. Moderate west wind. 99% chance of rainbows. Tuesday looks partly cloudy. Temps will be in the upper 30's early and low 50's in the afternoon. Light west wind. 1% chance of rainbows.
For weather specifically directed at travel through the Gorge, please visit Temira's Awesome Travel Advisory Service on Facebook.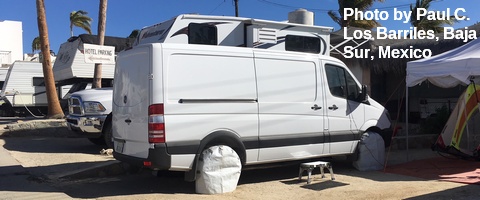 Road and Mountain Biking
As far as I know, Post and Whoopdee are still closed to bikes due to fragile, muddy trail conditions. The road riding yesterday was excellent – there's very little gravel on the roads in the Hood River Valley (exception being Tucker Hill) due to a warm winter.

Upcoming Events
There's by-donation yoga at Samadhi at 9am, ping pong at the Armory at 10am, meditation at Flow at 11am, pickup touch rugby at the Hood River Waterfront Park at 11am, YogaFaith at Pure Yoga in The Dalles at 4pm, and restorative yoga at Pure Yoga in Hood River at 6pm.

Click here for the full events calendar.
Have an awesome day today!
Temira