Random Morning Thoughts
I've been thinking a lot about student debt lately. Debt in general, really, but student debt in particular. People who are free of debt have freedom. Freedom to move, freedom to change jobs, freedom to start a business, freedom to create beautiful art and write engaging books. When we burden our youth (or anyone) with huge monthly debt payments, we limit what they can achieve.
We take away the ability for people to become the entrepreneurs that we proclaim to value. More importantly, we take away freedom, something we claim to value above all other things in this country. We have to stop putting mortgage-sized debt on people who are trying to better themselves through education, because we are taking away the things we value most from our next generation. End of rant.

Thank you for using this forecast!
Please donate to support it!
Thank you to everyone for using this forecast. Does it save you time, gas money, or help you find more wind, powder, or just plain fun stuff to do? Please consider making a donation to keep it going! Use it here for free or make a donation and get on the mailing list for wind for the summer and Mt. Hood snow in the winter. It's not $99/year. Not $50/year. No, just $12.34 or more gets you on the list for 12 months. Do it via PayPal/CC by clicking on my happy photo below. Don't PayPal? You can send a check to Temira @ PO Box 841 in Hood River. Thank you for your support, and thank you for trusting my forecast. You guys mean the world to me.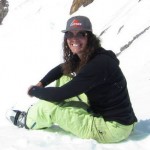 ---
Gorge Wind
Voting for the CGWA awards is now open. You can vote once per day.
That will give you something to do on this no-wind morning. Go vote. Make your friends vote. And then dust off your windsports gear for the evening session and the next two days. We'll see light wind this morning, picking up to 13-16 mid-afternoon, first at Cascade Locks and then at the Hatch, Sandbar and Mosier. The wind may get just a touch stronger late in the evening.
Monday starts with 13-16 from Swell to Mosier and picks up during the day as a weak weather system passes to the north. These dynamic setups make it difficult to pick where the "best" wind will be. Sometimes it's Doug's, sometimes it's Rufus, it's often Avery, and once in a while it's at the Hatch or Wells Island. Anyway, the wind will pick up to 24-27 midday near Hood River, and then fill in to Rufus. Late in the afternoon, we'll see 16-30, probably strongest and steadiest near Rowena and Maryhill.
Tuesday looks quite windy as offshore high pressure combines with another weak passing weather system for dawn patrol at 23-26 from Mosier to Rufus, maybe at Swell too if the clouds don't push in too far. Expect 24-28 in the morning, possibly fading in the afternoon depending on how quickly high pressure starts filling in inland.
Wednesday looks like an east wind day.
On the coast, we'll have light wind today with a 3′ NW swell at 7 seconds. Tomorrow looks winder (north/central/south): light/15-20/25-30, NW 4'@7. Tuesday: light/10-15/30-40, NW 5'@8.

Today's Gorge Wind – these are ranges for the average speed, not a predicted wind range. =)

Your favorite beach
Dawn
Patrol
9am-
11:30a
11:30a-
3pm
3pm-
dusk
Rooster's Rocks
tan
now
fade
later
Steven's Locks
light
light
10-13
13-16+
Hatchery/White Salmon Sandbar (minus a few for Hood River)
light
light
10-13
13-16+
Doug's, Lyle, Rowena
light
light
10-13
13-16
Rufus, etc.
light
light
light
light
Roosevelt, etc.
light
light
light
light
Temira's sail: 35-40: 2.9 / 30-35: 3.2 / 26-30: 3.5
23-26: 4.0 / 20-23: 4.5 less than 20: something bigger!
Tonia's kite: 35-40: 4m / 30-35: 4-6m / 26-30: 5-7m
23-26: 7-9m / 20-23: 8-10 / 15-20: 10-12 / 10-15: 13-15.
Advertising Worth Reading
Good Medicine Tea Lounge

The Good Medicine Lounge is bringing the world's premium tea to the Gorge. The Tea House focus is on organic, bio-dynamic, sustainable, and grower direct teas from all flavor categories and all tea growing regions. Tea drinkers can relax in a restored craftsman living room while enjoying a light food menu and sampling from the large inventory of classic teas, flavored teas, blends, and tisanes. Loose leaf tea is also available in bulk purchases with a variety of pots, mugs, and infusers available to help consumers steep at home. The Good Medicine Lounge: 1029 May Street. 7am-3pm, Monday-Friday.
Gorge Weather
It's another beautiful morning in the Gorge. It's just cool enough to make a warm cup of French Press appealing. As a matter of fact, I'm going to go grab a cup of coffee. With heavy cream. Ok, I'm back.
We'll see temps in the low 50's this morning and in the mid to upper 80's this afternoon. Tomorrow starts off sunny with temps in the upper 50's. Then a weak weather system moves in, bringing some high clouds. Temps will hit the upper 70's in the afternoon. Tuesday looks very similar to Monday: a few marine clouds in the morning with temps in the mid 50's. More clouds, both high and mid-level, in the afternoon with temps in the mid 70's.

White Sprinter Van of the Day with Hood River Mayor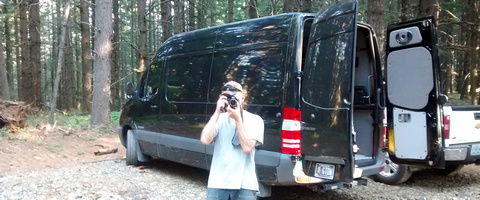 Road and Mountain Biking
Road biking doesn't get much better than it is this morning – no wind from any direction, cool temps, and light traffic. I checked out the mountain biking in Post yesterday, and it was dusty. Some friends of mine rode Oak Ridge yesterday and had a nice time. Some other friends rode Oakridge and also had a nice time. The hikers on Oak Ridge who reported the bears to HRPD, well, they probably weren't having such a nice time.


The Clymb: free membership. Cheap gear.
Temira approves. Click to join.
River Levels / Cheezburger update
The John Day Dam is reading 70-80kcfs. The Dalles Dam is putting out 84kcfs. The White Salmon is at 1.75′. If you plan on running the White Salmon yourself, remember that there is a riverwide log about 150 yards below Cave Wave. The Columbia River is 72 degrees. Cheezburger says he's pretty much done guiding for the summer, but if you call Wet Planet and request him, he will guide you.

Events – email me if I've missed any outdoor-related events
In events today, Huckelberry days continues in Bingen and Pacific Crest Trail Days continues in Cascade Locks. There's free community yoga at Yoga Samadhi in White Salmon at 9 this morning, then this afternoon there's pickup touch rugby at 3pm in Mosier, There's ping-pong at the Hood River Armory at 3, and there's a picnic party with two bands at Hood River's Waterfront park starting at 4. Come on down and celebrate the park being totally done.
Looking ahead to next weeked, Hood River hosts the Doublecross Cyclocross race and coming up next Saturday, it's the Dirty Fingers David Bowie-themed anniversary party.
Have an awesome day today!
Temira