Random Morning Thoughts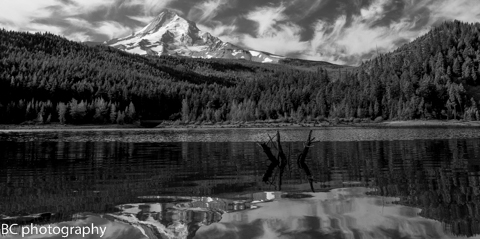 Thank you for using this forecast!
Please donate to support it!

Thank you to everyone for using this forecast. Does it save you time, gas money, or help you find more wind, powder, or just plain fun stuff to do? Please consider making a donation to keep it going! Use it here for free or make a donation and get on the mailing list for wind for the summer and Mt. Hood snow in the winter. It's not $99/year. Not $50/year. No, just $12.34 or more gets you on the list for 12 months. Do it via PayPal/CC by clicking on my happy photo below. Don't PayPal? You can send a check to Temira @ PO Box 841 in Hood River. Thank you for your support, and thank you for trusting my forecast. You guys mean the world to me.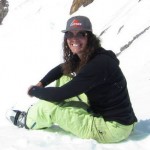 ---
Mt. Hood Snow Forecast – 5000′

4a-8a
8a-12p
12p-4p
4p-8p
8p-4a
Today
Tomorrow
The next day
Mt. Hood Snow
It's a sunny day on Mt. Hood, and it will be sunny for the next few days. Expect temps at 5000' to rise to the mid 30's today with the free air freezing level (FAF) at 10,000' this afternoon. Wind today will be light and variable (LTV).
Tomorrow starts off warmer on Mt. Hood: morning temps at 5000' will be around 40 degrees with the FAF at 10,000'. Temps will rise to the upper 40's in the afternoon. Wind will be LTV. Tuesday looks even warmer: temps at 5000' will be near 50 degrees with the FAF around 12,000' and LTV wind.
As I said yesterday, the temps/precip with the Wed/Thurs system have been all over the board. Originally it looked like .5" water value at 30-34 degrees. Now it looks like less water and much warmer temps. So don't hold out hope for this system. The next system looks to hit Saturday, which is WAY too far out to be predicting. That said, it looks very wet with temps in the 30-34 degree range. Wait and see, folks. Wait and see.

Gorge Wind
It's positively nuking on the river this morning. And that's interesting, because the 12k models aren't showing much. But the Gorge 4/3k model nailed the forecast. Expect 45-55 at Rooster today with 35-45 at Steven's Locks. The wind chill is currently under 10 degrees. You might not go, but Laura would go. Dave Brown isn't going, but he's watching the webcams. You might want to too, because there's smoke and steam on the Stevenson cam and it's just plain nuking on the Rooster cam.
Expect Rooster to hit 40-50 tomorrow, with 35-40 at Steven's Locks. The wind backs off just a touch on Tuesday and Wednesday, finally going to light-and-variable on Thursday.

Gorge Weather
There's slightly less inversion cloud outside my window this morning (but it's pink in the sunrise, so it's an okay Inversion), and with slightly less snow on the ground, temps are in the double digits to start the day. That's nice. If it had been in the single digits again, I was going to have to call the David Romprey Warmline to talk through my angst.
Anyway, temps will be in the low single digits this morning and in the low 30's (if we're lucky) this afternoon. The sun will shine today. Expect east winds to pick up in the valley this afternoon. Brrr. Tomorrow looks a lot like today, but just a touch warmer. On Tuesday, expect temps in the low 20's to start and the low 40's in the afternoon.

White Sprinter Van of the Day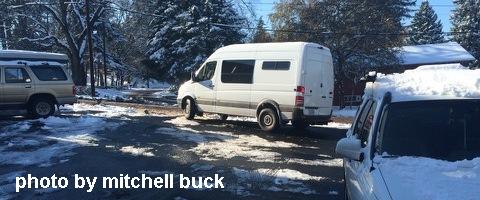 Road and Mountain Biking
It seems like there are places you might find some dry pavement today, and it seems like there are places you could ride a fat bike, if you have one. A great place to ride bikes today would be… Portland or Vancouver, where temps will be above freezing, the sun will be out, and the pavement will not be covered with gravel and ice. Today, here in the Gorge, is the kind of day when only Marcroft would be out riding.


The Clymb: free membership. Cheap gear.
Temira approves. Click to join.
It's cold out, and you still want to ride your bike, don't you? Me too. Bikes are fun! But cold weather makes for cold hands. What's a cyclist to do? Get some Bar Mitts! These neoprene handlebar covers keep your hands way, way warmer than the outside air. This isn't hype. This is Temira's personal testimonial. I begged these guys to let me advertise for them, because I have the coldest hands on the planet. Not anymore. Bar Mitts. Making it possible for me (and you) to have happy hands all winter long.

Upcoming Events
There's community yoga this morning, free or by donation, at Yoga Samadhi in White Salmon at 9am. Then there's ping pong at the HR armory at 3pm. I have no idea if rugby people will be playing rugby in the snow at the Mosier School at 3pm. Probably. They're rugby people. Coming up next Friday, Columbia Center for the Arts hosts the ski movies "Pretty Face" (about girl shredders) and "A Dozen More Turns" (about bad decision-making in the pursuit of… more turns).
Have an awesome day today!
Temira