Random Morning Thoughts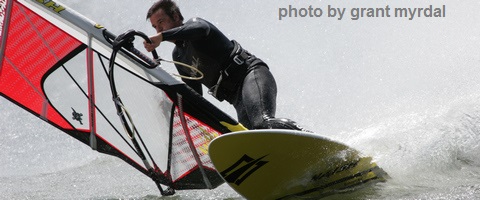 I'm lying here on my couch trying to turn being sick into a positive random thought, but it's hard to do. I spend most of yesterday asleep on my couch, and I'm writing this forecast lying on the couch because sitting up makes me feel ill. I guess we all need some downtime once in a while, and I'm really bad at making space for downtime (obviously, right?), so maybe this is a lesson for me. There have been some recent studies on our human need for vacation, on the need to break from our usual routine and give the mind a rest. This is not how I'd like to do it, but maybe it's time to start planning a vacation. I'll plan mine. You go plan yours.

Thank you for using this forecast!
Please donate to support it!
Thank you to everyone for using this forecast. Does it save you time, gas money, or help you find more wind, powder, or just plain fun stuff to do? Please consider making a donation to keep it going! Use it here for free or make a donation and get on the mailing list for wind for the summer and Mt. Hood snow in the winter. It's not $99/year. Not $50/year. No, just $12.34 or more gets you on the list for 12 months. Do it via PayPal/CC by clicking on my happy photo below. Don't PayPal? You can send a check to Temira @ PO Box 841 in Hood River. Thank you for your support, and thank you for trusting my forecast. You guys mean the world to me.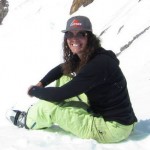 ---
Gorge Wind
Today, like yesterday, is starting out glassy on the river, so if you want to waterski or wakeboard or go fishing, get out there before the wind picks up. Yes, it will come up a bit today – the 7am gradient was .04, much better than yesterday's .01. Expect a very slow build to 12-15 by noon from Cascade Locks to Hood River, with the wind picking up to 15-18 from Stevenson to Doug's Beach this afternoon.
Tomorrow looks quite light for much of the day, according to the models. I'm a little baffled about why, but that's what they say. So let's call it 10-13 early, fading midday, and picking back up to 10-13 in the afternoon, strongest from Cascade Locks to Hood River.
Tuesday sees high pressure build inland for a light wind day. Wednesday and Thursday, if those useless long-range models are correct, will be windy.
Today's coast forecast (north/central/south): light/light/25-35, NW 6'@7. Tomorrow: 15-20/20-25/25-30, NW 6'@8. Tuesday: 15/20-25/light, NW 4@8.

Today's Gorge Wind – these are ranges for the average speed, not a predicted wind range. =)

Your favorite beach
Dawn
Patrol
9am-
11:30a
11:30a-
3pm
3pm-
dusk
Rooster's Rocks
naked
sunset
viewing
beach
Steven's Locks
light
light
10-13
15-18
Hatchery/White Salmon Sandbar (minus a few for Hood River)
light
7-10
10-13
15-18
Doug's, etc.
light
7-10
10-13
15-18
Rufus, etc.
light
light
light
light
Roosevelt, etc.
light
light
light
light
Temira's sail: 35-40: 2.9 / 30-35: 3.2 / 26-30: 3.5
23-26: 4.0 / 20-23: 4.5 less than 20: something bigger!
Tonia's kite: 35-40: 4m / 30-35: 4-6m / 26-30: 5-7m
23-26: 7-9m / 20-23: 8-10 / 15-20: 10-12 / 10-15: 13-15.
Advertising Worth Reading
Hood River Adventures: fishing tours, mountain bike shuttles, brewery and winery tours

Hood River Adventures is a local company owned by Drew Scharns, master guide specializing in fishing tours, mountain bike shuttles, and well as brewery and winery tours. Biologists predict this is going to be the biggest salmon run since 1938. Get some of it: Spend a day with Drew on the Columbia fishing for salmon, steelhead, and sturgeon or try fly fishing on the Klickitat. Feeling active? Head to the trails for shuttle laps with end-of-day car retrieval. Want to taste the local libations? Take a brewery or winery tour with HRA: no more arguments over who's going to be the designated driver – that's Drew's job! (541)4zero0-1216 hoodriveradventures.com
Gorge Weather
It's really a lovely morning here in the Gorge with temps in the mid 50's and lots of convective debris cloud coverage. I bet the sunrise was spectacular. I was sleeping during the sunrise, yet again. Expect a partly cloudy day today with increasing clouds in the afternoon as the atmosphere destabilizes a bit. That should give us a colorful sunset this event. High temps will be in the low 80's today.
Tomorrow looks sunny with temps in the mid 50's in the monring and mid 80's in the afternoon. Tuesday also looks sunny with temps in the low 60's early and upper 80's in the afternoon.

White Sprinter Van of the Day- I haven't quite figured out how to cuddle with them yet.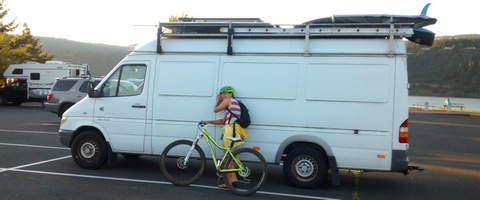 Road and Mountain Biking
No news is good news, I guess. Apparently I really need a day off, because a couple of days ago I said that Syncline was closed. It is not closed. Hospital Hill and Whoopdee are closed due to fire danger, as per the landowners' wishes.


The Clymb: free membership. Cheap gear.
Temira approves. Click to join.
River Levels / Cheezburger update
The John Day Dam is reading 109kcfs. The Dalles Dam is putting out 130kcfs. The White Salmon is just below 2′. If you plan on running the White Salmon yourself, remember that there is a riverwide log about 150 yards below Cave Wave. The Columbia River is 72 degrees. Cheezburger has been mighty quiet lately. Perhaps he's very busy guiding folks down the White Salmon?

Events – email me if I've missed any outdoor-related events
For events today, the Naish Columbia Gorge Paddle Challenge continues with the world's best standup paddlers doing a downwind race from Viento to Hood River today. The Oregon Enduro Series continues in Ashland, meaning our trails won't have so many shuttle riders today.
And if you want to try out something different today, Yoga Samadhi in White Salmon has community yoga, free or by donation at 9am, there's pickup touch rugby at the Mosier School at 3pm, there's ping pong at the Hood River armory at 3, and there's a mellow bike ride from Mountain View Cycles to the Rack and Cloth Cider house in Mosier at 5:30.
Have an awesome day today!
Temira