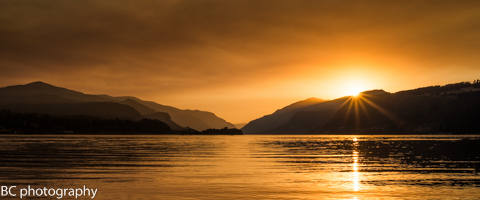 Random Morning Thoughts
I got some bad news yesterday morning just after I sent out the forecast. You know, one of those calls: "Hey, T, I have bad news…" This has happened way too many times in the last year, so I just said, "Who's gone this time? Just tell me."
Paco. Damnit. There are some people in my world who take up a lot of space in my mind. These people have complex personalities, and they trigger my compassion. Paco was one of those folks. He was kind and generous and giving until he felt hurt, and then he cut you out and was gone. It happened to me, and I worked hard to bring him back into my world. We talked for a couple of hours, and he said some pretty harsh stuff to me. But he was right about what he had to say, and I learned a lot from that verbal hiding – I learned that there are friends on a powder day, and that friendship and following through on my word is more important than personal play time.
Paco was fair. He was honest. Talented. He rode mountain bikes and Tele skied – I loved hollering his name from Shooting Star as he skied by below. We took a few laps here and there. Paco took the time to inspect my car after I rolled it, and he's the reason I'm still driving it totalled, with a nice bike to show for the rest of the insurance money.
The outpouring of support I've seen from people who called Paco "friend" (I suspect he had no idea how loved he was), is truly touching. Paco, we'll all miss you (we humans and our cars). Service details will be posted at Anderson's Tribute Center's website.

Thank you for using this forecast!
Click on my photo to support it with a donation.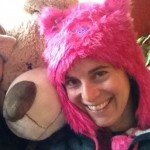 Thank you for using this forecast. Does it save you time, gas money, or help you find more wind, powder, or just plain fun stuff to do? Please make a donation to keep it going! Use it here for free or get on the mailing list for wind for the summer and Mt. Hood snow in the winter. Just click on my photo to donate. The email isn't $99/year. Not $50/year. No, just $12.34 or more gets you on the list for 12 months, and sometimes there are cool prizes. Donate via PayPal/CC by clicking on my happy photo below. Don't PayPal? You can send a check to Temira @ PO Box 841 in Hood River. Thank you for your support, and thank you for trusting my forecast. You guys mean the world to me.
---
Mt. Hood Snow Forecast – 5000′

4a-8a
8a-12p
12p-4p
4p-8p
8p-4a
Today
Tomorrow
The day after
Mt. Hood Snow
Yesterday turned out to be a most interesting day on Mt. Hood. Why? Rainbows. Lots and lots of rainbows. There will be no rainbows today, but there will something to get interested about: record warmth!
Expect a clear and sunny day on Mt. Hood today with the free air freezing level (FAF) above 10,000′. Wind will be W 20 early and SW 20 in the afternoon. Temps at 5000′ will be right around 50 degrees early, rising to 60-65 degrees this afternoon. It is likely we'll see the warmest ever 5000′ temp for January today.
Tomorrow looks sunny. The FAF will be above 10,000′. Wind will be SW 25 all day. Temps at 5000′ will be in the mid 50's early and the upper 40's in the afternoon.
High clouds move in during the day on Tuesday, and precipitation from a weak weather system starts around 4pm. The snow level will be 10,000′ early and 6000′ when the precip hits. We'll see (if the system doesn't weaken more), .2.-.4" water value (WV) from 4pm Tuesday to 4am Wednesday, for a couple inches of snow up high and wet, non-accumulating snow or light rain down low. Wind Tuesday will be SW 20 in the morning and W 25 in the afternoon. Looks like we'll see light sprinkles or flurries on Wednesday with the snow level around 5500′.

Gorge Wind
It isn't nuking in the Gorge this morning. There's just an easterly breeze in the teens at Rooster Rock. Expect the east wind to pick up to 20-25 by early afternoon at Rooster with 10-15 at Steven's Locks. Tomorrow starts with east wind at 10-15 and becomes light and variable in the afternoon. We're looking at west wind at 13-16 on Tuesday.

Gorge Weather
I went outside to check the weather, and there was a whole lot of Nothing going on out there. Expect Nothing this morning and sunshine this afternoon, with temps in the upper 40's early and low 50's this afternoon. If you want temps in the 60's, you'll have to go up to around 5000′.
Tomorrow looks like today: Nothing in the morning, sun in the afternoon. Temps in the low 40's early and the mid 50's in the afternoon. Tuesday starts with Nothing and switches to high clouds in the afternoon with sprinkles possible starting around 4pm. Temps will be in the low 40's early and the low 50's in the afternoon. Rainbow chances are 17%. We may see a few sprinkles on Wednesday, but more likely we'll just see clouds.

White Sprinter Van of the Day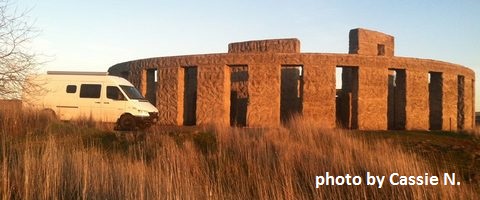 Road and Mountain Biking
The road biking yesterday afternoon was nothing short of spectacular. I was in shorts and 2 short-sleeve jerseys, and I saw a bunch of other people exposing similar amounts of skin. Today will be a fantastic day for road biking. Out on the trails, reports are that lower Post is greasy and muddy and upper Post is in good shape. I can only imagine that Syncline is epic. Whoopdee? Mmmm… probably a little too muddy still. Oak Ridge and Sink? Unknown. Nestor? Probably good. Gorge 400+? Always good. Go ride your freakin' bike today, people!


The Clymb: free membership. Cheap gear.
Temira approves. Click to join.
Upcoming Events
Today is Sunday. There's community yoga, free or by donation, at Yoga Samadhi in White Salmon at 9am. There's also community yoga at Root Down Yoga in Hood river at 6pm. In between the two yoga classes, there's ping pong at 3pm at the Hood River Armory ($5), touch rugby at the Mosier School at 3pm, and a stretching and mobility class (free or by donation) at Crossfit Hood River. Coming up tomorrow night, there's Aikido at Trinity Natural Medicine in Hood River at 5:30. There are also two community yoga classes on Monday night: 6pm at the Mosier Senior Center and 6:30pm at Yoga Samadhi in White Salmon.
Have an awesome day today!
Temira