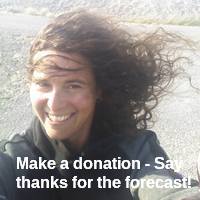 Get the email free through the end of February – try it out! Click here.

Thank you for using this forecast. I offer it freely so you can have more fun and plan your life. It does take significant time and energy to produce. If you find yourself using it often, or if you feel your life is enhanced by this information, please make a donation. I count on your support to pay my bills, and am deeply grateful to you for choosing to help support me. You can get this forecast via email by donation. The email subscription isn't $99/year. Not $50/year. Donating $12.34 or more gets you on the list for 12 months. Click on my photo to donate. Don't PayPal? Send a check to Temira @ PO Box 841 in Hood River. Thank you for your support and thank you for trusting my forecast.
Mt. Hood Snow Forecast – 5000′

4a-8a
8a-12p
12p-4p
4p-8p
8p-4a
Sunday
1000′->0′
Monday
0′
Tuesday
0′
---
Mt. Hood Snow Forecast

A long, soggy, windy day yesterday turned into a windy, snowy night last night. Today will continue to be snowy, but the wind and snowfall rate will drop as the day goes on. If you're planning a Sunday trip to the mountain, expect the resort parking lots to fill. You can also expect very icy roads down to sea level for your drive home. Looking long-range, we'll have fantastic packed-powder conditions all week on the mountain.
For Sunday, the snow level will be 500-1000′ early and down to sea level in the afternoon and evening. Temps on the mountain will be in the teens. About .8" water value (WV) falls during the day for 8-10" of dry, light powder. Another .1-.2" WV falls tonight, for 1-3" after 4pm. Wind will be W 30-35 in the morning, W 10-15 in the afternoon, and N 20 after midnight.
Monday starts off either clear or partly cloudy. The free air freezing level will be 0′. Temps on the mountain will be in the single digits. Wind will be N 20 in the morning, NNW 20 in the afternoon, and NW 10-15 after midnight.
Tuesday starts with high clouds and an epic sunrise. More clouds, lower clouds, move in later. Light snowfall starts up around 9pm. About .2" WV falls overnight, for 2-3" of powder. Wind Tuesday will be NW 10-15 all day. Thursday starts with flurries and turns clear. Temps will be in the teens. Wind will be NW 10. Next chance of a big snowstorm is Friday into Saturday.

Random Morning Thoughts
I'm gonna pass on reflecting this morning. Mostly because I'm hungry. May you be well-fed. Have an awesome day.

Disclaimer required by my grad school program: I am not your therapist, but I am seeing clients at this time at Comprehensive Healthcare in White Salmon. In the meantime, I am your weather forecaster. Take everything I say with a grain of salt, and consult with your actual therapist about your mental health issues. One other thing: I plan to keep doing this forecast indefinitely. Forecasting and counseling are both deeply meaningful and nourishing to me.

Gorge Wind Forecast
Saturday was pretty ridiculous – wind speeds topped out in the 40's with gusts into the 60's. For Sunday, we'll see gusty westerlies at 22-29 this morning. A steady fade during the day leads to a switch to E 10-15 after 4pm. Monday looks like E 15-20 to start and calm wind after noon. Tuesday looks like E 10-15. River temp is 39 degrees. Air temp will drop into the teens on Monday.

Gorge Weather Forecast
It's cloudy and rainy out there this morning, and at some point we'll see a switch to snow. Temps will be in the mid 30's early, perhaps near 40 later, and then will drop below 20 tonight. 1-2" snow after 3pm. 99% chance of rainbows. Moderate west wind early, light east flow later. Monday looks clear and cold to start. Temps will be in the teens early and near 32 in the afternoon. East wind goes calm midday. No rainbows. Very, very icy roads early. Tuesday starts off with high clouds and a beautiful sunrise. Temps will be in the teens early and mid 30's in the afternoon. Light east wind. Light snowfall is likely after 8pm.
For weather specifically directed at travel through the Gorge, please visit Temira's Awesome Travel Advisory Service on Facebook.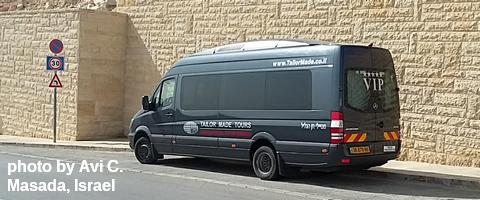 White Sprinter Van map of the world!!!
Road and Mountain Biking
Post is too muddy to ride today. You'll have better luck at Syncline. Whoopdee remains closed. We'll be heading into a freeze-thaw cycle next week, meaning Syncline should be avoided to avoid damaging the trails.

Upcoming Events
For today, there's by-donation yoga at Samadhi at 9am, ping pong at the Armory at 10am, meditation at Flow at 11am, pickup touch rugby at the Hood River Waterfront Park at 11am, YogaFaith at Pure Yoga in The Dalles at 4pm, and restorative yoga at Pure Yoga in Hood River at 6pm.
For Monday, there's meditation at noon at Trinity Natural Medicine. There's $5 Tai Chi at the Hood River Adult Center at 2:30. This evening at 6pm, there's community yoga at Samadhi in White Salmon. At 6:30, there's community yoga at the Mt. Hood Town Hall and community Zumba at St. Francis House in Odell. There's YogaFaith (Christ-centered yoga) in The Dalles at 6:45pm.

Click here for the full events calendar.
Have an awesome day today!
Temira