Random Morning Thoughts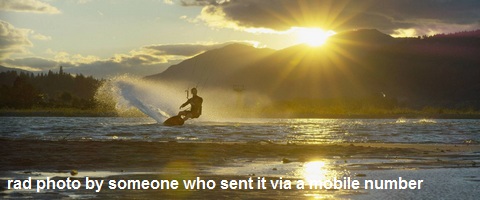 I'm so sorry that I spaced changing a couple sections on the forecast yesterday. I think I changed them on the website and on the printer-friendly version, but you guys are the guys who really count. So, my apologies. I guess that's a reminder that none of us, no matter how hard we try, are 100% perfect, although parts of us may be. It's the imperfect parts of all of us that let us appreciate the perfect parts more. And that leads to appreciating the whole person-package more. Hmm. If that's the case, maybe we can embrace our mistakes, because they allow us to see our perfect parts…

Thank you for using this forecast!
Please donate to support it!
Thank you to everyone for using this forecast. Does it save you time, gas money, or help you find more wind, powder, or just plain fun stuff to do? Please consider making a donation to keep it going! Use it here for free or make a donation and get on the mailing list for wind for the summer and Mt. Hood snow in the winter. It's not $99/year. Not $50/year. No, just $12.34 or more gets you on the list for 12 months. Do it via PayPal/CC by clicking on my happy photo below. Don't PayPal? You can send a check to Temira @ PO Box 841 in Hood River. Thank you for your support, and thank you for trusting my forecast. You guys mean the world to me.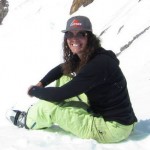 ---
Gorge Wind
So sorry about the messed up forecast yesterday… We'll see light and variable wind this morning, picking up to 13-16 out of the west this afternoon, late this afternoon, strongest from Stevenson to Hood River. It's possible we'll see less than that, just 10-13, but the models seem to be undercalling the wind right now, so I'm hedging on the high side.
Tomorrow, Monday, starts with westerlies at 20-23, probably from Mosier east to Arlington, but possibly including Swell too. As a front approaches in the afternoon, likely hitting Hood River with showers and rainbows and gusty 13-16, the wind will pick up to 26-30 from Mosier eastward.
Tuesday starts with west 15-18 and picks up to 23-26 in the afternoon, probably strongest near Doug's early and from Hood River to Doug's in the afternoon. As of yesterday, Wednesday was looking glassy, but now it's looking like W 13-16, very annoying for my planned bike ride from Wyeth to Vancouver, WA.

Today's Gorge Wind – these are ranges for the average speed, not a predicted wind range. =)

Your favorite beach
Dawn
Patrol
9am-
11:30a
11:30a-
3pm
3pm-
dusk
Rooster's Rocks
Anyone
know
a nudist
who'll
give
a talk?
Steven's Locks
light
5-10
8-11
13-16
Hatchery/White Salmon Sandbar (minus a few for Hood River)
light
5-10
8-11
13-16
Doug's, Lyle, Rowena
light
5-10
8-11
13-16
Rufus, etc.
light
and
variable
LTV
Roosevelt, etc.
light
and
variable
LTV
Temira's sail: 35-40: 2.9 / 30-35: 3.2 / 26-30: 3.5
23-26: 4.0 / 20-23: 4.5 less than 20: something bigger!
Tonia's kite: 35-40: 4m / 30-35: 4-6m / 26-30: 5-7m
23-26: 7-9m / 20-23: 8-10 / 15-20: 10-12 / 10-15: 13-15.
Gorge Weather
Expect a sunny day in the gorge today with temps in the upper 40's early and upper 70's this afternoon. Tomorrow starts off sunny with temps in the low 50's. A cold front in the afternoon keeps the temps from climbing above the low 70's, and it will bring showers and rainbows. Call it a 67% chance of rainbows. Expect lingering showers on Tuesday morning for a 84% chance of rainbows, especially west of Hood River. Temps on Tuesday will be in the low 50's early and the upper 60's (brrr) in the afternoon.
Something to note: the snow level will be down to 6500′ in the wake of the frontal passage on Tuesday morning, so be prepared for a barrage of photos from Timberline and Meadows showing a dusting of fresh snow under the chairlifts.

White Sprinter Van of the Day with White Spandex-clad Cyclist. Rare in the USA!!!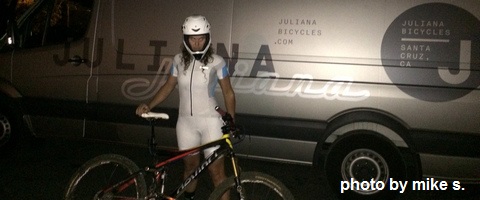 Road and Mountain Biking
Whoopdee was riding great yesterday. Over on Hospital, there is logging happening on Evergreen Highway and Triple Bypass, so you're basically riding the front side or nothing. Sounds like the 44 Road is 50-50 for tack and dust. While you're riding, wherever you are, keep your eyes open for chanterelles and boletes. Still no word on motorized access, but I bet HRC will make a decision first thing Monday morning.


The Clymb: free membership. Cheap gear.
Temira approves. Click to join.
River Levels / Fish Counts/Cheezburger Update
The John Day Dam is reading 60-69kcfs. The Dalles Dam is putting out 73kcfs. There are two river-wide logs on the White Salmon: 1 just below Cave Rapid on the Middle and one below Cave Wave on the Lower. The White Salmon is at 1.6′, according to John L. I didn't talk to Cheezburger yesterday, nor did I remember to go to Windance and buy fish. However, the fish counts were up this morning: 10,191 Chinook, 2942 Coho, 3747 Steelhead. The Columbia is 67 degrees.

Events – email me if I've missed any outdoor-related events
In events today, there's mountain bike racing at Timberline and Skibowl, there's rugby at 3 in Mosier and ping pong at 5 at the Hood River armory.
Next Saturday, starting at 4pm, Cascade Locks is hosting International Take a Kid Mountain Biking day at the EasyCLIMB trail. There will be trail tours and a skills course and hot dogs provided by the Lumberyard, along with great raffles.
Next Sunday is the Superhero run in The Dalles. Dress up you and your kids as your favorite superheros and come raise some money for CASA of the Gorge.
Have an awesome day today!
Temira