Mt. Hood Snow Forecast – 5000′

4a-8a
8a-12p
12p-4p
4p-8p
8p-4a
Sunday
1500′->500′
Monday
0′->2000′
Tuesday
5500′->10000′
---
Mt. Hood Snow Forecast

Today will be the last cold and snowy day on Mt. Hood for quite a while. If you like stormy weather, get in your car and get up there right now! The snow level will be 1500′ this morning, 1000′ this afternoon, and less than 500′ overnight. We'll see an inch or two of snow in the next 24 hours, with the snowfall rate decreasing late in the day. Wind today will be NW 25 all day and NNW 20 after midnight.
Monday looks sunny. The free air freezing level will be 500′ or less in the morning, 2000′ in the afternoon, and 5500′ after midnight. Wind will be NNW 20 in the morning and N 15 in the afternoon and evening. Tuesday looks sunny with the free air freeizng level at 5500′ early and 9000′ in the afternoon. Wind will be N 15 ealry, NE 15 in the afternoon, and E 20 after midnight.
A massive ridge of high pressure builds overhead, all the way north to Alaska, this week. That will send any weather systems far to the north, keeping us high and dry for goodness knows how long. Along with that ridge comes warm weather for the mountains – by Thursday, temps at 5000′ will be in the upper 40's.

>
Does this forecast save you time, gas money, or help you have more fun in your life? Make a donation to support continued forecasting, and get the forecast in your inbox each day. Click on the button to donate. The email subscription isn't $99/year. Not $50/year. No, just $12.34 or more gets you on the list for 12 months. Don't PayPal? Send a check to Temira @ PO Box 841 in Hood River. Thank you for your support and thank you for trusting my forecast.
Random Morning Thoughts
We want to see our friends and loved ones do well. This is only normal. Often, though, we think that our definition of doing "well" is the right one for the people around us. For example, my family once tried to convince me to move back to Seattle by offering to connect me with a "job". Their idea of success – money, a 'real job', a nice house – looks different than mine. My idea of success looks like this: strong community connections, freedom to do the things I love, easily accessible natural beauty and outdoor recreation, space to give back to others, and good friends (among other things).
We can best support our loved ones by trying to understand their values, rather than imposing our own. It may be painful for us to do this: our hopes for our children and friends are based in our values, and we can experience a sense of grief when those don't match up. Having conversations about what is important to each person, and learning to see the world from someone else's perspective, can give us the ability to really support them in their own personal search for success. May you be content, and may you find ways to understand the motivations of those around you. Have an awesome day.

Disclaimer required by my grad school program: I am not your therapist, but I am seeing clients at this time. In the meantime, I am your weather forecaster. Take everything I say with a grain of salt, and consult with your actual therapist about your mental health issues. One other thing: I plan to keep doing this forecast indefinitely, even when I am a therapist.

Gorge Wind Forecast
For Sunday, looks like we'll see strong enough westerlies to get YOU on the water! Morning gradients were .08 and .04. River temp is 47 degrees. The GFS says we'll have west wind at 22-25 for much of the day between Viento and Rufus. You'll have to look for clear sky to pick the best spot – locations under the clouds will be gusty. River temp is 47 degrees. Monday starts with west wind at 10-13 and goes calm in the afternoon. Tuesday looks like E 40 at Rooster, Wednesday E 50, and Thursday E 50 dropping to E 40.

Gorge Weather Forecast
It's a cloudy, sprinkly start to Sunday, but we should see sun later. Temps will be in the low to mid 40's all day. Moderate west wind. 67% chance of rainbows. Expect icy roads tonight, especially over 500′. Monday looks mostly cloudy. Temps will be in the mid 30's early and low 40's in the afternoon. Light west wind. No rainbows. Tuesday starts with Nothing and turns sunny. Temps will be right around 30 early and in the low 40's in the afternoon. Strong east wind. No rainbows. The rest of the week looks dry with less clouds each day and strong east wind.
For weather specifically directed at travel through the Gorge, please visit Temira's Awesome Travel Advisory Service on Facebook.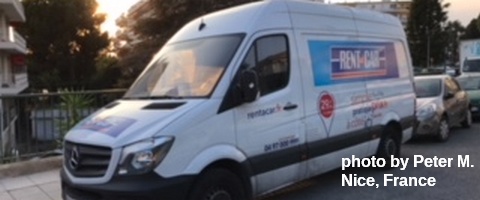 Road and Mountain Biking
It's been pretty muddy at Syncline, but starting tomorrow or Tuesday, things are going to get unrideable there; we're going into a freeze-thaw cycle. That will turn the dirt into sticky mud. Not only will you damage trails, but you'll find your bike coated in goo. If you must ride, find somewhere under a canopy of trees to do it – the ground there will be frozen, and will likely stay frozen during the day. And if not, go road biking! There are a couple of HRATS fundraisers coming up: December 9th at Kickstand (silent auction to raise money to build a pump track) and December 14th at Double Mountain (annual fundraiser).

Upcoming Events
There's by-donation yoga at Samadhi at 9am, ping pong at the Armory at 10am, meditation at Flow at 11am, pickup touch rugby at the Hood River Waterfront Park at 11am, YogaFaith at Pure Yoga in The Dalles at 4pm, and restorative yoga at Pure Yoga in Hood River at 6pm. . The Meadows Avalanche Dog Fundraiser is December 7th at Double Mountain, and the HRATS annual fundraiser is the 14th, also at Double Mountain.

Click here for the full events calendar.
Have an awesome day today!
Temira