The best snow forecast for Mt. Hood. The best wind forecast for the Gorge.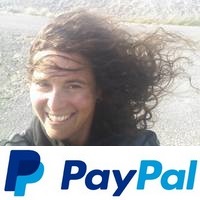 Thank you for using this forecast. Like it? Find it useful? Support it (and me!) by sending some cash my way. What's it cost to support me and get the email version? Not $99 a year. Nope. Not $49. Just $19.99 or more gets you a year. People are added to this list on Thursday and Sunday. My day job is crisis mental health, and I don't have time on other days. Thanks for your patience! Click below to contribute. Thank you!!
Credit card payments use this button
Click here to use your PayPal
Venmo: @theGorgeismyGym
Snail Mail: PO Box 841, Hood River, Oregon 97031
(note: I am not a non-profit entity. The only way to accept credit cards with a user-defined amount is to use the 'donate' button. Thanks for understanding!)

Auto-renewing subscription. New! Awesome!
The Forecast
Mt. Hood Snow Forecast – 5000′

4a-8a
8a-12p
12p-4p
4p-8p
8p-4a
Sunday
0′->3500′
Monday
3000′->4000′
Tuesday
3500′-4500′
Mt. Hood Forecast
Yesterday sure didn't turn out as forecast – the wind kept at it all day and made a big mess of things for the ski areas. Today is a different day. The weather is clear, calm, and cold. Sunshine will stick around all day. Heck, sunshine will stick around all week!
Sunday's details include a chilly start with slope-side temps in the teens. The freezing level will slowly rise to 3500′ today. No precip. Wind, thankfully, will be light: E 5 in the morning, NE 5 in the afternoon, and E 25 overnight.
Strong easterlies on Monday could swing some lifts around. They'll also help keep the snow colder and perhaps not-sticky during the day. The free air freezing level will be 3000′ in the morning and 4000′ in the afternoon and evening. Wind: E 25-35 in the morning, NE 15 in the afternoon, and NE 30-40 overnight.
That wind could affect lift ops, especially at T-Line, on Tuesday. Sunshine is the plan all day with the freezing level at 4000′ in the morning, 4500′ in the afternoon, and 3500′ after midnight. Wind: NE 30-40 in the morning, NE 20-30 in the afternoon and overnight. Sunshine continues for the extended forecast period, likely through the weekend. Enjoy!
Note on wind speeds. Different wind directions are experienced in different ways on Mt. Hood. For example, west wind at 50mph will hit the slopes and exposed ridges at W 50. SW 50 may hit the ridges at SW 50, but will likely only be SW 20 below tree line. Hence the ranges for wind. Depends where you are on the mountain. Hopefully that helps clarify.
Gorge Wind Forecast
Strong offshore high pressure this morning is really complicating the river-level wind forecast. Models suggest easterlies, but the early gradient is west .05 (pdx-dls). I suspect we'll see westerlies at 10-13 from Stevenson to Hood River today with light easterlies east of there, but heck, it's really anyone's guess. River flow is 124kcfs, river temp is 47F, and high temp forecast is 56F.
Monday sees widespread easterlies. In the morning, Rooster has 30-35 and Stevenson 20-25. Afternoon wind drops to 10-15 between Rooster and Viento and fills in at E 10-15 all the way to Arlington. Stronger widespread easterlies are in the picture on Tuesday. Expect morning wind at 15-20 at Rooster Rock and 20-30 at Cascade Locks. Afternoon: 10-15 in the western Gorge. Rest of the Gorge: widespread E 20-30 in the morning and 15-25 in the afternoon. Those widespread easterlies back off a bit but likely continue for a couple more days. As a matter of fact, there's not much hint of westerlies in the next week!
Coast, Jones, Sauvie's
On vacation until the end of snowsports season. Will return in April or May.
Hood River Weather Forecast
Sunshine sticks around most of the week. For Sunday, we have sun all day. Temps will be near 30 early and in the mid 50's later. Light westerlies. No rainbows. Monday starts out in the low 30's and rises to the low 60's. Sun all day. Moderate easterlies. No rainbows. Tuesday also brings sunshine. Temps will be in the upper 30's early and low 60's later. Moderate easterlies. No rainbows.
Looking for a complete Columbia Gorge forecast? Looking for more humor in your weather? Obscenities? You're looking for my TATAS: Temira's Awesome Travel Advisory Service on Facebook.
Cycling
Brown Pow alert everywhere! Cows are out on Hospital Hill. No parking at the corral. No dogs on the trails. No exceptions. Please respect the wishes of the landowners – they let us use their land, and in return, we respect their rules! Post Canyon: clear of snow to the top of Eldorado, perhaps to top of 140. New Whoopdee: open. Other news: Mountain View Cycles women's ride is every Thursday, bottom of Post at 5:30pm. Dirty Fingers has Sunday gravel rides. Contact the shop for details.
Sprinter Van of the Week!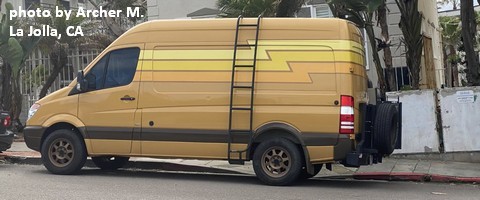 Click here for the Sprinter Van map of the world!!!
Local Events
Not much happening thanks to the pandemic… Have an awesome day!