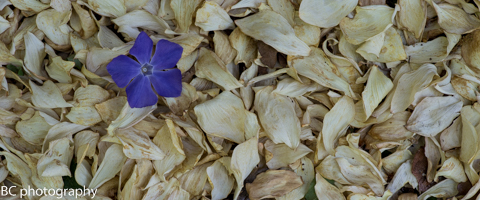 The Mt. Hood forecast for all of next week doesn't look much different than the Mt. Hood forecast for today: sunny. There's a slight chance of a little bit of something tonight, but really not much of anything at all. After that, we'll see a couple days of transitional snow before we switch back to really nice spring conditions. Continued below the chart…
Mt. Hood Snow Forecast – 5000′

4a-8a
8a-12p
12p-4p
4p-8p
8p-4a
Today
1000'–>5000'
–>2500
Tomorrow
1500'–>3500'
The day after
<0'-->500'
Expect a sunny start to today with high clouds moving in late this afternoon. We'll see a chance of a few flurries tonight, for a trace of accumulation at best. The free air freezing level will be 1000′ early and 5000′ in the afternoon, falling to 2500′ by the time the slight chance of snow flurries starts around 1am. Wind today will be NE 20 early, dropping quickly and becoming NW 10 by midday.
Monday starts off partly cloudy with just a few flurries, becoming clear and sunny by 10am. No accumulation of snow will accumulate on the accumulation measuring devices. The snow level will be less than 1500′ early, becoming a free air freezing level of 3500′ in the afternoon. We'll see the wind at NW 10 early, becoming N 25+ by 10am and NNW 30+ by 4pm. These north winds are hard to predict accurately, so I could be totally off base on the wind strength.
Tuesday looks cold and clear. The free air freezing level will be at the surface early and at 1000′ or less in the afternoon. 5000′ temps will be in the teens early and in the upper 20's in the afternoon. The wind will be northerly, and hence difficult to predict. My best guess is N 30+ early and N 20+ in the afternoon. Wednesday looks sunny and warmer, with the FAF rising to 5000′ in the afternoon. Sunny, dry weather continues for the rest of the week.

Thank you for using this forecast!
Click on my photo to support it with a donation.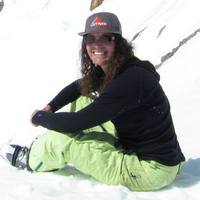 Thank you for using this forecast. Does it save you time, gas money, or help you find more wind, powder, or just plain fun stuff to do? Please make a donation to keep it going! Use it here for free or get on the mailing list for wind for the summer and Mt. Hood snow in the winter. Just click on my photo to donate. The email isn't $99/year. Not $50/year. No, just $12.34 or more gets you on the list for 12 months, and sometimes there are cool prizes. Donate via PayPal/CC by clicking on my happy photo below. Don't PayPal? You can send a check to Temira @ PO Box 841 in Hood River. Thank you for your support, and thank you for trusting my forecast. You guys mean the world to me.
---
Gorge Wind
There's an easterly gradient this morning, .06, to be precise about it. Expect easterlies at 25-30 at Rooster this morning with 20-23 at Steven's Locks, backing off by midday and swinging to light and variable or light W by 4pm. Tomorrow starts with W 5-10 and picks up to gusty 18-21 from Steven's Locks to Doug's in the afternoon. We might see slightly stronger wind than that. Maybe. Tuesday looks like E 30-35 at Rooster.
Out on the coast (north/central/south)… Today: 5-10/10-15/25-30, NW 5@8. Tomorrow: 15-20/10-15/30-35, NW 6@8. Tuesday: 10-15/15-20/30-40, 4′.

Random Morning Thoughts
It's the first of March today, and I was going to talk about this awesome interaction I had with a high school junior named Jack yesterday. Instead, I sent him an email telling him how honored I felt, and I'm going to talk about something else.
I mentioned self-love a few days ago. I've decided March is the month of introspection and self-love. I'm gonna grab myself a mason jar and some scraps of paper. Each day I'm going to write down something I really love about some part of myself. For example, today I'm writing down that I love the part of myself that loves food so much that …
When I was in high school, I noticed outlets in one of the hallways and talked my friends into bringing the fixings for meals. We cooked with a wok. We cooked with a waffle iron. We had potlucks in the hallway. We had lots of fun. I do stuff like that at my job at Meadows too. My love of food led me to a career as a line cook for 10 years. It feeds (no pun intended) my love of gardening. I love the part of me that loves food for all the silly and cool and generous things that part of me leads me to do.
Your turn. Grab a jar or a bowl and a scrap of paper and write something down. You're gonna do this for the next 30 days. Ooops. I meant 31. =)

Gorge Weather Forecast
It's a clear and cold start to the day in the Gorge. It was 38 at Larry's house this morning and 27ish at my house, which makes no sense because Larry is just 300′ above me, but that's how it was. Cold pool at PeachHaven this morning. Expect a sunny day with some high clouds in the afternoon and high temps in the low 50's. No rainbows. We may see a few sprinkles or maybe even wet flurries (if you're above 1000′) tonight.
The slight chance of sprinkles/flurries continues tomorrow but ends by 10am, leaving us with clearing sky. Temps will be in the mid 30's early and the upper 50's in the afternoon. 6.734% chance of rainbows tomorrow morning.
Tuesday looks clear and sunny with temps in the low 30's early and the low 50's in the afternoon. Tuesday looks cold. Wednesday starts off cold and becomes warmer. The rest of the week looks dry and sunny.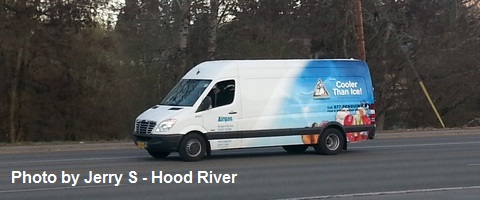 Road and Mountain Biking
It was below freezing, well below freezing, at my house this morning at 5am. That means that Syncline, Whoopdee, Hospital and Post are all going to experience freeze-thaw conditions in the exposed (no trees) areas today. Please don't ride them until at least mid-afternoon, or you risk doing serious damage to the trails, especially Whoopdee, which was already too muddy to ride. It's going to be a great day for Nestor Peak, Gorge 400 and Oak Ridge and Falls Creek, assuming it didn't snow at the top of Falls Creek, which it may have… Looking ahead to next week, we'll see freeze-thaw on the trails through Wednesday, after which we'll see dirt-tackular conditions! The road biking will become spectacular this afternoon as the wind completely dies out and the sun shines on the pavement.


The Clymb: free membership. Cheap gear.
Temira approves. Click to join.
Upcoming Events
There's community yoga at 9am at Yoga Samadhi, ping pong at 3pm at the Hood River Armory, pickup touch rugby at 3pm at the Mosier School, and community yoga at 6pm at Root Down in Hood River.
Have an awesome day today!
Temira