Random Morning Thoughts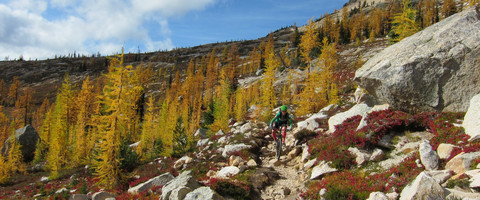 I'd just like to remind you that I'll be on vacation from October 5-11. And I'm not taking my computer with me, for once. I'll just break it or spill water on it if I do, and besides, I heard the current bushes and the electrical trees aren't working very well this season. Some sort of blight or fungus or something. Anyway, in a brilliant stroke last night, I compromised my ability to hold my handlebars on my vacation by getting attacked by an organice Red Kuri squash from my garden.
All I wanted to do was remove the skin so I could cut it into cubes and roast it. As I was doing that, the squashed leaped out and slipped its skin under my thumbnail, in a fair approximation of a banned torture technique. Separating 1/4 of your thumbnail from your thumb using squash skin hurts, let me tell you. It still hurts. That is all. Have a good vacation, everyone.

Thank you for using this forecast!
Please donate to support it!
Thank you to everyone for using this forecast. Does it save you time, gas money, or help you find more wind, powder, or just plain fun stuff to do? Please consider making a donation to keep it going! Use it here for free or make a donation and get on the mailing list for wind for the summer and Mt. Hood snow in the winter. It's not $99/year. Not $50/year. No, just $12.34 or more gets you on the list for 12 months. Do it via PayPal/CC by clicking on my happy photo below. Don't PayPal? You can send a check to Temira @ PO Box 841 in Hood River. Thank you for your support, and thank you for trusting my forecast. You guys mean the world to me.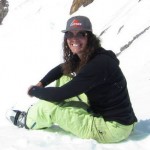 ---
Gorge Wind
In "news that I forgot to mention", Cheezburger found a PFD at Luhr Jensen on 10/3. If you left a PFD down there that day, please shoot me an email to describe it.
There's not much going on in the wind department here in the Gorge for the next few days. You may have to shift your perspective and get excited about something else. Like rainbows. Anyway, expect westerlies at 10-13 this morning, backing off to 5-10 or less by the afternoon. Tomorrow, Monday, starts with light east wind and switches to west 5-10 in the afternoon. On Tuesday, expect light and variable wind early, picking up to W 10-13 in the afternoon. It's looking like we'll see stronger west wind on Wednesday as a weather system pushes through the Gorge.
If you are headed to the coast, you will find unreliable southerly wind, but you will find big waves from the typhoons over in Asia. The waves will not be as big as they were a couple days ago (I think I saw 18′ at 20 seconds at one point), but they are still large. Wind today (north/central/south): light S/LTV/S 20-25, W 13@15. Monday afternoon: S 30+/S 25-30/S 15-20, W 8@13. Tuesday afternoon: S 10-15/S10-15/S 20-25, W 9@12.

Today's Gorge Wind – these are ranges for the average speed, not a predicted wind range. =)

Your favorite beach
Dawn
Patrol
9am-
11:30a
11:30a-
3pm
3pm-
dusk
Rooster's Rocks
light
light
LTV
LTV
Steven's Locks
light
5-10
5-10
5-10
Hatchery/White Salmon Sandbar (minus a few for Hood River)
10-13
5-10
5-10
LTV
Doug's, Lyle, Rowena
10-13
5-10
5-10
LTV
Rufus, etc.
LTV
LTV
LTV
LTV
Roosevelt, etc.
LTV
LTV
LTV
LTV
Temira's sail: 35-40: 2.9 / 30-35: 3.2 / 26-30: 3.5
23-26: 4.0 / 20-23: 4.5 less than 20: something bigger!
Tonia's kite: 35-40: 4m / 30-35: 4-6m / 26-30: 5-7m
23-26: 7-9m / 20-23: 8-10 / 15-20: 10-12 / 10-15: 13-15.
Gorge Weather
It's a partly cloudy morning in the Gorge, and should stay that way today, with plenty of fall sunbreaks. Temps will be in the mid 50's early and mid 70's this afternoon. Tomorrow starts off mostly clear with temps in the low 40's. Clouds increase after noon, for a cloudy afternoon with high temps in the low 70's. Rain will start after midnight. Expect the weather system to stall over us on Tuesday for a showery day, with .1-.3" total rain. Temps will be in the mid 40's early Tuesday and mid 60's in the afternoon with a 73% chance of rainbows.
It's worth noting that the snow level will be around 6500-7000′ on Tuesday, dropping to 6000′ on Wednesday morning, for 2-3" of new snow above those elevations. In addition, as the weather system moves through on Wednesday morning, we'll have a 98% chance of rainbows.

White Sprinter Van of the Day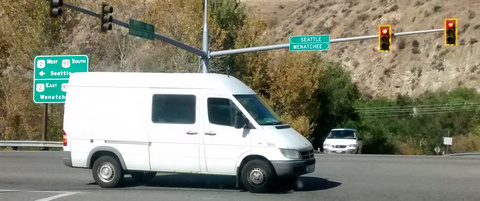 Road and Mountain Biking
I went out for a little jog yesterday in Post Canyon, and it's still pretty dusty in many areas. The rain this week should take care of that. In the meantime, if you can sneak away for a few days, the trails up in Winthrop are in full fall color with larches turning golden and other random plants turning red. You'll find nice fall colors around Leavenworth too, and you'll also find some amazing riding.
Closer to home, we have the FREE IMBA trailbuilding school next Saturday, a must-do for anyone who shows up for work parties. If you don't have all day, just show up for the classroom portion at the Hood River Fire Station in the morning. Sign up now so HRATS knows how many lunches to provide. Then next Sunday, there's a fundraiser for trails happening at the Whoopdee (all day) with music, food, and Trek demos. On the following Saturday, the 25th, there's a Kleeway fundraiser at Dirty Fingers. Costumes, karaoke, and fundraising for what's going to be the most awesome (and most safety-promoting) trail in Post Canyon!


The Clymb: free membership. Cheap gear.
Temira approves. Click to join.
River Levels / Fish Counts/Cheezburger Update
The John Day Dam is reading 67kcfs. The Dalles Dam is putting out 76kcfs. There are two river-wide logs on the White Salmon: 1 just below Cave Rapid on the Middle and one below Cave Wave on the Lower. The White Salmon is around 1.6′. I emailed Cheezburger yesterday. Haven't heard back. Yesterday's fish counts: Chinook, 1906. Coho, 365. Steelhead, 823.

Events – email me if I've missed any outdoor-related events
My calendar says that tonight is the first ski movie of the season, the PowderWhores flick at Dog River at 7pm. $10. This is always a fun crowd of backcountry enthusiasts, and there's usually a good raffle happening as well. And the Seahawks play at 1:25.
Anyway, in other news, there's community yoga, free or by donation, at Yoga Samadhi in White Salmon at 9am. There's pickup rugby at the Mosier School at 3pm and ping pong at the Hood River Armory at 5pm.
Next weekend is the big mountain bike festival, BikeToberFest, with the IMBA Trail Care Crew in town on Saturday for the free trailbuilding school (see biking section) and a fundraiser for HRATS at the Whoopdee on Sunday with free Trek demos.
Have an awesome day today!
Temira