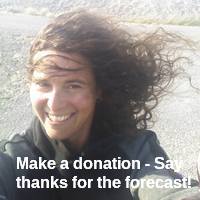 Get the email free through the end of January – try it out! Click here.

Thank you for using this forecast. I offer it freely so you can have more fun and plan your life. It does take significant time and energy to produce. If you find yourself using it often, or if you feel your life is enhanced by this information, please make a donation. I count on your support to pay my bills, and am deeply grateful to you for choosing to help support me. You can get this forecast via email by donation. The email subscription isn't $99/year. Not $50/year. Donating $12.34 or more gets you on the list for 12 months. Click on my photo to donate. Don't PayPal? Send a check to Temira @ PO Box 841 in Hood River. Thank you for your support and thank you for trusting my forecast.
Mt. Hood Snow Forecast – 5000′

4a-8a
8a-12p
12p-4p
4p-8p
8p-4a
Sunday
0->1500′->0′
Monday
0′->7000′
Tuesday
7000′->10000′->6500′
---
Mt. Hood Snow Forecast

It's Sunday, and once again the GFS and Euro have downgraded snow amounts for today. Looking into the long-range forecast, the ginormous Pacific ridge remains in place. This means weather systems will have to drop in from Alaska. By the time they reach Mt. Hood, there's unlikely to much moisture left. The GFS keeps us dry this week. The Euro brings in a wetter system Wednesday and Thursday for some snow. Given the setup, I'm leaning towards the GFS.
For Sunday, expect overcast sky on Mt. Hood. Occasional snowflakes will fall, but just a trace of snow will accumulate. The snow level will be 1500′ today and down near sea level overnight. Widn will be W 15-20 in the morning, NE 10 in the afternoon, and NNE 15-20 overnight.
Monday looks sunny. The free air freezing level (FAF) will be at sea level early, 500′ in the afternoon, and 7000′ (with temps at 33-35 degrees) after midnight. Wind Tuesday will be NNE 15-20 in the morning, NE 25 in the afternoon, and N 15 overnight.
Tuesday looks sunny with very dry air. The FAF will be 7000′ early (it will be in the 20's at sea level, FYI), 10,000′ in the afternoon, and 6500′ after midnight. Wind Tuesday will be N 15 in the morning, W 10-15 in the afternoon, and WNW 30 after midnight.
The GFS brings a system in from the north on Wednesday. It's predicting a couple inches of snow. The Euro brings in several inches of snow. Beyond that, the general picture remains the same: strong high pressure in the Pacific sends the "weather" far to the north, leaving us with scrapings.

Random Morning Thoughts
I have 6 bananas wasting away on my counter. If you'll excuse me, please, I'm going to make banana bread rather than reflecting on life, the universe, and everything. The answer, in case you were wondering, is of course 42.

Disclaimer required by my grad school program: I am not your therapist, but I am seeing clients at this time at Comprehensive Healthcare in White Salmon. In the meantime, I am your weather forecaster. Take everything I say with a grain of salt, and consult with your actual therapist about your mental health issues. One other thing: I plan to keep doing this forecast indefinitely. Forecasting and counseling are both deeply meaningful and nourishing to me.

Gorge Wind Forecast
It's Sunday, and we'll have light wind this morning. The wind will pick up to W 10-13 this afternoon, probably just in the western Gorge. Monday starts with E 10-15, picks up to E 20-25 near Rooster Rock midday, and fades to E 10-15 in the afternoon. Tuesday looks like E 30-35 in the morning. Afternoon wind is dependent on whether the offshore high or inland high ends up stronger.

Gorge Weather Forecast
It's overcast to start Sunday. Temps will be in the low 30's, may drop a bit as the air hydrates, and will warm to the mid 40's this afternoon. We could see a few snowflakes early and sprinkles later, but there won't be much. Light wind. No rainbows. Monday looks sunny. Temps will be near 30 early and in the mid 40's in the afternoon. East wind. No rainbows. Tuesday starts off quite cold. Temps will be in the mid 20's early and the upper 40's in the afternoon. East wind. No rainbows.
For weather specifically directed at travel through the Gorge, please visit Temira's Awesome Travel Advisory Service on Facebook.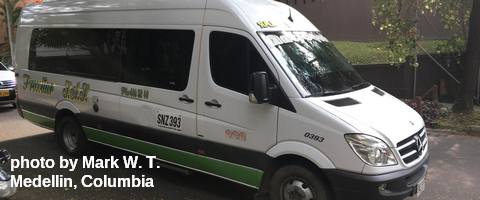 White Sprinter Van map of the world!!!
Road and Mountain Biking
Post Canyon is officially open. Yay! Not only is it open, it's the BEST EVER! BROWN POW! GET IT NOW! Know what else? It was as crowded on Friday afternoon as it was on any weekend mid-summer. Everyone was out! Whoopdee is still closed. Nestor, Hospital Hill, Syncline are all open. What more could you ask for?

Upcoming Events
On Sunday, there's by-donation yoga at Samadhi at 9am, ping pong at the Armory at 10am, meditation at Flow at 11am, pickup touch rugby at the Hood River Waterfront Park at 11am, YogaFaith at Pure Yoga in The Dalles at 4pm, and restorative yoga at Pure Yoga in Hood River at 6pm.

Click here for the full events calendar.
Have an awesome day today!
Temira