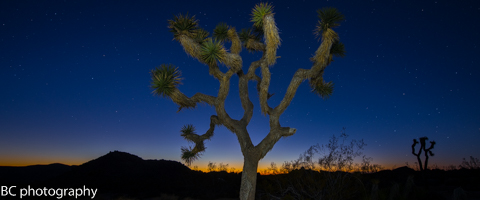 It's a glassy morning on the Columbia, with just .03 gradients between Portland and The Dalles. I wonder what a gradient would look like if you could see it? Perhaps a baby unicorn, because if you have a enough gradients, you'll find unicorns on the river? I dunno. Anyway, the wind will pick up this afternoon. Why? A low pressure system begins to move onshore, shifting the heat low eastward and sending cooler marine air into Portland. Along with this set of influences, we'll see a cold front sliding our direction. Continued after the chart.
Today's Gorge Wind – these are ranges for the average speed, not a predicted wind range. =)

Your favorite beach
Dawn
Patrol
9am-
11:30a
11:30a-
3pm
3pm-
dusk
Rooster's Rocks
sunny
buns
bare-skin
sons
Steven's Locks
0-5
5-10
15-18
21-24+
Hatchery/White Salmon Sandbar (minus a few for Hood River)
0-5
0-5
15-18
21-24+
Doug's, Lyle, Rowena
0-5
0-5
15-18
21-24+
Rufus, etc.
0-5
5-10
10-15
21-24+??
Roosevelt, etc.
LTV
LTV
0-10
10-13
Gorge Wind forecast, continued…
The combination of the two will kick the wind up to W 15-18 by 2pm, 20-23 by 5pm, and 24-28 by sunset. The wind will start first in Stevenson (and it may still be glassy in Hood River when this happens), and then will fill in at Hood River, Mosier, Doug's, and possibly/possibly not Maryhill. Will it be gusty? Of course! Will it be fun! Yes, of course to that too!
Tomorrow sees inland low pressure with offshore high pressure and inland cloudiness and rainbows. That low pressure system could kick off some afternoon thunderstorms tomorrow, especially on the east side of the Cascade Crest, so be aware of the possibility of disruptions in the wind later in the day. That said, we'll start with 24-28 from Mosier to Maryhill with possible periods of 28-32. Arlington, for most of the day, will see low twenties, but there's a chance it'll join the 28-32 gang late in the afternoon. Or maybe the thunderstorms will keep that from happening. As for Stevenson/Hood River tomorrow… they'll probably be under the clouds and showers with gusty 13-16, but it's possible they won't. More than likely, you'll be driving somewhere to find quality wind.
Tuesday also looks cloudy and showery near Hood River, and possibly further east. However, we'll still see 17-20 to start, 21-24 midday, and 24-27 late in the day. The strongest, steadiest wind will likely be from Mosier to Maryhill. Wednesday looks less windy.

Thank you for using this forecast. Support it by subscribing!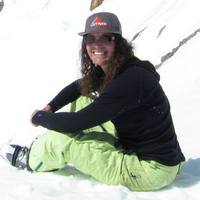 Thank you for using this forecast. Does it save you time, gas money, or help you have more fun in your life? Make a donation! Get your forecast here for free or donate and get on the mailing list for year-round wind forecasts and ski season snow forecasts. Just click on my photo to donate via PayPal or credit card. The email isn't $99/year. Not $50/year. No, just $12.34 or more gets you on the list for 12 months, and sometimes there are cool prizes. Don't PayPal? Send a check to Temira @ PO Box 841 in Hood River. Thank you for your support, and thank you for trusting my forecast.
---
Mt. Hood Snow Forecast
Nothing to say here today.

Random Morning Thoughts
Wow. The high clouds from the offshore low made it hear much faster than I though they would. That seems to indicate a cloudy day on tap, which means I should probably knock a few degrees off the forecast high. Expect 50ish this morning and mid 70's this afternoon. Increasing westerlies after noon. No rainbows.
Tomorrow starts off with partly cloudy sky and sprinkles, and continues in that vein all day, with an increase in showers in the afternoon. Temps will be in the low 50's early and the low 60's in the afternoon. Strong wind. 99% chance of rainbows.
Tuesday also looks partly cloudy with showers or sprinkles. Temps will be in the low 50's early and the low 60's in the afternoon. Moderate west wind. 99% chance of rainbows.

Gorge Weather Forecast
We're not going to hit a record high today (it's 93), but we are going to be 10-15 degrees above normal. I'm not sure how that affects normal humans… perhaps when the temp is above normal, all humans become #GorgeNormal? Anyway, expect the temp to climb quickly to the low 80's today under sunny sky. The wind will be light, and the only rainbows will be in the spray from your hose or from a local waterfall.
Tomorrow starts off sunny with temps in the upper 40's. As a low pressure system / cold front approaches, we'll see cumulus clouds build along the Cascade Crest. We may even see some thunder, although that depends on when the cold air a lot arrives, and that'll probably happen too late. Anyway, glassy conditions early, rapidly increasing west wind after 2pm, 4% chance of rainbows.
Monday starts with temps in the low 50's and only makes it into the low 60's (yes, that's a 20 degree drop from Sunday's high – wow). Expect showery weather all day with a chance of t-storms in the afternoon. Nuking west wind. 98% chance of rainbows. Expect showery weather, moderate wind, a dusting of snow in the mountains, and more rainbows on Tuesday.

White Sprinter Van of the Day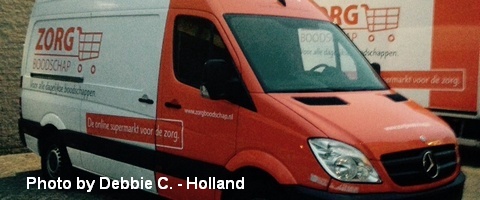 Road and Mountain Biking
The mountain biking will be great today, but there's a pretty good chance we'll see some rain over the next two days, and that may leave Post Canyon a bit on the slippery side. So ride today, just in case. Your best bet for road biking is this morning, because the wind will pick up early in the afternoon. If you want to ride with a group, the Tri Club is doing Vista Ridge, leaving Kickstand Coffee at 8:30am.


The Clymb: free membership. Cheap gear.
Temira approves. Click to join.
Upcoming Events
Today's events include community yoga, free or by donation, at Yoga Samadhi in White Salmon at 9am. There's another free yoga class today at Root Down Yoga in Hood River at 6pm. There's pickup touch rugby tonight at 3pm at the Mosier School, and there's ping pong at the Hood River Armory at 5:30. There's Tai Chi at the Mt. Hood Town Hall at 1 tomorrow, and there are two 6:30pm yoga classes: one at the Town Hall and one at Yoga Samadhi.
Next Saturday is the Gotta Regatta at Horsethief State Park. Build a boat out of cardboard and sail it around a three-buoy course. That requires some pre-planning, so I'm telling you now. Get on it. Do that race, and then you can ride your bike at Columbia Hills.
On the same day, that'd be next Saturday, the Color Dask 5k happens in The Dalles, Maupin Daze and Riverfest is on in, you got it, Maupin, the Mt. Adams Equestrian endurance race gallops off in Trout Lake, and the Stevenson to Carson 16k ridge run traverses the ridge between, well, you can figure that out. If you've got a garage full of gear, next Sunday is your chance to get rid of it – there's a swap meet at Windance.
Have an awesome day today!
Temira