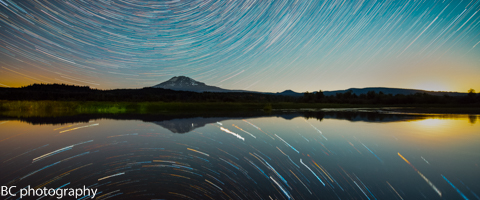 Random Morning Thoughts
I want to give a big shoutout to the 60 people who showed up for the Mitchell Ridge work party yesterday. The new ranger was blown away by the support of local mountain bikers for the trail system. This bodes well for our desire to see construction of all the bike-friendly trails in the new OSP master plan for the Gorge. Thank you, everyone, for being willing to give back. I suspected that we'd see a huge showing, so I stayed away. Large crowds of people are too overstimulating for me right now. If that's you too (and that describes many trail builders, I think), that's okay. You can give back in ways that work for you (midnight repairs, money, serving on the board of HRATS, fundraising) just check with the trail adopter before you work on a trail. Thanks to all of you who showed up, worked hard, and had a great time. You are our trail system.

Thank you for using this forecast!
Click on my photo to support it with a donation.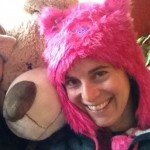 Thank you for using this forecast. Does it save you time, gas money, or help you find more wind, powder, or just plain fun stuff to do? Please make a donation to keep it going! Use it here for free or get on the mailing list for wind for the summer and Mt. Hood snow in the winter. Just click on my photo to donate. The email isn't $99/year. Not $50/year. No, just $12.34 or more gets you on the list for 12 months, and sometimes there are cool prizes. Donate via PayPal/CC by clicking on my happy photo below. Don't PayPal? You can send a check to Temira @ PO Box 841 in Hood River. Thank you for your support, and thank you for trusting my forecast. You guys mean the world to me.
---
Mt. Hood Snow Forecast – 5000′

4a-8a
8a-12p
12p-4p
4p-8p
8p-4a
Today
Tomorrow
The day after
In Mt. Hood news, Jake Bolland of Hood River was just named COO of Meadows. His new responsibilities include such things as running the resort, making decisions, and figuring out how to move Hood River's inversion cloud south 40 miles and up 5000′ in elevation in order to make it snow on the resort's slopes. He's also been tasked with stealing the recipe for Skibowl's nachos and working with Mother Nature to create glaciers at Meadows.
Today will be partly cloudy, maybe sunny, on Mt. Hood until the afternoon, when high clouds will move in. The snow level will be around 1000. Wind will be light SE, picking up a bit in the afternoon.
Monday starts out cloudy, with snow flurries starting around 7am. We'll see .1-.2" water value (WV) between 7am and 4pm, for 1-2" of snow, followed by another .2-.3" WV overnight, for another 2-3" of snow. Something worth noting is that the snow level will be very low, but this system will come in warm, with temps just below freezing at 5000′, so it will be dense snow that falls. Wind will be 5-15 out of the S or SE for this system.
Snow flurries continue on Tuesday with the snow level at 500′ early and 4000′ in the afternoon. We'll see .1-.2" WV, for another inch or two of snow. Wind will be SW 10 early and W 10 in the afternoon. A few more flurries fall on Wednesday. The next major system (assuming it doesn't split and weaken) is slated to arrive in on Friday, probably starting as rain and then switching to snow, with 4-6" possible. Fingers crossed, please.

Gorge Wind
I have decided to draw an arbitrary line at 40mph for "nuking", meaning it's not nuking this morning. According to iKite/iWind, Rooster is blowing 37mph this morning and Steven's Locks is 19, with a .13 gradient. Expect easterlies at Rooster to go to 40-50 today with 30-35 at Steven's Locks. Tomorrow brings similar wind speeds. Tuesday looks like east wind at 25-30.

Gorge Weather
I just went outside to check the sky coverage, and horror of horrors, the Nothing was right over my head. I ran back inside quickly, to avoid being drawn into its apathy. I'm safe inside now, just to let you know, staring at the computer screen and my two happy lights.
What I'm saying is that we'll start out with an inversion cloud. I have decided it will burn off today, because I am a hopeful person. We will see sun, followed by high clouds late this afternoon. Temps will be in the low 30's this morning and the low 40's this afternoon. No rainbows for you today.
Tomorrow starts with high clouds, and then we'll see some snow flurries all the way down to river level starting around 7am. Hood River proper will probably warm above freezing during the day, limiting accumulations, but Odell and Parkdale could see 3-5" by Tuesday morning. Temps Monday in Hood River will be right around freezing early, rising to the upper 30's in the afternoon. Temps will drop back down near freezing on Monday night, for a chance of an inch or two of snow in Hood River. Rainbow chances are 17%. while temps are above freezing.
With temps remaining in the 30's near the Columbia for this event, the roads shouldn't be too bad. But don't quote me on that. I'm the weather girl, not the road girl.
I have to drive to Vancouver on Tuesday afternoon, which ensures more snow during the day on Tuesday. Murphy's law aside, Temps will be in the mid 30's Tuesday morning and the upper 30's Tuesday afternoon, with a few light sprinkles and probably no snow at all. Rainbow chances on Tuesday are 73%. Next chance for heavier rain is on Friday.

White Sprinter Van of the Day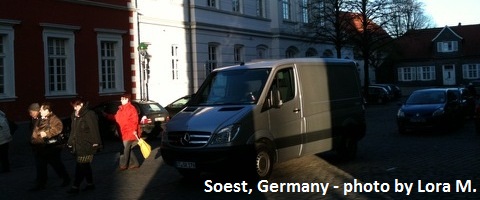 Road and Mountain Biking
Old Growth Thighs Clint and DVZ rode Knebal, Bottle Prarie, SuperConnector and Da Kine yesterday and report best-ever tread with a little snow on one section and 4 trees down. So I guess that answers our questions about the 44 Road Trails. I rode out to Rowena Crest and back, and Pat, the host at the Twin Tunnels, had just blown all the leaves off the trail. Nestor is in good shape with one tree down. In other words, the dirt is epic all over the place, so get some for yourself before we go into a free-thaw cycle the next couple of nights.


The Clymb: free membership. Cheap gear.
Temira approves. Click to join.
Freshies Bagels and Juice
Hi. I'm Matt. I'm the new owner of the bagel store, now known as Freshies Bagels and Juice. I wake up at 4am every morning to boil and bake the best bagels west of the Mississippi. I was raised in Boston so I know good bagels. I use flour from wheat grown in Washington and Oregon. Local apples and veggies for the juice and smoothies. Freshies is the perfect stop before heading to the mountain or any outdoor adventure. So come on in and say hello at 13 Oak Street, 6:30am to 3pm.
Upcoming Events
Today is Sunday. You can do community yoga, free or by donation, at 9am at Yoga Samadhi. You can play pickup touch rugby at 3pm at the Mosier School. I swear I saw a sign outside of the Power Station a few days ago saying they were doing some sort of class today at 4pm by donation. Wish I had remembered to ask what that was about when I was at their Ugly Sweater party last night. Coming up next week, it's Hanukkah, starting Tuesday night, and continuing for eight nights.
Have an awesome day today!
Temira