Random Morning Thoughts
I was going to talk about yesterday's Death Café in Hood River in the random morning thoughts today, but I have much more important information to share. If you live in the Gorge, PUT YOUR SNOW TIRES ON NOW. Yes, I did just shout at you. I am very serious about this. We're falling into the most ideal weather pattern possible for a huge Gorge winter storm.
Thank you for using this forecast!
Please donate to support it!
Thank you to everyone for using this forecast. Does it save you time, gas money, or help you find more wind, powder, or just plain fun stuff to do? Please consider making a donation to keep it going! Use it here for free or make a donation and get on the mailing list for wind for the summer and Mt. Hood snow in the winter. It's not $99/year. Not $50/year. No, just $12.34 or more gets you on the list for 12 months. Do it via PayPal/CC by clicking on my happy photo below. Don't PayPal? You can send a check to Temira @ PO Box 841 in Hood River. Thank you for your support, and thank you for trusting my forecast. You guys mean the world to me.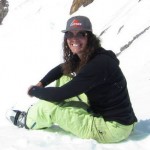 ---
Mt. Hood Snow Forecast – 5000′

4a-8a
8a-12p
12p-4p
4p-8p
8p-4a
Today
Tomorrow
The next day
Mt. Hood Snow
You're not going to like this at all: Today starts off cloudy on Mt. Hood with rain starting around 10am and finishing off (except for maybe some orographic showers) by 1pm. The snow level will be 9000' early, 8000' when the rain stops, and then will fall to 3000' overnight. We'll see about .5" of rain today. Wind will be quite strong: WNW 45 early, WNW 50 as the weather system moves through, and NW 35 in the evening.
Expect clear sky on Monday morning with the free air freezing level (FAF) dropping from 3000' early to 1000' in the afternoon. Wind will be N 20 early and E 20 in the afternoon.
Expect clear sky Tuesday and Wednesday with the FAF near the surface with temps in the teens on Mt. Hood. East wind will blow in the 20-40 range both days. The real trouble starts early Thursday morning as a warm and very wet system slides over the top of the cold air. This is an ideal setup for an ice storm on Mt. Hood. We may see some snow before a switch to rain, but it's looking like it will be very, very messy.
Gorge Wind
It's so much fun when there's wind to talk about. We started the day with teen-strength wind on the river, and the gradients were already bigger than the wind: .09 (pdx-dls) and .07 (dls-psc). We'll see the wind ramp up to 28-32+ after 10am, probably steadiest east of Mosier after 1pm. However, it does look like we'll see very strong (if gusty) wind from Swell all the way to Arlington today. Best bet? Probably Arlington, where 30+ is likely.
Tomorrow may start with very light west wind, but as high pressure builds over the Rockies and the remains of Supertyphoon Nuri wander around offshore (setting up 50 foot waves in Alaska), east gradients will build. Expect 26-30+ at Steven's Locks and Rooster by Monday afternoon with 10-15 elsewhere.
If you like impressive easterlies, head to Rooster for 50-60+ on Tuesday and Wednesday and (the day of Doom) Thursday. Actually, scratch that. You don't want to be on I-84 on Thursday.
Gorge Weather
This is the part of the forecast I was really looking forward to writing today. It's so exciting! First off, go put your snow tires on. No, I am serious. If you live in the Gorge and your snow tires are not on by Thursday morning, you're screwed.
In the meantime, expect clouds this morning with rain from 10am to 1pm or so, followed by partly cloudy sky, rainbows, and lots of west wind. Temps today will be in the mid 50's all day.
Tomorrow might see an inversion cloud but will more likely be clear as very dry air moves into the Gorge from the east. NOAA says we'll start with temps in the 40's and rise to the 50's, but I suspect we'll see only a brief bump in temps before they fall in the afternoon. Expect clear weather on Tuesday and Wednesday with temps in the 30's or less – the 12k shows us dropping into the teens on Tuesday and Wednesday night. And that's the end of the boring part of the forecast. (yeah, it gets way more exciting than cold weather)
Early Thursday morning, a warm, wet system (the remains of SuperTyphoon Nuri) crawls right over the top of that cold, dry arctic air. This is the ideal setup for Gorge snow or freezing rain. Given the predicted depth of the cold pool, I suspect we'll start with snow, and see a lot of snow, before we switch to freezing rain. As of right now, models suggest we'll still be sub-freezing on Sunday. In that time period, there's 1-2" of moisture headed our way. 1" of rain = 10" of snow at those temps. So, you do the math. Unless something changes, we're in for a monster storm.
White Sprinter Van of the Day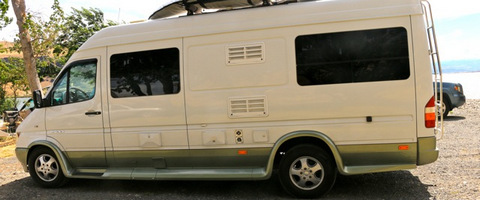 Road and Mountain Biking
This is it for a while, peeps. Today and tomorrow for Syncline and Whoopdee and then we'll lose them to the freeze-thaw. So get them today. Expect it's going to be nuking windy today, so Syncline is out. I went for a jog in Post last night, and the dirt was perfect, but it's going to rain this morning, so it'll be muddy there if you're not quick enough. Road bikers, go NOW, before it gets windy and before the roads are covered in gravel after Thursday.


The Clymb: free membership. Cheap gear.
Temira approves. Click to join.
Events – email me if I've missed any outdoor-related events
Well, I still can't access my Google Calendar via this crappy old laptop. But I can tell you that the Mt. Hood Independent Film Festival continues today with local Manny Marquez' film playing at Skylight at 3pm. I already saw it, and it's great. Psychopath. Go check it out… If you can get in! Also today, there's pickup touch rugby at the Mosier School at 3pm and ping pong at the Hood River Armory at 3pm.
Have an awesome day today!
Temira