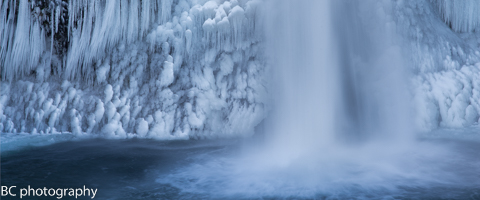 Random Morning Thoughts
This White Sprinter Van thing has taken on a life of its own. Last week I received two emails with Sprinter Van photos attached. Both emails said something like this: "Hey Temira, I was in (name a far-away place) and saw this white Sprinter Van. When I walked up to take a photo of the van, the owner asked me if I was taking the photo for you."
I cannot tell you how hard I laughed when I read these emails. Please keep sending the photos of Sprinter Vans. Every time I get one, I giggle. I'm assuming you're laughing too as you're taking those photos. Laughter, they say, is the best medicine. You don't even have to send me a photo of a white Sprinter Van. As long as you're giggling when you're seeing them, something good is happening in the world.
May your day be filled with laughter. And white Sprinter Vans.

Thank you for using this forecast!
Click on my photo to support it with a donation.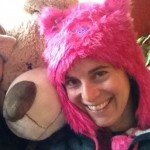 Thank you for using this forecast. Does it save you time, gas money, or help you find more wind, powder, or just plain fun stuff to do? Please make a donation to keep it going! Use it here for free or get on the mailing list for wind for the summer and Mt. Hood snow in the winter. Just click on my photo to donate. The email isn't $99/year. Not $50/year. No, just $12.34 or more gets you on the list for 12 months, and sometimes there are cool prizes. Donate via PayPal/CC by clicking on my happy photo below. Don't PayPal? You can send a check to Temira @ PO Box 841 in Hood River. Thank you for your support, and thank you for trusting my forecast. You guys mean the world to me.
---
Mt. Hood Snow Forecast – 5000′

4a-8a
8a-12p
12p-4p
4p-8p
8p-4a
Today
Tomorrow
The day after
Mt. Hood Snow
It is snowing on Mt. Hood this morning, and should continue to do so for at least the first half of the day. The snow level will be around 4500′ early, rising to 5500′ by 1pm, 9000′ by 4pm, and 10,000'+ overnight. We'll see .2-.4" water value (WV) before the switch to rain, for 2-3" of new snow. The switch to rain will likely happen between 1pm and 4pm. Then we'll see 1.5"-2.5" of rain overnight, depending on the exact storm track. Wind today will be W 35 early, W 45 by 1pm, W 50 by 4pm and WNW 60 (very impressive) by 7pm.
Monday starts with continuing rain showers with the snow level above 10,000′. We'll see .5" WV fall by 4pm, with the rainfall rate decreasing during the day with sunshine likely after 4pm. Wind will be freakin' awesome and off the charts if the forecast is correct: WNW 65-70 early, dropping to 45-50 midday, and W 30-35 after 4pm.
Expect a sunny day on Tuesday with the free air freezing level at 10,000'+. Wind will be SW 15-20. Temps at 5000′ will climb to the upper 40's. Wednesday looks similar to Tuesday with a few more high clouds possible. Next chance for precip is late Thursday into Friday. Guess this is going to be a spring skiing week.

Gorge Wind
There's a bit of an east breeze this morning according to the folks at iWind/iKite. Just 15-18 with a .07 gradient. But that's enough that cold air is being drawn into the Gorge, causing freezing rain to fall. Anyway, we'll see east wind slowly fade today, switching to west after 7pm, rising to W 30-35 overnight. River water temp is 41 degrees. Thanks again to iKite/iWind for that.
Lingering westerlies at 22-25 east of Mosier and gusty 13-16 from Steven's Locks to Mosier start off the day on Monday. The west wind will quickly fade to gusty 13-16 through the whole Gorge. Expect easterlies at 15-18 Tuesday morning, rising to E 26-30 in the afternoon. Wednesday brings E 30-40.

Gorge Weather
I woke up this morning to rain combined with a temp reading of 32. I'd completely forgotten my prediction from yesterday of mixed wintry precip. And there it was, outside my door, a layer of sleet with freezing rain falling on top. I almost fell on my butt when I walked outside barefoot to check the weather. Nice. I bet 35 is a mess, and I bet I-84 to The Dalles is no less messy. Blech. Anyway, expect temps to slowly warm today from right at freezing this morning to the upper 30's late in the day with increasing rain. Rainbow chances are pretty minimal, given the nature of this weather system and the east wind. Call it 3%.
Tomorrow starts off partly cloudy with rain showers. The rain will back off after 1pm. Temps will be in the upper 30's early and the upper 40's or maybe even warmer in the afternoon. Rainbow chances are 99.99%.
Tuesday looks like an inversion cloud day, or an inversion cloud morning, at least, followed by a sunny afternoon, I hope. Temps will be in the upper 30's early and the upper 40's in the afternoon.

White Sprinter Van of the Day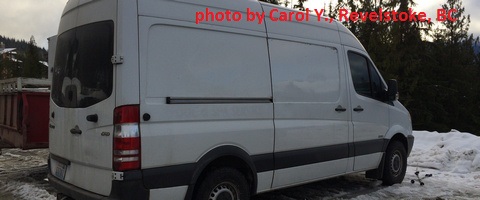 Road and Mountain Biking
Huh. It was really frozen a couple of days ago, and now there's frozen precip falling on it. I feel so out of the loop. Is it muddy? Is it icy? Will we be seeing another video of a gas can sliding down Seven Streams? I haven't got the foggiest idea, but I know that road biking, given the freezing rain and sleet that fell last night, is out for today.


The Clymb: free membership. Cheap gear.
Temira approves. Click to join.
Temira's annual birthday card request! =)
It's that time of year again. The time of year when I get a little older. It's the time of year when I let myself ask for what I need. And what I need this year, just as I did last year, is affirmation from y'all. So, I'm asking for birthday cards. Or birthday notes. Or birthday postcards. I know you're busy. This means a lot to me. Send along a card telling me why you love me, why we're friends, what kind of difference I make in your world, and whatever else you'd like to say. Thank you so much for your time, energy, and your love. My address: Temira Lital / PO Box 841 / Hood River, OR 97031
Upcoming Events
It is Sunday. There's community yoga, free or by donation, at Yoga Samadhi in White Salmon at 9 today. There's ping pong at the Hood River Armory ($5) at 3pm. There's pickup touch rugby at the Mosier School at 3pm. There's a mobility / stretching class, free or by donation, at the Power Station at 4pm.
Have an awesome day today!
Temira