The best snow forecast for Mt. Hood. The best wind forecast for the Gorge.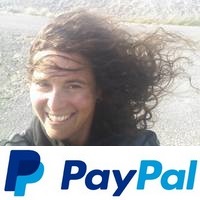 Thank you for using this forecast. Like it? Find it useful? Support it (and me!) by sending some cash my way. What's it cost to support me and get the email version? Not $99 a year. Nope. Not $49. Just $19.99 or more gets you a year. People are added to this list on Thursday and Sunday. My day job is crisis mental health, and I don't have time on other days. Thanks for your patience! Click below to contribute. Thank you!!
Credit card payments use this button
Click here to use your PayPal
Venmo: @theGorgeismyGym
Snail Mail: PO Box 841, Hood River, Oregon 97031
(note: I am not a non-profit entity. The only way to accept credit cards with a user-defined amount is to use the 'donate' button. Thanks for understanding!)

Auto-renewing subscription. New! Awesome!
The Forecast
Mt. Hood Snow Forecast – 5000′

4a-8a
8a-12p
12p-4p
4p-8p
8p-4a
Sunday
1000′->2000′->1000′
Monday
1000′->0′
Tuesday
0′->1500′->3000′
Mt. Hood Forecast
Overcast sky early Sunday quickly gives way to (finally!) steady snowfall through Sunday night. Just a trace of snow falls on Monday along with plenty of sunbeams. That sunshine sticks around through at least the first half of Tuesday and gives way to snow Tuesday night. After that: probably continued light snowfall on and off through at least Friday.
Looking at Sunday, we see snow on the way. The snow level will be 1000-1500′ early, 2000-2500′ in the afternoon, and back to 1000′-1500′ overnight. About 0.3" water equivalent (WE) is forecast during the day, for 3-4" of powder. Another 0.3" WE is forecast overnight. Same – 3-4" of powder. Wind will be SW5-15 in the morning, WSW 10-15 in the afternoon, and WNW 20-25 overnight.
Monday starts with flurries and turns clear by the afternoon. Clear sky sticks around into Tuesday morning. The snow level will be 500-1000′ all day falling to 0′ after midnight. Just a trace of new snow accumulates from those flurries. Wind: WNW 20-25 early, WNW 25-20 in the afternoon, and SW 5-15 overnight.
Tuesday starts clear, but clouds are on the horizon by the afternoon and snow moves in before sunset. The snow level will be 0′ early, 1500′ in the afternoon, and 2500-3000′ overnight. About 0.3" WE is forecast overnight. That gives us 3" of new, standard-issue Cascade snow. Wind: SW 5-15 early, S 10-25 in the afternoon, SSE 10-25 in the evening, and SSW 15-40 overnight.
A trace of snow falls both Wednesday and Thursday with the snow level around 4000′ or so. By then, we should have had enough total snowfall for vastly improved groom and Nordic skiing. Off-piste? Probably still not enough to keep you from hitting the solid base snowpack.
Note on wind speeds. Different wind directions are experienced in different ways on Mt. Hood. For example, west wind at 50mph will hit the slopes and exposed ridges at W 50. SW 50 may hit the ridges at SW 50, but will likely only be SW 20 below tree line. Hence the ranges for wind. Depends where you are on the mountain. Hopefully that helps clarify.
Gorge Wind Forecast
Light and variable wind this morning goes light easterly midday and turns to W 10-13 overnight from Stevenson to Mosier. Monday brings westerlies at 7-10 all day from Stevenson to The Dalles. Tuesday starts with E 10-15 at Stevenson and light easterlies at Rooster. By afternoon, the wind picks up to E 30-40 at both with E 10-20 from Hood River eastward to Arlington.
Coast, Jones, Sauvie's
As needed until next spring and summer.
Hood River Weather Forecast
Overcast sky this morning adds a mix of snow/rain in the morning and light rain this afternoon. Up to 1.5" accumulation, but probably more like 1/2". Temps will be in the mid 30's early and upper 30's later. Light west wind early, light east wind midday, light westerlies overnight. 4% chance of rainbows. Monday starts with partial Nothing and scattered flurries and turns clear. Temps will be in the low 30's early and low 40's later. Light westerlies. 1% chance of rainbows. Tuesday will be clear for the first half of the day, cloudy in the afternoon, and snowy overnight. Temps will be in the upper 20's early and mid 30's later. Building easterlies becoming widespread at 15-20. No rainbows.
Looking for a complete Columbia Gorge forecast? Looking for more humor in your weather? Obscenities? You're looking for my TATAS: Temira's Awesome Travel Advisory Service on Facebook.
Cycling
HRATS needs volunteers for work on Nestor Peak Saturday: WHERE – Meet at Northwestern Lake Park @ 8:45am. WHEN – 8:45am at NW Lake Park and we roll out 9am for the trail. FRI 1/22 and SAT 1/23 DURATION – stay as long as you like but we plan on working from 9-12pm. RSVP so I know who is coming which days. Need more info – call or text HRATS @ 509-281-1100
Sprinter Van of the Week!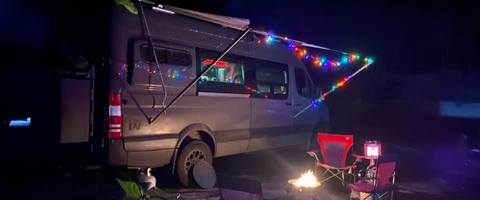 Click here for the Sprinter Van map of the world!!!
Local Events
Weekly events: The Kainos Coffee run happens in The Dalles every Tuesday morning at 6am. There are sailboat races at the Hood River Marina every Wednesday evening. Dirty Fingers has a group mountain bike ride (bring lights) Wednesday nights at 5:30pm. Cheno has an outdoor HIIT workout at Griffin House in Hood River at 6pm on Wednesday nights. There is a BLM rally every Tuesday evening at 5:30 at the Salmon Fountain in Hood River, and there's a White Coats for BLM rally every Thursday at noon at 12th and May in Hood River. Have an awesome day!