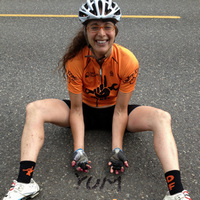 This is Temira!
Thank you all for your donations and kind words during last month's pledge drive. Whew. Glad that's over. I always feel a little weird asking for donations. That said, should you like to get on the daily email list (where you can occasionally win cool stuff), please take the time to click on the sun below and make a donation of $12 or more. That gets you a year's subscription, and it makes me smile, because I know then that the hard work I put into this is worth a lot to you. Thank you for reading my work, and thank you for donating. Have a wonderful day!

Random Thoughts you may or may not regret reading…
My friend Brad is going to be a very happy man today.
Wind forecast
Looks like a light wind day in the Gorge today as high pressure inland combines with low pressure off the coast. The best chance for wind today will be in the western Gorge, aka Stevenson/Cascade Locks. Models suggest east wind at 5-10 midday. I think that's probably not going to happen, as we were at W.02 gradient at 6am.
A more likely scenario today is light wind until 2pm or so, when westerlies pick up at 10-15 in the western Gorge, and pick up to 14-17 as sunset approaches. It's possible the wind will make it to Hood River around 5pm too. Speaking of sunset… should be a good one tonight as afternoon cumulus clouds contribute, causing colorful cheer. Probably a good night for drinking moonshine in the orchard.
Tomorrow looks windier, the result of a shortwave crossing the Cascades tonight. Expect west wind at 15-18 all day, strongest near Hood River, but filling in at Stevenson and the Lyle section of the river midday. Tuesday looks light.
If you need photos this weekend, Grant Myrdal and his team will be out taking photos of all the events, wind permitting. Look for the blue flags along the beach. You can purchase photos at his booth at the Event Site, or you can view the photos at his website. Or just go to the booth and visit him, because he's fun.
If you need a new window in one of your sails, you can get one at Northwave for 15% off through August by mentioning you read about it here.
Today's Gorge Wind

Your favorite beach
Dawn
Patrol
9am-
11:30a
11:30a-
3pm
3pm-
dusk
Stevenson
0-5
0-5
5–>13
13-15
15-18 late
Hatch (subtract a few mph for Event Site)
0-5
0-5
5–>13
13-15
15-18 late
Doug's / Rowena / Lyle
light
light
light
10-13
Maryhill / Rufus / The Wall
light
light
light
light
Arlington / Roosevelt
light
light
light
light
The Clymb: free membership. Cheap gear. Temira approves. Click to join.
Other News
Today's events include a bunch of sailboat races, and that's going to be tough with light wind on the schedule. The Moore 24 championships continue in Hood River – they were racing east of the Hood River Bridge yesterday, but they'll be by the Event Site today. Local Tyler Bech is currently leading. Yay, Tyler!. Also today, sailboat races of all sorts continue in Cascade Locks. These are the best sailors in North America, so if you have any interest in sailboat racing, head west and check it out.
There's one event happening today that benefits from a lack of wind: it's the CGWA swap meet at the Luhr Jensen parking lot in Hood River. It's free for buyers and $10 for sellers. There's only one more swap meet this year, so if you have gear you want to buy or stuff you want out of the garage, get down there today!
Coming up this evening, there's pickup touch rugby at the Mosier School at 3pm, and there's pickup Ulitimate frisbee at the Hood River Marina at 4pm. Make plans to ride bikes tomorrow evening – the Mountain View Cycles crew rides to Mosier's Thirsty Woman, and the Triathlon crew does the "Ride Around the Gorge", location TBD.
Have an awesome day today!
Temira