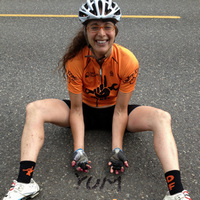 This is Temira!
Thank you all for your donations and kind words during last month's pledge drive. Whew. Glad that's over. I always feel a little weird asking for donations. That said, should you like to get on the daily email list (where you can occasionally win cool stuff), please take the time to click on the sun below and make a donation of $12 or more. That gets you a year's subscription, and it makes me smile, because I know then that the hard work I put into this is worth a lot to you. Thank you for reading my work, and thank you for donating. Have a wonderful day!

Random Thoughts you may or may not regret reading…
Really, Mother Nature. We're much more interested in summer weather during summer than we are in fall weather during summer. Safe the offshore lows for ski season, and give us the North Pacific High.
Wind forecast guess paragraphs
It's a slow day in the Gorge for both events and wind, so if you have a road bike, dust it off and head out. We'll see light and variable wind today – leftover westerlies this morning die back by late morning, then switch to light east. Models do uggest a short-lived, but strong burst of west wind late this early this evening as a front passes over the Gorge. We likely won't see much in the way of wind in the central Gorge from this, but things look a little wild out at Arlington for a short period of time this evening.
Another thing you could do today is head to the Event Site, just left of the entrance, to Grant
Myrdal's booth and see if he or the rest of his team (including Bob in the Zodiac) have taken any good photos of you. Actually, you can check his website, but it's more fun to go talk to him. Take him cookies and other baked goods.
Tomorrow starts with light and variable wind, but as another, stronger weather system moves over us in the evening, west wind picks up to 15-18 everywhere on the river after 2pm. We might even see some rain tomorrow. Tuesday's weather models currently show light east wind in the morning, picking up to W 15-18 after 2pm.
Due to the nature of the overall setup, you can expect the wind we get to be gusty, up-and-down, and unreliable.
Don't forget: It's time to nominate folks for the Gorge Windsurfing Awards.
You can do that at CGWA's website through the 28th. Your award choices are: Dale Cook (big air), Grom of the Year, Windsurfer of the Year, Most Selfless Windsurfer, and Most Stoked. Also, don't forget that new windsurfing windows are 15% off this month at Northwave.
Today's Gorge Wind

Your favorite beach
Dawn
Patrol
9am-
11:30a
11:30a-
3pm
3pm-
dusk
Steven's Locks
light
5-10
5-10
anything's
possible
including
rain
Hatch (subtract a few mph for Event Site)
light
5-10
5-10
something
might
happen
Doug's / Rowena / Lyle
light
5-10
5-10
10-15
Maryhill / Rufus / The Wall
light
15-18
15-18
anything's
possible
Arlington / Roosevelt
13-15
15-18
17-21
windy, briefly
The Clymb: free membership. Cheap gear. Temira approves. Click to join.
Sports, activities, and other stuff
Tomorrow night we usually have two bike rides, but the Ride Around the Gorge folks may cancel if it gets smoky in Hood River. Check their Facebook page for the latest. The Booze Cruise folks, as always, ride to Mosier from Mountain View Cycles at 6:30. Bring lights and a helmet and your wallet so you can get some Thirsty Woman French fries.
Looking ahead to next weekend, there are all sorts of things going on. It's the last race of the Gorge Cup windsurfing series on Saturday. There's the Open Bic Unregatta sailboat race in Cascade Locks, there's the Bunker to Bonneville 50k trail running race, and there's the Dirty Sellwood bike ride from Portland's Sellwood Bikes to Hood River's Dirty Fingers.
I know there's a ton of other stuff too, but I need to walk around downtown and copy all the events off the posters. Or you guys can email and tell me what's your schedule for next weekend. And the following weekend. =)
Fire Information
The Mt. Hood National Forest has closed the following trails: Surveyor's, Oak Ridge, 8 Mile, Zig Zag, Da Kine, Knebal, Bottle Prairie, Dog River… basically, anything north of the 44 Road is closed. The 17 Road between Surveyor's and the 44 Road is closed, as is part of Pine Mont Road and the Kitchen Sink trail.. The not-yet-open SuperConnector trail is also closed. Closure map is here.
Have an awesome day today!
Temira