Please support this forecast by clicking on the photo of the forecaster!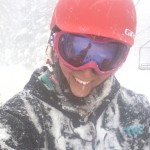 Your forecaster. Click on her to donate. Thank you!
Thank you for using this forecast. Please tell your friends about it! And if you or your friends think this service is awesome/useful/saves you gas money/makes your life more fun, make a donation by clicking on my photo above. Is more fun worth $50/year? $20/year? Donate what it's worth to you (and thank you!), but $12 minimum gets you on the email list (with occasional giveaways) for a year. Thank you for your support, and have fun today!
Random Morning Thoughts
Yesterday I rode the short bus to work. On the short bus, you must sit sideways. Yesterday I learned that sitting sideways in a moving vehicle for an hour makes me carsick. It took me 4 hours to get back to feeling normal. Today I will take the late bus, which is a big bus containing lots of seats that face forward.
Mt. Hood Snow Forecast – 5000′

4a-8a
8a-12p
12p-4p
4p-8p
8p-4a
Sunday
Monday
Tuesday
Mt. Hood Snow Forecast
No, it is not snowing on Mt. Hood this morning, unless you go way up high. At 5000′, it is drizzling. Expect the drizzle to slowly fade today, with the sky becoming clear by 5pm. And why will it drizzle up there so much longer than it will in the valley? Orographics, my friends. Strong west flow is keeping the raindrops falling up high while the clouds clear out of the valleys. Anyway, the snow level will be 6500′ early, rising to 9000′ this afternoon as the sky clears. We'll see .2-.3" water value (WV) of rain by 2pm, and then dry weather after that. Wind will be WNW 25-35 early, NW 25-35 in the afternoon and NW 20-25 overnight.
Monday looks dry, sunny, and warm. The free air freezing level (FAF) will be 8000′ early, rising to 12,000′ in the afternoon Wind will be WSW 15 in the morning, becoming SW 20-25 in the afternoon. Temps at 5000′ will rise to 50 degrees or more.
Tuesday starts off clear, becoming cloudy in the afternoon, with rain, switching to snow, Tuesday night. Just .2-.3" WV will fall, for 1-2" of new snow, at best. The snow level will be 9000′ for much of the day, dropping to 4000′ by Wednesday morning. Wind will be SW 20 early, becoming WSW 25-30 by midday and holding overnight. At this point, the rest of the week looks dry and sunny.
Gorge Wind
Today starts off with west gradients at .04 and .05 and light wind on the river. We'll see the westerlies pick up to 23-26 at Lyle and Maryhill this afternoon with 10-14 in the western Gorge. Monday brings light wind. Tuesday starts off light, but an afternoon weather system combines with offshore high pressure for westerlies at 23-26 in the afternoon. Please, oh please let the wind hold off until I'm out of the Gorge – I'm riding my bike to Vancouver on Tuesday if the weather holds. Anyway, the Columbia River is now at 45 degrees, and the flow is 217,000cfs.
Gorge Weather
Looks like we'll see some showers this morning and maybe a few midday, giving us a chance for rainbows early in the day before the weather just goes partly cloudy. Temps will be around 50 this morning and in the upper 50's or low 60's this afternoon. Light west wind this morning picks up to moderate west wind this afternoon.
Monday starts off with some low clouds, but those burn off, leaving us with temps in the upper 60's or even the low 70's in the afternoon. Light wind. Tuesday starts off clear with temps in the mid-40's and light wind. The afternoon looks cloudy with temps in the mid-60's and moderate west wind. We'll likely see some rain showers Tuesday night.
Road and Mountain Biking
The trails are most definitely muddy after last night's rain. Give them today to dry out, and maybe give them tomorrow morning too. But by Tuesday, after 70 degrees on Monday, it's going to be a full-blown tack alert on the local dirt. Road bikers: Expect light westerlies this morning picking up to moderate this afternoon, especially near Lyle, where it's going to be windy.
River Levels
The Hood is at 5.8′, the Klickitat is at 2070 cfs, and the White Salmon is around 4′.
The Clymb: free membership. Cheap gear. Temira approves. Click to join.
Events – email me if I've missed any outdoor-related events
Today, being Sunday, has your usual Sunday events: Ping Pong at 3pm at the Hood River Armory ($5) and pickup touch rugby at 3pm at the Mosier School ($0). Also at 3pm today, it's the Tour de Flanders bike race on the TV at Dirty Fingers with beer and bbq. No doping allowed.
Have an awesome day today!
Temira