Please support this forecast by clicking on the photo of the forecaster!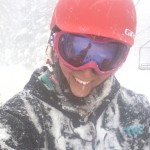 Your forecaster. Click on her to donate. Thank you!
Thank you for using this forecast. Please tell your friends about it! And if you or your friends think this service is awesome/useful/saves you gas money/makes your life more fun, make a donation by clicking on my photo above. Is more fun worth $50/year? $20/year? Donate what it's worth to you (and thank you!), but $12 minimum gets you on the email list (with occasional giveaways) for a year. Thank you for your support, and have fun today!
Random Morning Thoughts
I'm looking around my house at piles of books right now, and I'm thinking I need more time so I can read all these books. I love books.
Mt. Hood Snow Forecast – 5000′

4a-8a
8a-12p
12p-4p
4p-8p
8p-4a
Sunday
Monday
Tuesday
Mt. Hood Snow Forecast
There still isn't really much snow in the forecast, but that doesn't mean that Ski Free Day at Skibowl today won't be fun. Head on over with or without 4 cans of food, and you can spend the day shredding Skibowl for no cash. Do make sure you get some nachos at the Beer Stube when you're finished riding.
Today looks sunny on Mt. Hood. The freezing level will be 5000′ early, rising to 9000′ this afternoon. We'll have difficult-to-predict N/NE wind today. Call it N 30mph this morning, slowly fading to NE 5-10 in the late afternoon. Tomorrow looks warm and sunny early with high clouds and cooler temps in the afternoon: the freezing level will be 10,000′ early, dropping abruptly to 7000′ late in the afternoon. Wind will be SW 10 early, SW 30 by 2pm and SW 40 by 5pm.
Tuesday starts out sunny, but a weak system moves in during the afternoon bringing clouds and a chance of light snow overnight. We're going to have to wait until we get a bit closer for specifics. Anyway, the freezing level will be 1500′ early, 3000′ midday and 4000′ in the evening. Wind will be NW 30 early, NW 20 midday, and NW 25-30 in the evening.
Models are inconsistent about the extended forecast, but it does looks cooler and wetter than we've seen over the last week.
Gorge Wind
Today is going to be an east wind day. The gradient is at a pretty weak .04 this morning, but I still think we'll see 23-26 for much of the day today at Rooster with less at Stevenson. Tomorrow looks fun: We'll start with east wind at 26-30 at Rooster. That will fade during the day, abruptly switching to W 24-28+ from Stevenson to Arlington after 2pm (or maybe after 5pm) as high pressure builds off the coast and a low pressure system crosses BC. Have your car packed and ready to go, and make your move as soon as you see the easterlies die completely.
Tuesday brings leftover west wind at 23-26, probably best, strongest and steadiest east of Mosier with 10-13 near Hood River and Stevenson.
Gorge Weather
It's yet another sunny day. Expect temps in the upper 30's early and mid 60's later with light east wind that gets stronger the higher up in elevation you go. Monday looks mostly sunny with some high clouds in the afternoon. Temps will be in the upper 30's early and the low 60's in the afternoon with light wind early and strong west wind late in the day.
Tuesday may bring some frost above 1000′, very important to note if you live above 1000′, and not so important to note if you don't. Temps will be in the upper 30's early and low 50's in the afternoon with increasing clouds as the day goes on. Expect moderate west wind on Tuesday.
Road and Mountain Biking
Manny thinks you should ride your bike again today. Manny thinks you should ride a bike every day. I love Manny. And I love Manny's wife for supporting his cycling. If you're riding today, beware the easterly breeze on the roads. If you're riding the dirt, the easterly breeze probably won't bother you. Have a fun time out there on two wheels!
River Levels
The Hood is at 5.0′, the Klickitat is at 2380 cfs, and the White Salmon is at 4.something feet. First person to email me with the current level gets my thanks. If you are out on a river today, remember Curt Joyce, whose friends will be paddling the White Salmon today in celebration of his life.
The Clymb: free membership. Cheap gear. Temira approves. Click to join.
Events – email me if I've missed any outdoor-related events
You ever have those days where you can't keep things straight? Anyway, Cherry of Ride is TODAY out in The Dalles. The weather should be lovely – warm and sunny with a light east breeze. So go join Erin and her friends on a beautiful ride through the cherry blossoms. Also today, now at 2pm rather than at 10am, it's the Paris Roubaix bike race (cobblestones from hell) on the TV at Dirty Fingers with waffles and other delicious foods. I am supposed to blame Gato for screwing up the timing.
The Northwest Creeking Competition continues today at Canyon Creek. It's Ski Free Day at Skibowl (bring 4 cans of food, please, even though you aren't required to), it's pickup rugby at 3pm in Mosier, and there's ping pong at 5pm (different than the usual time due to a scheduling conflict) at the Hood River Armory.
Have an awesome day today!
Temira