Please support this forecast by clicking on the photo of the forecaster!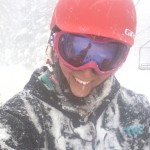 Your forecaster. Click on her to donate. Thank you!
Thank you for using this forecast. Please tell your friends about it! And if you or your friends think this service is awesome/useful/saves you gas money/makes your life more fun, make a donation by clicking on my photo above. Is more fun worth $50/year? $20/year? Donate what it's worth to you (and thank you!), but $12 minimum gets you on the email list (with occasional giveaways) for a year. Thank you for your support, and have fun today!
Random Morning Thoughts
This is not random, but remember that the studded tire removal deadline is tomorrow at midnight. This makes me very sad, because I find the sound of my studded tires on dry pavement soothing. I know. I'm a bit weird. But listening to my studs is like having warm spring sunbeams shining on my bare skin.
Mt. Hood Snow Forecast – 5000′

4a-8a
8a-12p
12p-4p
4p-8p
8p-4a
Sunday
Monday
Tuesday
Mt. Hood Snow Forecast
Today is starting with terrain-enhanced (orographic) snow flurries on Mt. Hood, with periods of dumping snow mixed in. The snow level will be 2000′ early and 3500′ this afternoon. We'll see the snow continue this morning as a weather system moves east, and then the snow will taper off this afternoon and the sky will turn partly cloudy tonight. During the day, we'll see .2-.4" water value (WV), for 2-4" of new snow. Wind will be W 30 for much of the day, tapering to W 15 in the evening and swinging to the S overnight.
Expect a partly cloudy start on Monday with some flurries in the afternoon and evening. No accumulation. The snow level will be 3000′ early, rising to 5500′ in the afternoon. Wind will be S 15 early becoming SE 20 in the afternoon.
Tuesday looks partly cloudy with some afternoon flurries possible. The freezing level will be around 5000′ for much of the day. Wind will be E 10 early, then light and variable midday, then NW 10 in the evening. Wednesday looks clear and sunny, as high pressure briefly builds over the region. Expect north wind on Wednesday.
Gorge Wind
With a series of upper lows forecast to plague the Pacific this week, don't expect much in the way of quality Gorge wind. We'll see gusty westerlies at 10-13 in the western Gorge and 22-25 in the eastern Gorge this afternoon as a low pressure system moves through. Tomorrow brings east wind at 26-30 at Rooster and a bit less at Stevenson. Tuesday starts off with light E wind and switches to light W wind.
Gorge Weather
I saw a rainbow yesterday afternoon around 5pm, so that's good to know that I got the forecast correct. Today brings partly cloudy sky with a few showers in the morning, with less clouds and more sun in the afternoon. Temps will be in the mid-40's early and the low 50's in the afternoon with light west wind. Rainbows are possible this morning.
Monday looks partly cloudy with a chance of an inversion cloud in the morning, given how wet the ground is, and given the expected east gradient. Temps will be in the mid-30's early and the mid-50's in the afternoon with light wind.
Tuesday looks partly cloudy with temps in the upper 30's early and mid-50's in the afternoon. The wind will be light E early becoming light W in the afternoon.
Road and Mountain Biking
The Gorge Roubaix continues today out in The Dalles, where the weather will be sunnier. Enjoy the dirt and pavement, spandex-clad fellows and ladies. I could use a trail report. How muddy is it out there, folks?
The Clymb: free membership. Cheap gear. Temira approves. Click to join.
Events – email me if I've missed any outdoor-related events
Today is, as I mentioned before, day two of the Gorge Roubaix. There's pickup rugby at 3pm in Mosier at the Mosier School (like there would be any other place to play in Mosier), and there's ping pong at 3pm at the Hood River Armory ($5).
Have an awesome day today!
Temira