Please support this forecast by clicking on the photo of the forecaster!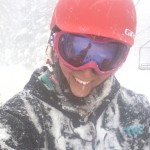 Your forecaster. Click on her to donate. Thank you!
Thank you for using this forecast. Please tell your friends about it! And if you or your friends think this service is awesome/useful/saves you gas money/makes your life more fun, make a donation by clicking on my photo above. Is more fun worth $50/year? $20/year? Donate what it's worth to you (and thank you!), but $12 minimum gets you on the email list (with occasional giveaways) for a year. Thank you for your support, and have fun today!
Random Morning Thoughts
HR not PC.
Mt. Hood Snow Forecast – 5000′

4a-8a
8a-12p
12p-4p
4p-8p
8p-4a
Sunday
Monday
Tuesday
Mt. Hood Snow Forecast
Today starts off mostly clear on the mountain, becoming increasingly cloudy as the day continues. The freezing level will fluctuate between 7000′ and 8000′ during the day before dropping to 4000′ at 8pm and 2000′ overnight, falling as low as 1000′ by Monday morning. We'll see a slight chance of light sprinkles during the day with heavier precip starting as snow around 8pm. We'll see 1-1.5" water value (WV) overnight, for 8-14" of new snow by 5am. Wind today will be WSW 40+ early, becoming SW 50 by early afternoon and swinging to WNW 35 overnight.
Monday starts off cold with orographic snowfall, becoming more sun-prone with mid level clouds midday and more clouds overnight. The snow level will be somewhere between 1000′ and 2000′ all day – models tend to get a little overenthusiastic with the low freezing levels this time of year. We'll see .1-.2" water value during the day, for 1-2" of snow, mostly early. Wind will be wicked: WNW 40 early, fading to NW 30 around 2pm and N 30 overnight.
Tuesday starts off partly cloudy, with mid-level clouds. High clouds move in during the afternoon, blocking the sun and perhaps bringing some snow flurries with no significant accumulation. The snow level will be 1000′ early, rising to 3000′ in the afternoon. Wind will be NW 20 early and W 10 in the afternoon.
Wednesday looks snowy and quite windy with the snow level around 2500′ and maybe .5" WV falling as snow.
Gorge Wind
I was looking at the models this morning and thinking that maybe Wednesday is my day, the day I put the windsurfing gear in the car and head out on the river. So, who's going with me? Today is starting off with west wind in the low double digits. We'll see the westerlies pick up this afternoon to gusty 23-27 as a front approaches. Probably it will be steadiest at Stevenson and Arlington.
Tomorrow starts off with westerlies at 26-30 or maybe a touch higher, probably from The Dalles eastward, but maybe near Lyle too. Expect gusty, up-and-down west wind at 13-16 in the western Gorge. The wind will fade as the day goes on.
Tuesday starts light, picking up to W 15-18 in the eastern Gorge in the afternoon and Wednesday looks like 28-32+ as a front swings through and high pressure builds in behind at the coast.
Gorge Weather
It's a mostly cloudy start to the morning with some marine clouds hanging over the central Gorge. I'm betting you'll find more sun if you move your point of reference east of Mosier. Expect increasing high clouds today and increasing west wind with rain starting sometime after 5pm and before 11pm with heavy rain overnight. Temps today will be in the mid-50's early (so nice outside at 5:30am!) and mid 60's in the afternoon.
Tomorrow starts off with rain showers and low clouds, for another rainbow-filled day in the western Gorge. Showers will taper off during the day, for a partly cloudy, windy finish. Temps tomorrow will be in the upper 30's early and mid 40's late. Expect a partly cloudy day on Tuesday with mostly light wind and temps in the upper 30's early and low 50's in the afternoon.
River Levels
The Hood is at 5.97′, the Klickitat is at 3420 cfs, and the White Salmon is at, well, I dunno, because I haven't seen a post from yesterday. Maybe upper 4's?
Road and Mountain Biking
It sure was a lovely day for a ride yesterday. Today will be just as lovely on the dirt, but windier on the roads. Tomorrow looks too wet on the dirt and too windy on the roads. Tuesday morning looks great.
The Clymb: free membership. Cheap gear. Temira approves. Click to join.
Events – email me if I've missed any outdoor-related events
There was going to be a ping pong tournament today, but now there's not. Apparently you can still play ping pong from 3-6pm at the Hood River Armory ($5). You can also play pickup rugby (free) at the Mosier School at 3pm.
Have an awesome day today!
Temira