Please support this forecast by clicking on the photo of the forecaster!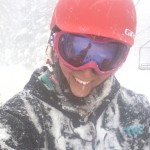 Your forecaster. Click on her to donate. Thank you!
Thank you for using this forecast. Please tell your friends about it! And if you or your friends think this service is awesome/useful/saves you gas money/makes your life more fun, make a donation by clicking on my photo above. Is more fun worth $50/year? $20/year? Donate what it's worth to you (and thank you!), but $12 minimum gets you on the email list (with occasional giveaways) for a year. Thank you for your support, and have fun today!
Random Morning Thoughts
I become angry when I see people being treated as nothing more than inflows and outflows of dollars.
Cool Local Business – Please Support It
The Best Western Plus Hood River Inn has great ski and stay packages for Mt. Hood, starting at $209 for a one-day ski & ride package for two people. Multi-day ski packages are crazy good deals. Save yourself the snowy, stressful drive home and stay in the Hood! For all you visitors and locals, show this add and Buy one entrée, get second entrée HALF PRICE for lunch or dinner, Sunday-Thursday through February 28th. And don't forget about the awesome M-F 4-6pm Happy Hour and Tuesday $12 Prime Rib!
Mt. Hood Snow Forecast – 5000′

4a-8a
8a-12p
12p-4p
4p-8p
8p-4a
Sunday
Monday
Tuesday
Mt. Hood Snow Forecast
There's not much happening in the way of weather on Mt. Hood for the next few days. We'll see partly cloudy sky this morning, becoming cloudy this afternoon with some precip overnight. The snow level will be 4000′ early and 5500′ this morning. A warm front tonight will send the snow level to around 8000′ by 10pm. We'll see a snow/rain mix start around 4pm, ending by 10pm, for .3" water value (WV) for maybe an inch of wet new snow mixed with rain. Wind today will be W 20 early, rising to W 25 mid-morning and becoming SW 30-40 this afternoon. After the front passes this evening, we'll see the wind turn to WNW 45 around 7pm, slowly dropping overnight.
Monday starts off clear with the free air freezing level around 7000′. As cold air filters in at low elevations, we'll see the lowest slopes drop below freezing while temps hover above freezing between about 4000′ and 8000′. We'll see clouds move in during the afternoon for some light rain showers starting around 1pm and lasting through the evening. No significant measurable precipitation will fall. Wind will be W 20 early and SW 25-25 from 10am on.
Tuesday starts partly cloudy, quickly becoming clear with low clouds. The free air freezing level will be around 8500′, with temps above freezing between 4000′ and 8500′ for much of the day. Wind will be light and variable early, becoming S 10 mid-morning and S 20 in the afternoon.
Wednesday looks similar to Tuesday with maybe some sprinkles thrown in midday.
Gorge Wind
There is exactly zero gradient between Portland and The Dalles this morning and nearly zero wind to accompany the zero gradient. We'll see light wind all day, picking up a bit out of the east late in the evening. By Monday morning, we'll have east wind at 15-18. That east wind will build and build through the day, hitting 40-50 in the afternoon. Tuesday brings easterlies at 40-50. Easterlies continue in the upper teens or low 20's on Wednesday.
Gorge Weather
Looks like a mostly clear morning in the Gorge with some high clouds and maybe a few low clouds. Clouds increase this afternoon and light spirnkles start around 4pm, continuing overnight. Temps are in the upper 30's this morning and will climb near 50 this afternoon. What a nice day for a bike ride: no wind, warm weather.
We may see a bit of snow tonight, but at this point, it looks like the cold air won't filter in from the east side until mid-morning tomorrow. Temps tomorrow will be in the mid-30's early, dropping to the low 30's in the afternoon. So, maybe some sprinkles tonight, a few flurries tomorrow morning, followed by partly cloudy sky and potentially icy roads midday, and maybe a few more flurries after 1pm, but no significant accumulation.
Tuesday looks cold, with low clouds likely and temps in the upper 20's early, rising to near 32 in the afternoon. No precip on Tuesday.
Road and Mountain Biking
God am I jealous of all of you who are going to ride today. Syncline should be good. The road riding should be spectacular, especially out at Petersburg.
The Clymb: free membership. Cheap gear. Temira approves. Click to join.
Events – email me if I've missed any outdoor-related events
There's pickup rugby at 3pm in Mosier today and ping pong at 3pm at the Hood River armory.
Have an awesome day today!
Temira