Please support this forecast by clicking on the photo of the forecaster!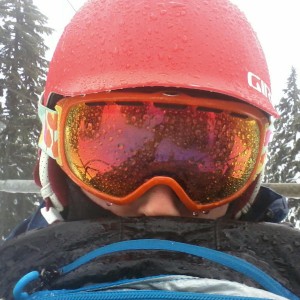 Your forecaster. Click on her to donate. Thank you!
Thank you for using this forecast. Please tell your friends about it! And if you or your friends think this service is awesome/useful/saves you gas money/makes your life more fun, make a donation by clicking on my photo above. Is more fun worth $50/year? $20/year? Donate what it's worth to you (and thank you!), but $12 minimum gets you on the email list (with occasional giveaways) for a year. Thank you for your support, and have fun today!
Random Morning Thoughts
It's snowing at my office. There's something very amusing about this.
Mt. Hood Snow Forecast – 5000′

4a-8a
8a-12p
12p-4p
4p-8p
8p-4a
Sunday
Monday
Tuesday
Mt. Hood Snow Forecast
We got a nice shot of snow last night, and flurries are continuing this morning. We'll see the flurries turn to sunbreaks today, and then we'll see high clouds move in this afternoon. Precip starts around 10pm. The snow level today will be 1500′ early, slowly rising to 6500′ around 10pm. You might have noticed the precip coinciding with the 6500′ snow level? So, we'll see rain sprinkles overnight, increasing after 1am to pouring rain, maybe .3-.5" before it switches to snow. Wind today will be W 45 early, holding through early afternoon when we'll see a switch to SW 45. The SW wind will pick up overnight to SW 60ish.
Monday morning sees the snow level crash from 6500′ to 3000′ around 4am. The snow level will fall to 2000′ by mid-morning and stay there all day. We'll see, depending on the storm track, 1-3" water value fall between 4am and 4pm, most of it early, for at least 12" of new snow. Snowfall tapers off after 1pm, for .1-.3" WV overnight for 1-3" additional snow. Wind Monday will be WSW 70 early (poor T-Line – they get hammered with the southerly wind), becoming W 45-50 (poor Meadows – they get hammered by the westerly wind) around 10am and turning to WSW 45 in the evening. If you like storm skiing, Monday is your day. Remember that Meadows is open for night skiing on Monday night, with $15 tickets.
Tuesday starts off partly cloudy, becoming cloudy late morning. The snow level will be 3000′ early, rising to 7000′ around 10am, then dropping to 6000′ around 1pm and 3000′ at 4pm. We'll see very heavy precip between 1pm Tuesday and 4am Wednesday, for a rainy start, followed by 1-1.5" WV of snow, for 12"+ of new by Wednesday morning. Wind on Tuesday will be WSW 35 early, becoming SW 50-60 mid-morning and switching to a punishing WNW 45-50 mid-afternoon. Ladies Night at Skibowl, anyone?
Cold, snowy, windy weather continues on Wednesday for another lovely day of storm skiing on Mt. Hood.
Gorge Weather
It's looking partly to mostly cloudy this morning, and the clouds will break up even more today, for plenty of sunbreaks before high clouds move in ahead of the next system this afternoon. Temps will be in the low 40's this morning and upper 40's this afternoon with light west wind. We'll see light showers tonight. Tomorrow morning starts with pouring rain, becoming partly cloudy in the afternoon. Temps on Monday will be in the low 40's early and mid 40's in the afternoon with moderate west wind. Tuesday starts partly cloudy. Pouring rain starts mid-afternoon and continues overnight. Temps on Tuesday will be in the mid-30's early and in the low 50's in the afternoon with light west wind early and moderate west wind in the afternoon.
Gorge Wind Forecast
We're starting off with west gradients at .06 and .05 and westerlies at 15-18 through much of the Gorge. The westerlies will pick up late tonight and fade by Monday morning, giving us west wind at 24-28 that will fade through the day. Tuesday starts with light wind and then picks up to W 24-28 midday.
Road and Mountain Biking
Report is that Syncline is more stream that trail, so please leave it alone. And if you must be selfish and ride on the muddy trails in the Gorge right now, please ride through the mud and not around. If you ride around the mud, you turn singletrack into doubletrack, and nobody likes that.
Boating
As of yesterday, the White Salmon was somewhere over 4′ and under 5′. The Hood is at 7.8′. The Klickitat is at (whoa) 3500cfs.
The Clymb: free membership. Cheap gear. Temira approves. Click to join.
Events – email me if I've missed any outdoor-related events
There's ping pong at the Hood River armory from 3pm-6pm today ($5) and pickup rugby at Mosier School at 3pm (free).
Have an awesome day today!
Temira