It's fall now, and that means it's time for … more windsurfing and kiting! No, silly. It's time to think about skiing.
You can get the best Mt. Hood snow forecast right here, all winter long, starting around November 15th. Bookmark this page. Come back for snow!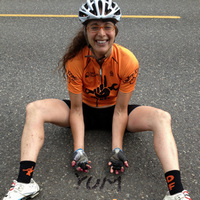 Your forecaster. That's right. Use my snow forecast. Tell your friends. And if you or your friends think this service is awesome/useful/saves you gas money/makes your life more fun, make a donation by clicking the sun below. Is more fun worth $49/year? $20/year? Donate what it's worth to you, but $12 minimum gets you on the email list (with occasional giveaways) for a year. Thank you for your support, and have fun today!

Random Morning Thoughts
Those folks at NOAA have a good sense of humor. Today our local forecaster managed to have the AFD first letters read "Back to Fall – Cool Showery". Amusing. Not as amusing as "Please Pay Us", but still amusing.
Wind guessings, prognosticatings and musings
It's ripping at Rooster – 33 according to iWind/iKite. That means you should get yourself down there, because it's windy. Hello. You've been asking for it. We'll see 28-33 at Rooster and 22-25 at Stevenson this morning (no, it's not windy at Stevenson yet), fading to calm conditions by mid-afternoon.
An approaching upper low and associated front turn the wind onshore this evening. Expect upper teens by 8pm (quite useless in the dark). As that low moves onshore mid-morning tomorrow, we'll see gusty 28-32 from The Dalles eastward, or maybe from Lyle eastward, depending on the cloud line. With high pressure offshore and low pressure inland, the westerlies continue on Tuesday at 22-25.
Today's Gorge Wind

Your favorite beach
Dawn
Patrol
9am-
11:30a
11:30a-
3pm
3pm-
dusk
Steven's Locks
E 5-10
E 22-25
fading
wind
W 15-18
Hatch (subtract a few mph for Event Site)
calm
cool
collected
W 5-10
Doug's / Rowena / Lyle
light
light
light
W 5-10
Maryhill / Rufus / The Wall
light
light
light
light
Arlington / Roosevelt
light
light
light
light
The Clymb: free membership. Cheap gear. Temira approves. Click to join.
Plain old weather
Today will be beautiful and sunny early with increasing high clouds. If you're in da Hood, you can see the inversion clouds this morning. It's 39 at Hood River Weather and it's 47 at the base of Meadows. Expect that crap to burn off, leaving us with sunny weather for much of the day.
.
Showers move inland with the low tomorrow morning, and we'll likely see a touch of rain in the western and central Gorge. Rainier conditions arrive on Tuesday.
On Mt. Hood, the snow level is way-up-high today, but it'll fall to 6000′ by tomorrow morning, falling further to 5500′ tomorrow night. By Tuesday, the snow level will be around 4000′. Total accumulation at MHM/T-Line base through Tuesday afternoon will be 3-4".
Speaking of the ski resorts, I spoke with a management-level source at one of the resorts yesterday, as rumors have been flying about the ski resorts, their Special Use Permits and the (totally ridiculous) government shutdown. This person informed me that there was originally some confusion about whether the resorts would be able to operate during the shutdown.
The answer, currently, is "yes". There is no skiing at T-Line right now because they are in their annual period when there is no skiing. They're hoping to reopen soon, weather and snow conditions permitting. Meadows is not currently open because… it's not ski season yet! So, unless the rules change between now and ski season (assuming the shutdown continues), ski season will go on, as it did in the last shutdown over New Year's 2006.
Wednesday looks dry and sunny.
Mountain biking
Brown. Pow. Get. Some.
Events n' stuff – Please email with upcoming events related to the outdoors Today is the Ashland Super D mountain bike race (go locals!), and it's the Superhero run/walk in The Dalles. Coming up tomorrow night, Shortt Supply hosts a talk on running mechanics and training at 6:15pm. Snacks will be served. I think runners snack on PocketFuel or something?
Tomorrow evening is the start of ski movie season in Hood River. Dog River hosts the new Powderwhores film at 7pm. In Portland tomorrow evening, it's the Moth Story Slam at the Secret Society.
Have an awesome day today!
Temira