Random Morning Thoughts

Have you ever noticed how, when you visit a friend you haven't seen in a while, your friend's dog remembers you, even if you look very different? I don't know how dogs do that, whether it's through scent or visual recognition or something happening deep inside the mind, but I've always wondered how far through time that ability extends with humans. If we haven't seen each other since we were little kids, do we still know each other? Can we still recognize each other and connect as we did long ago?
I had this experience last night with someone I hadn't seen or talked to in 25 years, who I'd last seen under stressful circumstances (to say the least). And I think it's important to say that I have nearly zero memories of what he and I went through, and even fewer memories of him.
Sitting across the table from my friend, I saw glimpses of this long-gone kid, whom I don't remember, in the gestures and mannerisms of this grown man. But the recognition didn't stop there – when he and I made eye contact, I could feel the kid I was back then and the kid he was back then staring at each other across the passage of 25 years.
I suspect our minds carry the ability for recognition on a much deeper level than simple visual recognition. I have no idea of the implications of this, but I was (obviously) fascinated by the experience. And I feel so blessed to have this person, and his family, in my life.

Thank you for using this forecast!
Please donate to support it!
Thank you to everyone for using this forecast. Does it save you time, gas money, or help you find more wind, powder, or just plain fun stuff to do? Please consider making a donation to keep it going! Use it here for free or make a donation and get on the mailing list for wind for the summer and Mt. Hood snow in the winter. It's not $99/year. Not $50/year. No, just $12.34 or more gets you on the list for 12 months. Do it via PayPal/CC by clicking on my happy photo below. Don't PayPal? You can send a check to Temira @ PO Box 841 in Hood River. Thank you for your support, and thank you for trusting my forecast. You guys mean the world to me.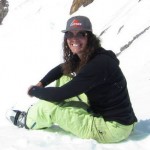 ---
Gorge Wind
We here in the Pacific Northwest are under a NW flow pattern with a series of weather systems moving through the region. NW flow is good for wind. Weather systems are not so good. And weather systems make it tricky for both weather models and weather forecasters to get their jobs done correctly. That said, the general pattern this weekend will give gusty west wind as the weather systems push through.
Expect light wind this morning, driven by at .04 (pdx-dls) gradient at 7am. The wind will pick up to 12-15 from Swell to Mosier by noon and pick up further to gusty 16-19 from Lyle to Rufus, possibly Arlington, late this afternoon, and possibly blowing near Hood River for a short while before backing off. It looks like today's weather system will push far enough east to shut off the wind from Stevenson to Mosier this afternoon.
Tomorrow sees leftover frontal westerlies at 12-15 or a bit less from Swell east to Arlington. As another weak system approaches, the wind will pick up to 15-18 from Swell to Rufus by early afternoon and gusty 20-23 from Swell to Rufus by late afternoon, probably dying in the western Gorge as the front hits.
Monday starts with light westerlies, perfect for the Roy Webster swim. The wind should pick up to gusty 15-18 late in the afternoon from Stevenson to The Dalles as a weak front clips the NW corner of Oregon.

Today's Gorge Wind – these are ranges for the average speed, not a predicted wind range. =)

Your favorite beach
Dawn
Patrol
9am-
11:30a
11:30a-
3pm
3pm-
dusk
Rooster's Rocks
grey
sky
grey
use your
imagination
Steven's Locks
light
light
12-15
5-10
Hatchery/White Salmon Sandbar (minus a few for Hood River)
5-10
12-15
16-19
briefly
10-13
Doug's, Lyle, Rowena
5-10
12-15
16-19
16-19
Rufus, etc.
5-10
12-15
16-19
16-19
Roosevelt, etc.
5-10
12-15
16-19
16-19
Temira's sail: 35-40: 2.9 / 30-35: 3.2 / 26-30: 3.5
23-26: 4.0 / 20-23: 4.5 less than 20: something bigger!
Tonia's kite: 35-40: 4m / 30-35: 4-6m / 26-30: 5-7m
23-26: 7-9m / 20-23: 8-10 / 15-20: 10-12 / 10-15: 13-15.
Advertising Worth Reading
Stoked Roasters on the Hood River Waterfront

WAKE UP RIGHT. STOKED ROASTERS is all about premium coffee to kick start your day in a positive way. Our roasts are packed with good vibes by awesome people who love to be outside as much as you. So go ahead and send it…we got your back. Meet the day and be STOKED! #stokedroasters #getstoked
Gorge Weather
The Pacific Northwest is going to spend Labor Day weekend under the influence of a series of weather systems. Hopefully being under the influence of weather systems isn't cause for being stopped by the police, because I'd hate to see what happened if the entire PNW was stopped for the weekend. Anyway, we'll see a partly cloudy day today, with the clouds breaking up midday and returning late in the afternoon as a pretty strong weather system hits, giving us a 49% chance of a colorful sunset, a 23% chance of a few sprinkles, and 11.27% chance of rainbows (I did the math, so the rainbow chance is correct). Expect temps in the mid 60's early and low 70's this afternoon.
Sunday starts partly cloudy and stays that way with temps in the upper 50's early and mid 70's in the afternoon. There's a 2.71% chance of rainbows on Sunday morning and a 97% chance of a colorful sunrise. Call it a 97% chance of a colorful sunset too.
Monday starts off mostly clear, becoming partly cloudy in the afternoon as another weak weather system clips the PNW. Temps will be in the mid 50's early and upper 70's in the afternoon.

White Sprinter Van of the Day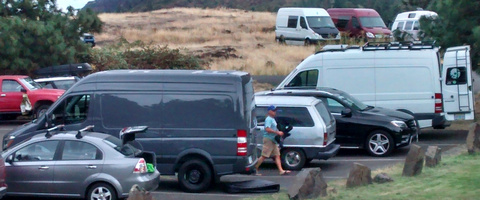 Road and Mountain Biking
Sounds like there's a chance of a bit of rain this evening in the Cascades, and if that really happens, that's going to be great news for our bike trails. If you want to ride road bikes today, do it early for the least wind.


The Clymb: free membership. Cheap gear.
Temira approves. Click to join.
River Levels / Cheezburger update
The John Day Dam is reading 111kcfs. The Dalles Dam is putting out 130kcfs. The White Salmon is at 1.8′. If you plan on running the White Salmon yourself, remember that there is a riverwide log about 150 yards below Cave Wave. The Columbia River is 72 degrees. I don't have any Cheezburger news today.

Events – email me if I've missed any outdoor-related events
Today and tomorrow is Barlow Trail Dayz in Wamic – swing through and check out the games and the chili cookoff and the black powder demonstrations by the mountain men. The Bunker to Bonneville 50k trail ultramarathon happens today, with the finish in North Bonneville. And if you're in Hood River this evening, swing by Windance Boardshop for the annual customer appreciation party with burgers and beer.
Get to bed plenty early tonight, because tomorrow is the last all-sport swap meet of the season, happening at Luhr Jensen in Hood River and brought to you by the Columbia Gorge Windsurfing Association. After the swap, stick around for a hot dog fundraiser for CGWA.
Coming up Monday, it's the Roy Webster Cross-Channel swim, and it's a little early to make a call, but the wind forecast looks favorable, so keep your fingers crossed.
Have an awesome day today!
Temira