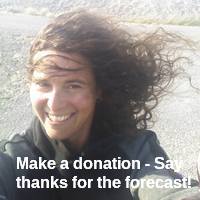 Get the email free through the end of January – try it out! Click here.

Thank you for using this forecast. I offer it freely so you can have more fun and plan your life. It does take significant time and energy to produce. If you find yourself using it often, or if you feel your life is enhanced by this information, please make a donation. I count on your support to pay my bills, and am deeply grateful to you for choosing to help support me. You can get this forecast via email by donation. The email subscription isn't $99/year. Not $50/year. Donating $12.34 or more gets you on the list for 12 months. Click on my photo to donate. Don't PayPal? Send a check to Temira @ PO Box 841 in Hood River. Thank you for your support and thank you for trusting my forecast.
Mt. Hood Snow Forecast – 5000′

4a-8a
8a-12p
12p-4p
4p-8p
8p-4a
Saturday
4500′->6000′->500′
Sunday
500′->0′
Monday
0′
---
Mt. Hood Snow Forecast

Hopefully you're ready for a wild ride, because I sure am. There's an extra added bonus to today's wild ride on the mountain: 1/3" freezing rain fell last night, and all the resorts are now having to deice lifts before they can even try to run them. Oh dear. Anyway, as I said, today will be wild. Then we'll go into more snow on Sunday and clear and cold weather for the next few days. Next chance of snow after the weekend is Wednesday night.
For Saturday, we'll have heavy precipitation, some of which is likely to fall as rain or freezing rain in the morning with heavy snowfall and strong wind the rest of the day. The snow level will peak at 6000′ this morning, drop to 4000′ by midday, and crash to 500′ overnight. The mountain will see about 1.7" water value (WV) by 4pm, for hmm… 8-12" snow plus 1/2" rain, freezing rain, or mixed precip? Guessing here. Another .7" WV falls tonight, for 7-9" wind-affected powder. Wind today will rise to WNW 55 by 7am, turn to WSW 60 (gusts over 100 are likely up high) midday, and W 65 in the afternoon and evening. The wind will slowly drop to W 35 after midnight. All this should be enough to shut lifts down.
Sunday might start with delayed openings at the resorts as they dig out and deice lifts. Snow will continue to fall all day. The snowfall rate will taper off overnight. The snow level will be 500′ early and 0′ in the evening. Yes, zero feet. About .6" WV falls during the day for 6-8" of pow. A couple more inches of fluffy powder fall overnight. Wind will be W 35 early, fading to W 20 in the afternoon and turning to N 20-25 overnight.
Monday looks partly cloudy early and sunny later. Temps will be cold, in the single digits or teens. Snow quality will be epic, at least on the groom and at Nordic locations. Wind will be N 20-25 in the morning, NW 15 in the afternoon, and N 15 overnight. Tuesday also looks clear and cold. Next chance of snowfall is Wednesday night, when 3-6" are in the forecast with a snow level of 1000′.

Random Morning Thoughts
Those of us who were raised in the good ol' USA often have a belief that we need to do things alone. That asking for help is weak. An imposition on others. Some nice person let me know recently that my website had been infiltrated by malware. Rather than calling my host and asking for help, I went on a internet search for how to fix this. I found a step-by-step solution, tore down my entire website, and put it back up. It's not working quite perfectly, but it's working. More work needs to be done.
Anyway, I called my host about a particular problem I'd been having, and found out that they could have fixed the problem for me for $5, and that I wouldn't have had to rebuild the site. We won't go into the details of my personal issues around asking for help. Let's just say that this is the second time I've done this recently, and that it's a lesson I hope to learn this time!
Does this sound familiar to you? Do you attempt to DIY before you ask another human for help? If so, take a few moments to reflect on the feelings that arise when you do this. Do you feel ashamed? Embarrassed? Stubborn? Afraid? Shy? Or perhaps you feel competent. Confident. Proud. Maybe some of both categories? There's a difference between the two: if our actions are being driven by fear, they are likely not wise. They are likely unhealthy in some way. Check it out. Be curious about what you find. Have an awesome day!

Disclaimer required by my grad school program: I am not your therapist, but I am seeing clients at this time at Comprehensive Healthcare in White Salmon. In the meantime, I am your weather forecaster. Take everything I say with a grain of salt, and consult with your actual therapist about your mental health issues. One other thing: I plan to keep doing this forecast indefinitely. Forecasting and counseling are both deeply meaningful and nourishing to me.

Gorge Wind Forecast
For Saturday, a front moves in during the day and an upper level low moves into central Washington. Combine that will offshore high pressure for a nuking day. Westerlies at 10-13 this morning pick up to 30+ pretty much everywhere this afternoon. River temp is 38 degrees. Sunday starts off with W 10-13. In the afternoon, after 4pm or so, the wind switches to E 10-15. Monday looks like E 10-15 as well.

Gorge Weather Forecast
It seems to be raining out there, and will continue to rain on and off all day. Temps will be in the upper 40's early and near 50 in the afternoon. Very strong west wind this afternoon. 99% chance of rainbows. Sunday starts off with rain and sees snow late in the day. Temps will be in the mid 30's early, near 40 midday (maybe), and below freezing in the afternoon and evening. 1-3" snow. Very icy roads overnight. Light west wind in the morning switches to light east in the afternoon. Monday looks very cold and partly cloudy or clear. Temps will be near 20 early (fur coat time!!!) and near 30 in the afternoon. East wind. It looks so cold on Tuesday and Wednesday morning – in the teens, single digits, or less – that we may end up with freezing Nothing.
For weather specifically directed at travel through the Gorge, please visit Temira's Awesome Travel Advisory Service on Facebook.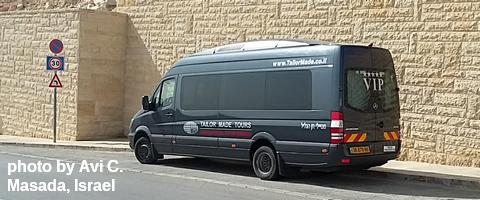 White Sprinter Van map of the world!!!
Road and Mountain Biking
Post is too muddy to ride today. You'll have better luck at Syncline. Whoopdee remains closed. We'll be heading into a freeze-thaw cycle next week, meaning Syncline should be avoided to avoid damaging them.

Upcoming Events
Today is Saturday. There's a trail run in Post Canyon at 8am and the Dirty Fingers Coldlap at 3pm. There's by-donation yoga at Samadhi at 9am, ping pong at the Armory at 10am, meditation at Flow at 11am, pickup touch rugby at the Hood River Waterfront Park at 11am, YogaFaith at Pure Yoga in The Dalles at 4pm, and restorative yoga at Pure Yoga in Hood River at 6pm.

Click here for the full events calendar.
Have an awesome day today!
Temira