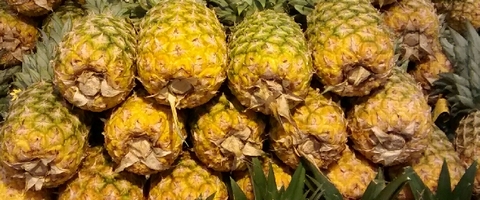 Random Morning Thoughts
The only thing I'm thinking about this morning is how to make the most of this weekend's Pineapple Express. What is the one thing you can only see during Pineapple Express? Overflowing rivers and waterfalls, duh! Now, let me be clear: I'm worried about folks who live in flood plains. It's going to get bad for those folks this weekend and early next week. Flooding is no fun.
The flip side of that is the potential for amazing sights at the Gorge waterfalls, and a truly impressive amount of water in our local rivers. The Northwest River Forecast Center is currently predicting a peak of 16.2′ for the Hood River (it's normally around 4-5′ in the winter, to give some perspective). 16.2′ would be the third highest flow on record. It would put the river over the train trestle. So make plans to take a look at the Hood late on Sunday or very early on Monday. And make plans for a drive to look at the waterfalls on Sunday. But while you're out driving around, be prepared for debris in the roads, because landslides and rockfalls are likely.

Thank you for using this forecast!
Click on my photo to support it with a donation.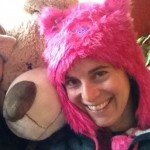 Thank you for using this forecast. Does it save you time, gas money, or help you find more wind, powder, or just plain fun stuff to do? Please make a donation to keep it going! Use it here for free or get on the mailing list for wind for the summer and Mt. Hood snow in the winter. Just click on my photo to donate. The email isn't $99/year. Not $50/year. No, just $12.34 or more gets you on the list for 12 months, and sometimes there are cool prizes. Donate via PayPal/CC by clicking on my happy photo below. Don't PayPal? You can send a check to Temira @ PO Box 841 in Hood River. Thank you for your support, and thank you for trusting my forecast. You guys mean the world to me.
---
Mt. Hood Snow Forecast – 5000′

4a-8a
8a-12p
12p-4p
4p-8p
8p-4a
Today
Tomorrow
The day after
Mt. Hood Snow
It's going to be an exciting weekend on Mt. Hood. Today starts off with dumping snow with the snow level around 4500′. That'll last until late morning, at best, as we'll see the snow level climb to 6500′ by 10am and 8000′ by 1pm. We'll see up to a foot of snow this morning before the switch to rain. Then we'll see 2.5-5" of rain this afternoon and another 4-6" of rain overnight. For reals. I really, really just wrote that. Wind today will be SW 30-40 early, rising to SW 40-50 late morning, and turning to W 50-60 after 4pm.
Sunday morning starts off with the snow level around 8000′, dropping to 6000′ by 10am, and holding through the afternoon, when the snow level could drop as low as 5000′. These numbers all depend on the exact path of the storm track, so I don't want to promise anything, but there is some potential for wet snow at the back end of this system. This is the first model run that has suggested any snow out of this weekend, and I wouldn't bank on it, but it's certainly interesting, and certainly worth a mention.
Anyway, expect 3.5-6" of rain Sunday morning. That much is pretty certain. There's another 1-2" of water value (WV) after the snow level starts dropping. If we get really, really lucky, we could see a foot of snow at 5000′ Sunday night into Monday. I think it's unlikely, but if the storm track lands in just the right place, it's possible. Wind on Sunday will be impressive: W 60 in the morning, W 50 in the afternoon, and WNW 45-50 overnight.
Monday looks partly cloudy. The free air freezing level will be 5000′ early and 5500′ in the afternoon, rising to 8000′ by Tuesday morning. Wind Monday will be NW 45 early and NW 20 in the afternoon.
There's not much happening until Wednesday, when the next weather system hits. At this point, it looks like the bulk of the moisture will come in a little too warm for snow, leaving us with just a few inches, but a shift in the storm track could change that… we're still a long way from Wednesday…

Gorge Wind
There's a wee bit of east wind on the Columbia this morning, with iKite/iWind reporting 23 at Rooster and a measly 5 at Steven's Locks. Expect those easterlies to fade by midday, with west wind building overnight. It'll be a warm and windy day on the river tomorrow (45 degree water plus 50+ degree air), with gusty westerlies at 30-35 east of Hood River in the morning, possibly filling in to Hood River in the afternoon, but definitely backing off way out east. Your best bet during the afternoon will be Lyle to Maryhill. With may local rivers headed to flood stage this weekend, the Columbia will be full of debris. Be safe out there. Expect westerlies at 13-16 Monday morning, fading to light wind in the afternoon.

Gorge Weather
You may have noticed that it is raining this morning? It will continue to rain all day today. And the later it gets today, the harder it will rain. Expect temps in the low 40's this morning and the upper 40's this afternoon. Rainbow chances are 59%.
Tomorrow morning brings pouring, torrential, biblical rain, tapering off to rain in the afternoon. Temps will be in the mid 40's early and the low 50's in the afternoon. Rainbow chances are 94%.
Monday looks partly cloudy in the morning, probably becoming cloudy in the afternoon. Temps will be in the low 40's early and the mid 40's in the afternoon. No rainbows on Monday. We're still slated to see some cold weather at the end of next week, but now it doesn't look as cold as earlier forecasts.

White Sprinter Van of the Day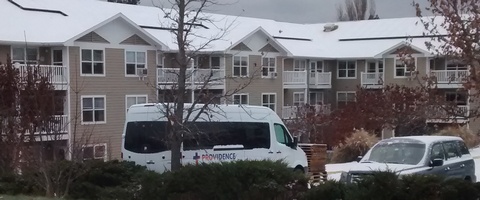 Road and Mountain Biking
Forget it, peeps. Everything is muddy except the Klickitat trail and the Deschutes trail, and those might even be muddy. But hey, the roads aren't muddy, and neither is your trainer, and neither are the spin bikes at the gym.


The Clymb: free membership. Cheap gear.
Temira approves. Click to join.
Freshies Bagels and Juice
Hi. I'm Matt. I'm the new owner of the bagel store, now known as Freshies Bagels and Juice. I wake up at 4am every morning to boil and bake the best bagels west of the Mississippi. I was raised in Boston so I know good bagels. I use flour from wheat grown in Washington and Oregon. Local apples and veggies for the juice and smoothies. Freshies is the perfect stop before heading to the mountain or any outdoor adventure. So come on in and say hello at 13 Oak Street, 6:30am to 3pm.
Upcoming Events
This morning at 8am, put on an ugly sweater (and maybe a clear plastic bag over the top) and run Post Canyon with the Tri Club – meet at the bottom of Post Canyon Road. And before I forget, the 10 Speed Coffee run yesterday morning was awesome. Every Friday at 7am. Free coffee if you participate.
Normally on Saturday afternoon, you could ride the Cold Lap cyclocross ride with Dirty Fingers. It's canceled this week due to the Pineapple Express. Instead, today at 4pm, join the folks from Dirty Fingers for the KringleKrawl, Santacon on bikes. Or maybe not on bikes, given the weather. Dress up in your best Santa outfit and come wreak havoc in Hood River. Today is also Brewfest at Meadows, 12pm to 5pm.
Tomorrow is community yoga, free or by donation, at 9am at Yoga Samadhi in White Salmon. There's pickup touch rubgy at the Mosier School at 3pm. And the Seahawks play the Cardinals at 5:30 in one of the biggest games of the season. Go 'Hawks!
Have an awesome day today!
Temira