Mt. Hood Snow Forecast – 5000′

4a-8a
8a-12p
12p-4p
4p-8p
8p-4a
Saturday
5000′
Sunday
5000′->6000′
Monday
6500′->3000′
---
Mt. Hood Snow Forecast

With Timberline now open for the season, it's time to pick up the consistency of the Mt. Hood snow forecast, eh? I'll do my best! For Saturday, the snow level will be around 5000′ all day. There's not all that much precipitation in the forecast for the next 24 hours – just a trace of snow, perhaps up to an inch, will fall. Wind will be SW 10 in the morning and SW 15-20 in the afternoon.
Saturday looks a bit warmer on the mountain, but there's still not much precip in the forecast. The snow level will be around 5000′ early, 6000′ midday, and 6500′ after midnight. We'll see a few flurries during the day and some mist overnight. Wind will be SW 10-15 early, SW 20 in the afternoon, and SW 30+ after midnight.
A more powerful weather system is forecast for Monday. The snow level will be around 6500′ early, but will quickly drop to 4500′ during the day and 3000′ overnight. About .6" water value (WV) will fall during the day, for 5-7" of new sow. Another 1" WV arrives overnight, for 9-11" of additional snowfall. Wind will be SW 30-40 all day, turning to WSW 30 in the afternoon and overnight.
The forecast for Tuesday and Wednesday really depends on the exact track and timing of an incoming weather system. There's a lot of precip available, but the temp is borderline and so is the probability of a bullseye hit on Mt. Hood. Guess we'll have to wait and see!

>
Does this forecast save you time, gas money, or help you have more fun in your life? Make a donation to support continued forecasting, and get the forecast in your inbox each day. Click on the button to donate. The email subscription isn't $99/year. Not $50/year. No, just $12.34 or more gets you on the list for 12 months. Don't PayPal? Send a check to Temira @ PO Box 841 in Hood River. Thank you for your support and thank you for trusting my forecast.
Random Morning Thoughts
Seasonal depression is pretty common here in the Northwest. While there are biologicals aspects to this – lack of sunlight, lack of vitamin D, decreased exercise, and others that I'm not forgetting, I think there may also be a mental component to this.
For many people, winter's arrival is intimately tied with summer's departure. The end of the sun, warmth, and playtime can be a loss, but it's one we often don't take the time to grieve. For some people, of course, this isn't true – winter is long-awaited and its arrival is greated with joy.
If the end of summer does feel like a loss to you, spend a little time with it. Are you wishing and wanting that you could participate in your summer activities still? Is some part of you railing against the arrival of the cold and wet?
If so, spend a little time with your feelings. Under the first layer might just be grief. Processing it and letting it flow through will allow you to accept the arrival of the grey. You'll be better able to enjoy the things winter has to offer (snowboarding! Skiing! Puddles! Projects! Fireplaces!). Speaking of … I have some rocks to paint. Have an awesome day.

Disclaimer required by my grad school program: I am not your therapist, but I am seeing clients at this time. In the meantime, I am your weather forecaster. Take everything I say with a grain of salt, and consult with your actual therapist about your mental health issues. One other thing: I plan to keep doing this forecast indefinitely, even when I am a therapist.

Gorge Wind Forecast
For Saturday, we'll have east wind at 30-35 near Rooster all day with 20-25 near Stevenson and 10-15 near Viento. Sunday looks like 25-30 near Rooster early and 20-25 in the afternoon. Monday starts with light west wind or calm wind pretty much everywhere. As a strong weather system moves through, we'll have a brief period in the afternoon where the westerlies hit 24-28 east of The Dalles and 14-18 in other locations. You'll need to drive preemptively to get that eastern Gorge iwnd.

Gorge Weather Forecast
It's gray and cloudy and shall stay that way today. Showers will taper off in the afternoon. Temps will be near 40 early and near 50 in the afternoon. East wind. 1% chance of rainbows. Sunday looks an awful lot like Saturday. Monday brings heavy rain for the first half of the day followed by showers and sunbreaks. Temps will be near 40 early and near 50 in the afternoon. West wind. 99% chance of rainbows.
For weather specifically directed at travel through the Gorge, please visit Temira's Awesome Travel Advisory Service on Facebook.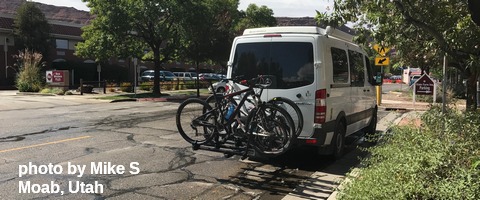 Road and Mountain Biking
Being winter, it's rather wet out there to ride. Remember, if you ride muddy trails, you damage them. Then volunteers have to spend time fixing them rather than building new trails. Syncline is your best bet for riding right now. One other thing: all trails and roads in Post Canyon have reopened to public use as of Monday. Be cautious, because there is damage and unstable tread due to logging operations. There is a work party in Post Canyon on November 18th, so mark your calendars for that!

Upcoming Events
It's Saturday. There's a group trail run every Saturday at 8am in Post. There's a half-day meditation retreat at Yoga Samadhi today from 1pm to 5pm. On Sunday, there are three by-donation yoga classes: 9am at Samadhi in White Salmon, 4pm at Pure Yoga in The Dalles, and 6pm at Pure Yoga Hood River. There's pickup touch rugby for all ages at 11am at the Hood River Marina. Looking ahead to next weekend, the Ski Swap is at HRVHS on Saturday. There's a work party in Post Canyon on Saturday.

Click here for the full events calendar.
Have an awesome day today!
Temira