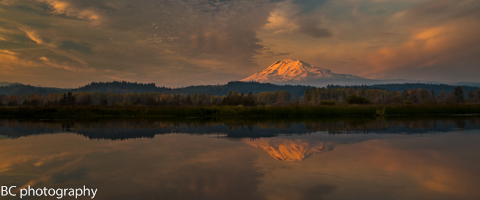 Random Morning Thoughts
I was up at Meadows working yesterday, and that seemed like the perfect place and time to try something out. I like hugs. I like them a lot. In the past I hated them. Things change. You lie somewhere on that spectrum.
So try something, if you've got some time and a sense of curiosity. If you're usually the person who initiates hugs, let other people initiate for a while and see how that changes your reaction to the hug. If you're a receiver, try initiating. And if you hate hugs, pick just one person you really care about and try out a hug. Everyone observe your reactions. I was pretty blown away – I felt a lot more love when someone else initiated then when I initiated. It was a fun experiment.

Thank you for using this forecast!
Click on my photo to support it with a donation.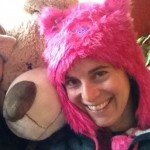 Thank you for using this forecast. Does it save you time, gas money, or help you find more wind, powder, or just plain fun stuff to do? Please make a donation to keep it going! Use it here for free or get on the mailing list for wind for the summer and Mt. Hood snow in the winter. Just click on my photo to donate. The email isn't $99/year. Not $50/year. No, just $12.34 or more gets you on the list for 12 months, and sometimes there are cool prizes. Donate via PayPal/CC by clicking on my happy photo below. Don't PayPal? You can send a check to Temira @ PO Box 841 in Hood River. Thank you for your support, and thank you for trusting my forecast. You guys mean the world to me.
---
Mt. Hood Snow Forecast – 5000′

4a-8a
8a-12p
12p-4p
4p-8p
8p-4a
Today
Tomorrow
The day after
Mt. Hood Snow
It's a partly cloudy start with a few flurries on Mt. Hood today, and models suggest we'll see high clouds, sunshine, and maybe a few flurries, with the snow level at 1000′ early and 500′ in the afternoon. No accumulation. Wind will be NW 20-25 early and WNW 25 in the afternoon.
Sunday looks cloudy with light snowfall to start, with snow becoming heavier after 4am. Warmer air will be moving in during the day, so the tough call tomorrow is the time the snow will switch to rain. At this point, it looks like that switch will happen between 1pm and 4pm, after which we'll just see rain. So, we'll see .2-.3" water value (WV) before the switch, for 2-3" of new snow between 4am and when the switch happens. After that, almost definitely by 4pm, we'll see rain, for 1-2" by Monday morning. The snow level will be at the surface to start the day and at 10,000′ by the evening. Impressive, huh? Wind on Sunday will be … neat: W 30 early, W 40-45 by 1pm and W 50 by 4pm, rising to WNW 60 overnight.
Monday sees the snow level above 10,000′ all day with rain showers that decrease as the day goes on, for a total of .1-.2" WV. Wind will be NW 65 early, slowly fading to W 35-40 in the afternoon. Rainbow chances on Mt. Hood on Monday are 99%.
Tuesday looks clear and warm with light to moderate SW wind.

Gorge Wind
It is not nuking this morning in the Gorge. As a matter of fact, the wind is all over the place, blowing at 5-10 out of the east and west depending on where you are. We'll see light and variable (LTV) wind this morning, becoming E 10-13 or a bit more this afternoon at Rooster and Steven's Locks. Expect east wind at 15-18 tomorrow morning, followed by LTV in the afternoon and strong west wind overnight. Leftover westerlies start off the day Monday with gusty 26-30, dropping quickly to light wind in the afternoon.

Gorge Weather
I had to step off the bus this morning to determine the sky coverage in the Gorge. It's cloudy this morning. We'll see a cloudy to partly cloudy day today with temps in the upper 30's all day. No rainbows today.
Tomorrow, most likely, starts with light rain in Hood River under 100% cloudy sky. That said, there's a chance of snow during the day, followed by a period of sleet or freezing rain, especially up in Parkdale and other upper valleys, where the air will be colder and slower to warm. We'll see light mixed precip during the day, followed by heavy rain after 4pm. Temps will be right around freezing early and in the low 40's in the afternoon. Rainbow chances are 3% due to cloud coverage and low temps.
Monday starts off partly cloudy with sprinkles and stays that way, with sprinkles decreasing in the afternoon. Temps will be in the upper 30's early and the mid 40's in the afternoon. It's worth mentioning that models are predicting temps in the mid 50's from The Dalles eastward. Nice. Anyway, sprinkles and broken clouds equate to a 97% chance of rainbows on Monday.

White Sprinter Van of the Day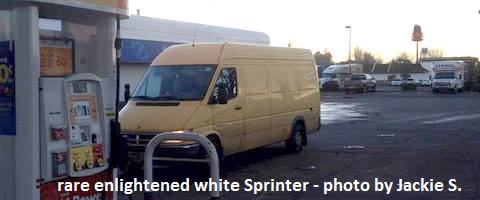 Road and Mountain Biking
It's well above freezing this morning, and I suspect the trails will be a mixed bag of still-frozen, thawing and muddy, and slick from rain falling atop frozen ground. Probably not the best day to be on a mountain bike, but let me know how it is if you try it. It'll be a good day for road biking both today and tomorrow with light wind, although tonight's weather may complicate that picture a bit.

The Clymb: free membership. Cheap gear.
Temira approves. Click to join.
Temira's annual birthday card request! =)
It's that time of year again. The time of year when I get a little older. It's the time of year when I let myself ask for what I need. And what I need this year, just as I did last year, is affirmation from y'all. So, I'm asking for birthday cards. Or birthday notes. Or birthday postcards. I know you're busy. This means a lot to me. Send along a card telling me why you love me, why we're friends, what kind of difference I make in your world, and whatever else you'd like to say. Thank you so much for your time, energy, and your love. My address: Temira Lital / PO Box 841 / Hood River, OR 97031
Upcoming Events
Today, being Saturday, gives you a couple of options. The Tri Club has a trail run at 8am this morning leaving the bottom of Post Canyon. The cold lap cyclocross ride is this afternoon at 3pm at Dirty Fingers. Coming up tomorrow, there's community yoga (free or by donation) at Yoga Samadhi in White Salmon, there's ping pong (back from vacation) at 3pm at the Hood River Armory, there's pickup touch rugby at the Mosier School at 3pm, and Crossfit Hood River has a by-donation mobility and stretching class at 4pm.
Have an awesome day today!
Temira