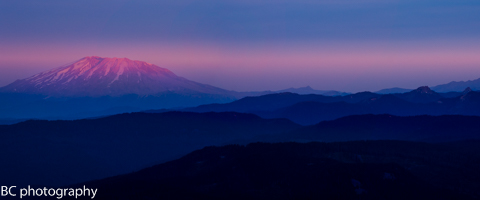 Random Morning Thoughts
I had kinda a funny day yesterday. I drove myself to work at the mountain (something I never do), I purchased a snopark permit (that I probably won't ever use again), and left work 2 hours early (costing myself money). I did this so I could do a 3.5 hour unpaid mediation. I find it amusing that I'll give up what amounts to a day's wages in order to volunteer doing something I love. That's passion.
Sometimes it's hard to find things you're passionate about. Maybe this is a way of looking at it: what would you give up a day's wages to do for free? I'm thinking I'd ride my bike, build trails, mediate, spend time with friends, read a good book, write poetry, garden… How about you? What's your passion? Don't have one? Think harder. You'll find one, and your life will be more fulfilling for it.

Thank you for using this forecast!
Click on my photo to support it with a donation.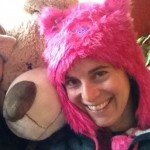 Thank you for using this forecast. Does it save you time, gas money, or help you find more wind, powder, or just plain fun stuff to do? Please make a donation to keep it going! Use it here for free or get on the mailing list for wind for the summer and Mt. Hood snow in the winter. Just click on my photo to donate. The email isn't $99/year. Not $50/year. No, just $12.34 or more gets you on the list for 12 months, and sometimes there are cool prizes. Donate via PayPal/CC by clicking on my happy photo below. Don't PayPal? You can send a check to Temira @ PO Box 841 in Hood River. Thank you for your support, and thank you for trusting my forecast. You guys mean the world to me.
---
Mt. Hood Snow Forecast – 5000′

4a-8a
8a-12p
12p-4p
4p-8p
8p-4a
Today
Tomorrow
The day after
Mt. Hood Snow
One of my friends pointed out to me yesterday that I was quite obviously bored with the weather. Yeah, it's getting a little boring, but at least I have something to talk about today: Just how badly I, NWAC, and NWS screwed up the forecast for Friday afternoon through this morning. I thought we'd see just some rainfall, and so did they, and instead we've received .6" on Mt. Hood.
What happened? All the models were predicting that the atmospheric river would stay far, far to the north of us, leaving us with just a few sprinkles. That didn't happen. We were clipped by edge of the rain, and as of early this morning, we were still receiving clipping (which I believe is a fineable offense in some sports).
Anyway, we'll see some orographic (terrain-enhanced) rain showers this morning, fading pretty quickly. We'll see .1-.3" water value (WV) before the precip stops, leaving Mt. Hood under high overcast sky. The snow level will be above 10,000′ all day, and wind will be W 30 all day. 5000′ temps will max out around 50 degrees.
Tomorrow looks clear. The free air freezing level (FAF) will be above 10,000′. Wind will be W 20 earl and SW 25 in the afternoon. 5000′ temps will max out right around 60 degrees, a possible all-time record for January. But don't worry: the earth isn't getting warmer.
Coming up Monday, we'll see another balmy day on Mt. Hood. The FAF will be at 10,000′ or higher in the morning, dropping down to 10,000′ in the afternoon. Wind will be S 20 early and SW 20 in the afternoon. 5000′ temps will max out around 55 degrees.
There's maybe a chance of a trace of precip during the middle of next week, but other than that, long-range models suggest dry and mild weather.

Gorge Wind
Not much is happening on the Gorge wind scene today, despite westerly gradients of .04 (pdx-dls) and .04 (dls-psc). Expect light westerlies this morning at 5-10 and light and variable (LTV) wind this afternoon. Tomorrow starts with east wind at 5-10 and picks up to east 20-25 at Rooster with 10-15 at Steven's Locks. Monday starts with E 25-30 at Rooster and fades to LTV in the afternoon.

Uniquely Portland ReRack is a great resource for all your car rack needs. ReRack buy, sells and trades all Yakima and Thule parts. Free advice and basic installation is always part of the deal. Right now ReRack is having a truckload sale on new Yakima Rocketbox Pro models get a great deal on a new box while they last. All Rocketbox Pro models feature double sided opening, quick mounting hardware and a lifetime warranty. Rocketbox Pro 12 now just $199! Rocketbox Pro 11 now just $279 great for skis. Rocketbox Pro 14 just $299 great for snowboards
Gorge Weather
There was a steady light drizzle outside my house this morning, and that means there was likely a steady light drizzle outside your house too. The drizzle will give way to high clouds and filtered sun this afternoon. Temps will be in the low 40's early and the upper 50's (maybe) in the afternoon. Rainbow chances are 33%.
Expect some low clouds tomorrow followed by sun in the afternoon. Temps will be in the upper 30's early and the upper 50's in the afternoon. Monday looks very similar to Sunday with temps just a touch on the cooler side.

White Sprinter Van of the Day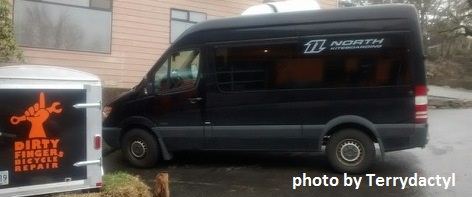 Road and Mountain Biking
It appears a bit wet out there this morning, meaning Post and Whoopdee will remain wet. The real question is this: where can we ride above the inversion tomorrow, because it'll be in the 60's up there and much cooler down here.


The Clymb: free membership. Cheap gear.
Temira approves. Click to join.
Upcoming Events
Happy Saturday. There's a Tri Club run in Post Canyon at 8am. There's the Cold Lap cross ride at Dirty Fingers at 3pm. Coming up tomorrow, there's community yoga (free/by donation) at 9am at Yoga Samadhi in White Salmon. There's rugby at 3pm at the Mosier School, there's ping pong at the Hood River Armory at 3pm, and Crossfit Hood River has a mobility and stretching class (free or by donation) at 4pm.
Have an awesome day today!
Temira