Random Morning Thoughts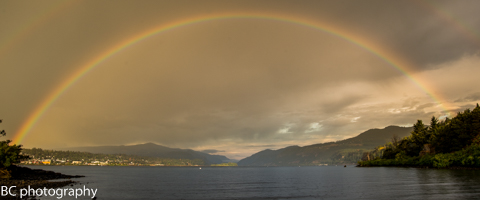 Gas was $2.86 at the Astro Station in The Dalles yesterday. It was still $2.99 at Chevron. Road trip time? Speaking of gasoline, I had the funny experience yesterday. I was driving around with my friend David, whom I just met this week. As we pulled into town, I saw a Sprinter Van. A blue-white Sprinter Van. I hesitated, not wanting to seem completely insane, and then I said something: "Oh my god. There's a blue Sprinter Van. Did you see it? It's so pretty!" And then I had to explain the whole thing, and by the time I got around to saying I wanted to chase it and get a photo, it was gone. And I was sad. Because it was really, really pretty.
In case you were wondering, David didn't think badly of me for wanting to chase a Blue-White Sprinter Van and get a photo.
But that's not my point. David and I went to Kaze to get The Best Soup Ever (mabo ramen) and white he was in the bathroom, I checked my texts. Terrydactyl had sent me a photo of the Blue-White Sprinter Van an hour earlier. I laughed so hard! Now that's what I call a good friend. Someone who knows you well enough to know that you'd want a photo of a something like that. And someone who takes the time to take that photo. So remember, if something makes you think of your friend, do that something, because you'll really touch your friend's heart like Terry touched mine.

Thank you for using this forecast!
Please donate to support it!
Thank you to everyone for using this forecast. Does it save you time, gas money, or help you find more wind, powder, or just plain fun stuff to do? Please consider making a donation to keep it going! Use it here for free or make a donation and get on the mailing list for wind for the summer and Mt. Hood snow in the winter. It's not $99/year. Not $50/year. No, just $12.34 or more gets you on the list for 12 months. Do it via PayPal/CC by clicking on my happy photo below. Don't PayPal? You can send a check to Temira @ PO Box 841 in Hood River. Thank you for your support, and thank you for trusting my forecast. You guys mean the world to me.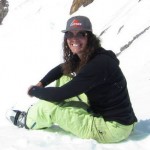 ---
Mt. Hood Snow Forecast – 5000′

4a-8a
8a-12p
12p-4p
4p-8p
8p-4a
Friday
Saturday
Sunday
Mt. Hood Snow
It's a relatively warm start to the day on Mt. Hood with the snow level up around 10,000. We'll see the snow level drop to 8000 today with around 1.2" of rain by Sunday morning. Wind today will be SSW 30-40 early and SW 40-50 in the afternoon and overnight.
By Sunday morning, the snow level will fall to 6000′, falling further to 4500-5500′ during the day. We'll see around .4" water value (WV) tomorrow, for 3-5" of new snow at 5000′. Wind will be W 45-55 early, dropping to W 35 midday and becoming WNW 35-45 in the afternoon before fading overnight. Monday looks dry for much of the day. The snow level will be 5000′ early, 6000′ midday and 10,000 in the evening, when it will start raining. The wind will be WNW 15 early, light and variable (LTV) during the day and SW 30-35 overnight.
Gorge Wind
We're starting off with east wind this morning, currently fairly light at Rooster as rain pours from the sky. Stevenson, on the other hand, is seeing mid-twenties. Expect the easterlies to hold for a couple hours and then fade as the next weather system approaches. If real-world timing follows modeling, we'll see west wind by 2pm. Expect up-and-down, gusty 13-16 or a bit more from Stevenson to The Dalles with up-and-down, gusty 24-28+ out at Arlington. Maryhill is a wild card, and Arlington will probably see 30-40 after dark.
Tomorrow starts with leftover at 10-13 from Hood River to The Dalles and 18-21 further east. The wind will pick up to up-and-down, gusty 23-27 in the afternoon. Expect light and variable wind on Monday.
Gorge Weather
It's a dry start to the day at my house, but it's raining west of here. Looks like we'll see a mostly cloudy day with a few showers and then rain after 5pm. Temps will be in the low 50's this morning and low 60's this afternoon. Rainbow chances are 11%.
Expect a showery day with lots of sunbreaks on Sunday. Temps will be in the upper 40's early and the mid 50's in the afternoon. Rainbow chances are 99%. Monday looks dry and likely mostly cloudy. Temps will be in the mid 40's early and the upper 50's in the afternoon. Rain returns Monday night.

White Sprinter Van of the Day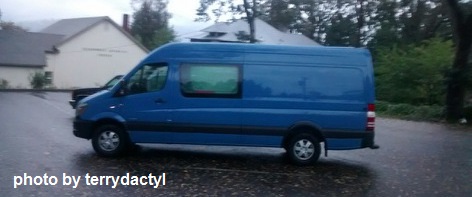 Road and Mountain Biking
It's very wet out there. Syncline or nothing? Unless you have some other suggestions.


The Clymb: free membership. Cheap gear.
Temira approves. Click to join.
River Levels / Fish Counts/Cheezburger Update
The John Day Dam is reading 71kcfs. The Dalles Dam is putting out 92kcfs. There are two river-wide logs on the White Salmon: one just below Cave Rapid on the Middle and one below Cave Wave on the Lower. I have no idea what the current level of the White Salmon is. I forgot to call Wet Planet yesterday. The Hood is at 4.2′, so it's a go, and the Klickitat is at 1150, so it's also at a good level. Yesterday's fish counts were: Chinook, 450. Coho: 2456. Steelhead: 191.
Events – email me if I've missed any outdoor-related events
The big event tonight is the fundraiser for the Kleeway at Dirty Fingers and 10 Speed Coffee. There will be Kleeway socks "Live like Matt" available for purchase along with t-shirts and beer and the opportunity to sing (or make someone sing) karaoke. The HRATS are 2/3 of the way to the fundraising goal, so please show up tonight and kick down some cash, if nothing else. The fun starts with kid-friendly activities at 5pm and continues until… well, I'm not sure.
Other events today include the Columbia Gorge Tri Club's wedding-themed trail run, meeting at Family Man at 8:30am. I totally wish I could be there. So fun! The Hood River Saddle Club has a rummage sale today in support of their new trail project, and today is the AMS Winter Weather conference at OMSI.
Have an awesome day today!
Temira