The best snow forecast for Mt. Hood. The best wind forecast for the Gorge.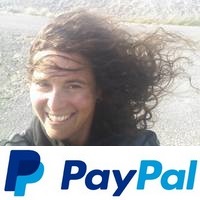 Thank you for using this forecast. Like it? Find it useful? Support it (and me!) by sending some cash my way. What's it cost to support me and get the email version? Not $99 a year. Nope. Not $49. Just $19.99 or more gets you a year. People are added to this list on Thursday and Sunday. My day job is crisis mental health, and I don't have time on other days. Thanks for your patience! Click below to contribute. Thank you!!
Credit card payments use this button
Click here to use your PayPal
Venmo: @theGorgeismyGym
Snail Mail: PO Box 841, Hood River, Oregon 97031
(note: I am not a non-profit entity. The only way to accept credit cards with a user-defined amount is to use the 'donate' button. Thanks for understanding!)

Auto-renewing subscription. New! Awesome!
The Forecast
Mt. Hood Snow Forecast – 5000′

4a-8a
8a-12p
12p-4p
4p-8p
8p-4a
Saturday
2000′->3000′->2000′
Sunday
2000′
Monday
2000′
Mt. Hood Forecast
The next few days on Mt. Hood bring mostly cloudy weather most of the time. Added in will be periods of light snowfall, but probably not enough to change the character of the snowpack. Total snowfall over the next four days is in the 2-4" range.
Looking at Saturday, we see a cloudy morning with a shot at sun in the afternoon and clouds turning snowy overnight. The snow level will be 1500′ early, 3000′ in the evening, and 1500-2000′ overnight. A trace of snow may fall during the day. About 0.1" water equivalent (WE) is forecast late tonight, for an inch of new. Wind: W 25 in the morning, SW 10-20 in the afternoon, and SW 20-35 overnight.
Sunday starts with snow but quickly turns sunny. Clouds return, then leave, and then return again overnight. The snow level will be 1500-2000′ early and 2000′ in the afternoon. Just a trace is forecast during the day. Wind: SW 20-35 in the morning, SW 5-15 in the afternoon, and E 20-25 overnight.
Monday looks cloudy. The snow level will be 1500′-2000′ all day. A couple inches of snow are forecast for the 24 hour period, but that could change between now and then. Wind: E 20-25 in the morning becoming light SE in the afternoon and light S overnight. Tuesday looks cloudy with flurries. Wednesday looks sunny. Enjoy the cruiser runs on the corduroy!
Note on wind speeds. Different wind directions are experienced in different ways on Mt. Hood. For example, west wind at 50mph will hit the slopes and exposed ridges at W 50. SW 50 may hit the ridges at SW 50, but will likely only be SW 20 below tree line. Hence the ranges for wind. Depends where you are on the mountain. Hopefully that helps clarify.
Gorge Wind Forecast
Gusty moderate westerlies are in your Saturday forecast. The day starts with averages in the 10-20 range. Give it a few hours, and areas east of The Dalles will pick up to gusty 19-23. West of The Dalles: gusty 10-13 until about 1pm, after which the wind fades. River flow is 104kcfs, river temp is 41F, and high temp forecast is 51F. Sunday starts light and variable. A front swings through and brings the wind to gusty 12-15 in the western Gorge and gusty 19-23 east of The Dalles. High temp forecast: 49F. Monday's an easterly day: 20-25 at Rooster and 15-20 at Stevenson to start. The afternoon wind looks a bit odd on the models: east at Rooster and west at Stevenson. Both those locations will be in the drizzle in the afternoon, so the wind forecast doesn't matter all that much! High temp forecast: 50F.
Coast, Jones, Sauvie's
As needed until next spring and summer.
Hood River Weather Forecast
Mostly cloudy sky this morning turns partly cloudy midday and high overcast overnight. Temps will be near 40 early and near 50 later. Light to moderate westerlies. 91% chance of rainbows. Sunday looks cloudy and drizzly in the morning with mostly clear sky in the afternoon. Temps will be in the upper 30's early and upper 40's later. Light wind early. Moderate westerlies in the afternoon. 99% chance of rainbows. Monday looks cloudy with some drizzle in the evening. Temps will be in the low 30's early and near 50 later. Easterlies. No rainbows.
Looking for a complete Columbia Gorge forecast? Looking for more humor in your weather? Obscenities? You're looking for my TATAS: Temira's Awesome Travel Advisory Service on Facebook.
Cycling
Strava reports suggest that lower Post Canyon, Hospital Hill, and Syncline are all in excellent shape. That gives you the option to check out Nestor Peak and Whoopdee as well – Douglas Johnson did some amazing work out there creating a new, improved Whoopdee. Remember: if it was below freezing last night and above freezing now, don't ride trails exposed to the open air. They'll be freeze-thaw and delicate, and you'll destroy the tread. If you accidently do ride in those conditions, consider making a commitment to 20 hours of trail work this spring to make up for the damage.
Sprinter Van of the Week!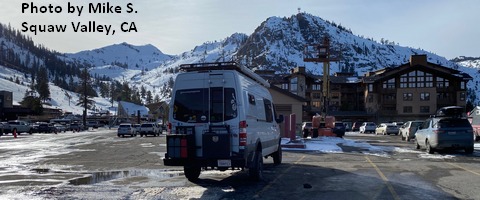 Click here for the Sprinter Van map of the world!!!
Local Events
Weekly events: The Kainos Coffee run happens in The Dalles every Tuesday morning at 6am. There are sailboat races at the Hood River Marina every Wednesday evening. Dirty Fingers has a group mountain bike ride (bring lights) Wednesday nights at 5:30pm. Cheno has an outdoor HIIT workout at Griffin House in Hood River at 6pm on Wednesday nights. There is a BLM rally every Tuesday evening at 5:30 at the Salmon Fountain in Hood River, and there's a White Coats for BLM rally every Thursday at noon at 12th and May in Hood River. Have an awesome day!