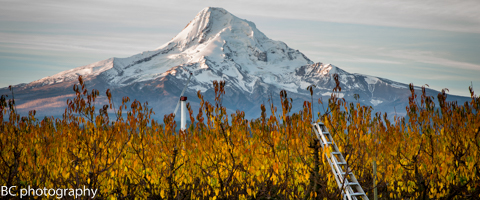 In a delightful turn of events, it's snowing on Mt. Hood this morning. Sure, that was yesterday's forecast for today, but it's still delightful to say that it's snowing. Expect the snow to taper off by mid-morning, leaving a sunny afternoon on Mt. Hood with high clouds moving back in late in the day. The snow level today will be 3000′ early and 5500′ in the afternoon with 1" or less of additional new snow. Wind today will be WNW 35 early, dropping throughout the day, and finishing up at W 10 in the afternoon. Continued below the chart…
Mt. Hood Snow Forecast – 5000′

4a-8a
8a-12p
12p-4p
4p-8p
8p-4a
Today
3000'–>5500'
Tomorrow
6500'–>8500'
The day after
9000'–>6000'
Sunday looks cloudy. The free air freezing level will be 6500′ early and 8000′ in the afternoon. Wind on Sunday will be SW 20-25 all day long.
Monday starts off clear or partly cloudy, but high clouds move in before long and precipitation starts around midnight. The free air freezing level will be 11,000′ in the morning. As the precip hits, the snow level will plummet to 6000′, falling further to 4000′ by Tuesday morning. If models are correct, we'll see .5" water value (WV) overnight. We may see a little rain early, but most likely we'll see mostly snow, for 3-4" of new. Wind on Monday will be SW 25 early and SW 35 in the afternoon.
I'm liking what the long range models show for Tuesday: Another .6" WV with the snow level at 3000′-4000′, for 5-6" of new snow. Models show additional snowfall Wednesday. After Wednesday, the models give differing solutions, so we'll have to wait and see. What we can say is that the first half of the week looks good for the Cascade snowpack.

Donate and keep the forecast going!
(contribute to Temira's grad school fund)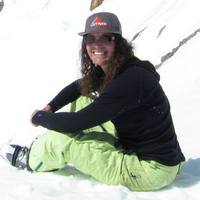 Thank you for using this forecast. Does it save you time, gas money, or help you have more fun in your life? Make a donation! Get your forecast here for free or donate and get on the mailing list for year-round wind forecasts and ski season snow forecasts. Just click on my photo to donate via PayPal or credit card. The email isn't $99/year. Not $50/year. No, just $12.34 or more gets you on the list for 12 months, and sometimes there are cool prizes. Don't PayPal? Send a check to Temira @ PO Box 841 in Hood River. Thank you for your support, and thank you for trusting my forecast.
---
Gorge Wind
The wind took its sweet time arriving yesterday, and by the time it was windy enough to get on the water, I was on my way out of town. But I hope all of you took advantage of that warm and windy day. We have leftover westerlies this morning, and those westerlies will stick around for much of the day. The western Gorge, from Steven's Locks to Mosier, struggling with the influence of clouds, will remain gusty, with W 12-15 or so for much of the day. The Rowena stretch of river will be a maybe today, with gusty 16-19 in the morning and a better chance of 22-25 in the afternoon. East of The Dalles will be stronger and steadier, with 24-28 for much of the day.
Tomorrow, Sunday, starts off light and variable (LTV). Much of the day will be glassy, or less than 5mph. After 2pm or so, the wind will pick up to W 10-13 from Steven's Locks to Mosier. Monday also starts out LTV. By afternoon, as the next weather system approaches, we'll see gusty 21-24, probably strongest at Steven's Locks with lesser, gustier, more up-and-down conditions of 15-18 from Swell to Doug's.

Random Morning Thoughts
I mentioned something about the GnR song Civil War about a week ago. It's been stuck in my head ever since then. Earworms – they're a killer, aren't they? I don't know what makes music and lyrics so sticky – I can sing along to the entire 1989 Appetite for Destruction album, but I can't remember the content of a book I read last week.
Part of the cool thing about memory is that it seems to be strongest when we use multiple pathways to link something. Music, for example. When I sing along (out of tune) with My Michelle, I sing, I imagine the words, I might dance, I might imagine this Michelle girl doing the things she does in the song, and I'm almost certainly going to do a little head-banging at some point. That's a lot of different pathways to burn those lyrics into my head.
Same thing goes for studying – the more pathways you involve when trying to learn something (looking at a powerpoint, writing down the words on paper, saying them out loud as you write them, typing them up later), the stickier the learning will be. And for god's sake, don't multitask, because our brains cannot do two things at once – they're really switching rapidly between tasks and doing neither of them well. Be present. Be focused. Learn better. Don't create a civil war in your brain. =)
(don't forget that you're supposed to be writing down something you love about yourself each day this month and putting that nice thought in a mason jar for later…)

Gorge Weather Forecast
You can expect a partly cloudy day in the Gorge today, becoming rather sunny midday and then clouding over again in the afternoon. There is a chance of sprinkles in the morning. Temps will be in the upper 40's early and the low 60's in the afternoon with a 27% chance of rainbows early. Moderate west wind.
Tomorrow looks high overcast or partly cloudy. Temps will be in the low 40's early and the mid 60's in the afternoon. Light wind. No rainbows. Monday looks sunny early with high clouds in the afternoon and rain after midnight. Temps will be in the mid 40's early and the upper 60's in the afternoon. Light wind early, moderate late, and no rainbows. Looks like we'll see rain/showers Tuesday through Thursday.

White Sprinter Van of the Day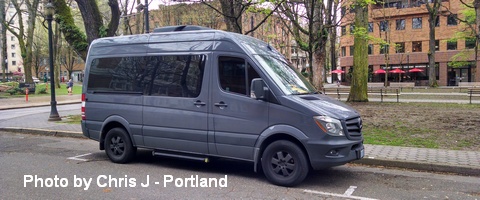 Road and Mountain Biking
There was some confusion on the worthiness of Post Yesterday, but then I ran into Mitchell from Dirty Fingers. He said it was 70% perfect and 30% muddy, meaning that 30% of your ride would involve messing up the trails. After the rain last night, it's only going to be wetter and more susceptible to damage. So, ride Hospital (no dogs allowed due to cows), Syncline, Nestor, Lewis River (yes, it's open) or Oakridge. Rumor has it that our ranger Jimmy T was up clearing trees on 8 mile and Knebal (44 Road reopened on March 15th – I forgot to tell you) yesterday. But I'll need someone to go ride those trails for confirmation.
In road biking news, it's going to be a bit on the breezy side today. Tomorrow morning looks good – light wind. Monday morning also brings light wind. I have reports that the blossoms are blossoming in Odell, so now is a nice time to ride, wind or no wind.


The Clymb: free membership. Cheap gear.
Temira approves. Click to join.
Upcoming Events
Today is the Wheatfield Half Marathon out on the roads by the Petersburg School, east of The Dalles. If you're a road biker and have never ridden out there, it's worth checking out on the next not-windy day. It's not quite flat, but it's the closest thing you'll find to a flat ride in these parts. But today, due to the footrace, is not the day to ride it. Today is also day one of the Gorge Roubaix bike race, bringing pavement and gravel together for a fun cycling experience.
Have an awesome day today!
Temira