Random Morning Thoughts
I was sitting at my desk this morning trying to figure out what to say for the random thoughts, and I just started crying. I had no idea what was going on. Forecast time is my peaceful time. I sit in my "office" in the dark with just a happy light and a candle for illumination (ok, two happy lights, but I'm a little embarrassed to admit that). I feel very safe in my dark office, looking at models and typing words while the rest of the sane world sleeps. And I still feel quite cozy in my office, despite the tears. And I still have no idea what's going on. But that's okay. And it's okay for you to feel that way sometimes too.
Thank you for using this forecast!
Please donate to support it!
Thank you to everyone for using this forecast. Does it save you time, gas money, or help you find more wind, powder, or just plain fun stuff to do? Please consider making a donation to keep it going! Use it here for free or make a donation and get on the mailing list for wind for the summer and Mt. Hood snow in the winter. It's not $99/year. Not $50/year. No, just $12.34 or more gets you on the list for 12 months. Do it via PayPal/CC by clicking on my happy photo below. Don't PayPal? You can send a check to Temira @ PO Box 841 in Hood River. Thank you for your support, and thank you for trusting my forecast. You guys mean the world to me.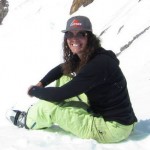 ---
Mt. Hood Snow Forecast – 5000′

4a-8a
8a-12p
12p-4p
4p-8p
8p-4a
Today
Tomorrow
The next day
Mt. Hood Snow
I have several pieces of information to share this morning. First, there was a 123mph gust at Timberline's Magic Mile last night. Next, Meadows got .41" of rain in a one-hour period last night. Wow. Skibowl is open for tubing today and tomorrow, as well as Thursday-Sunday next week, with Cosmic Tubing Friday and Saturday night next week from 5-11pm. Third: Skibowl does not allow hiking, so you cannot go skin and ski there. Fourth: Meadows is deciding this morning whether they will allow hiking this weekend or not. As of right now (6:20am), they haven't said anything, so you probably want to check their website before you decide to hike and ski there.
That said, there was only 5" of new snow at Meadows last night and 6" at T-Line, so it's probably not quite ready for hiking, even with all the wind-loading from last night. Or maybe it's deep enough, but also really unstable, and you should be very cautious about skiing the wind-loaded slopes due to avalanche hazard.
Moving on to the forecast, it's snowing right now, and the snow level will hold at 3000′ or so today. Expect .6" water value (WV) before 4pm today, for 5-7" of additional snow. Another .1-.2" WV comes in overnight, for an inch or two more. Wind today will be WNW 35-45 all day.
Sunday starts off partly cloudy with terrain-enhanced (orographic) snow flurries possible. Heavier snow moves in mid to late afternoon. The snow level will be around 3000′ early, 5000′ midday and 4000′ overnight. We'll see .7-1" WV move through between 4pm Sunday and 4am Monday, for 8-12" of new snow by Monday morning. Wind on Sunday will be wicked: W 40 early, W 50-55 for much of the day, with W 40-45 in the evening.
Monday starts off partly cloudy or maybe even clear, but clouds move in during the day, followed by precip starting around 1pm. The snow level will be 4000′ early, 8000′ in the afternoon, and 10,000 overnight. Expect the precip to start as a few wet flurries, quickly switching to rain, with around 1" falling by Tuesday morning, but hey, that's way better than the 4" of rain in the initial Mon/Tues forecast, right?!?! Wind will be WNW 15-20 early, becoming SW 30 in the afternoon and evening. By Tuesday morning, the wind will be nuking: WNW 50mph.
Models disagree over the weather from Tuesday on. They agree that it will be warm, too warm for snow, but they don't agree on the amount of moisture we'll see Tuesday through Thursday. So that is all I will say for now.

Gorge Wind
We do have some westerly gradient this morning, finally: .02 (pdx-dls) and .09 (dls-psc). As a weather system moves through and weak high pressure builds off the southern Oregon coast early afternoon, we'll see the wind pick up to 24-28 east of Maryhill with gusty 13-16 from Swell to Doug's. Tomorrow starts off with light westerlies. As another weather system swings through, we'll see 26-30 after noon from Lyle to Arlington, with rain likely in Hood River. Expect light and variable wind on Monday and very strong west wind on Tuesday. River water temp is 48 degrees.

Gorge Weather
Hallelujah! We are out of the 30's here in Hood River. Expect a rainy day today with temps in the mid 40's early and upper 40's this afternoon with increasing west wind as the day goes on. Chance of rainbows is 64%.
Tomorrow looks partly to mostly cloudy with rain starting mid-afternoon. Temps will be in the upper 30's early and the upper 40's in the afternoon. Rainbow chances are 31%. Expect a cloudy start on Monday with dry weather during the morning. Rain starts up again around noon. Temps will be in the upper 30's early and the low 50's in the afternoon with a 17% chance of rainbows.

White Sprinter Van of the Day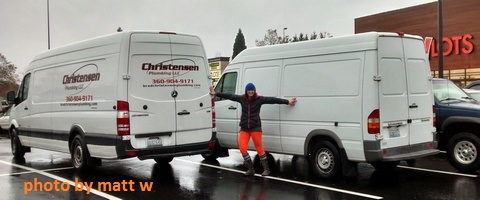 Road and Mountain Biking
Please don't. All the trails will be horribly muddy after all this rain, melting snow, and freeze-thaw. If you ride, you will do major damage. Instead, help build trail today by coming to the work party on the Kleeway. It's at 10am at Family Man. If you really, really, really must ride, at least pick a totally thrashed moto trail instead of a bicycle trail, because at least you'll be riding on a thrashed trail, not a pristine trail. Or you could ride up the rocky switchbacks on Oak Ridge, because they're rocky and won't be muddy. And if you can ride up those, you are way tougher than I am.


The Clymb: free membership. Cheap gear.
Temira approves. Click to join.
Riverside / Cebu Thanksgiving Dinner!!! Yummy!!!
Enjoy Thanksgiving dinner at Riverside so you can play hard on Thanksgiving Day! Delicious plated dinners served from 11:30 am to 9 pm. Menu includes Thanksgiving Turkey dinner with all the trimmings, Prime Rib, Columbia King Salmon or Vegetarian Thanksgiving, with appropriate side dishes. (Gluten-free or other dietary restrictions always happily accommodated!) Reservations are recommended. Call 541-386-4410 or visit www.riversidehoodriver.com for the complete menu. Happy Thanksgiving!
Upcoming Events
Today is the Kleeway work party, happening at 10am at Family Man in Post Canyon. 10 Speed Coffee is providing coffee (duh) and Pfriem Family Brewers is providing beer (duh). HRATS and HRC are providing tools. If you have your own trailbuilding tools or loppers, bring them, but what you really need is raingear and warm gloves, and maybe a thermos of tea. And a sense of humor. Bring that.
I'm not sure if the Tri Club is doing their weekly run this morning at 8am in Post, but even if they aren't, you could. They are doing a run tomorrow morning at 9am in White Salmon. That run involves a hot tub and cinnamon rolls, and is only 3 miles long. I will likely attend that one, in hopes that the cinnamon rolls are as good as those at Cousin's in The Dalles. Also tomorrow, there's community yoga, free or by donation, at Yoga Samadhi in White Salmon at 9am, there's ping pong at the HR armory at 3pm, and there's pickup touch rugby at the Mosier School at 3pm.
Have an awesome day today!
Temira